As winter's crisp embrace blankets the golf course in serene snowscapes, the allure of winter golf attire takes center stage. The transformation of familiar fairways into a picturesque wonderland presents both seasoned enthusiasts and newcomers with a unique and enchanting golfing experience. In this comprehensive style guide, we delve deep into the world of winter golf attire. We'll unveil the secrets to crafting a golf wardrobe that seamlessly blends warmth, style, and functionality, ensuring you conquer the course while embracing the wintry elements. Whether you're a fair-weather golfer venturing into the cold or a dedicated player looking to elevate your winter wardrobe, we invite you to join us on this journey. Winter golf isn't just a game; it's an extraordinary experience, and your attire should be nothing short of exceptional to match the grandeur of the season.
What is essential to winter golf attire
Thermal Base Layers: Start with moisture-wicking and insulating base layers to keep you warm without adding bulk.
Golf Sweater: A lightweight, breathable golf sweater provides extra warmth while allowing for a full range of motion during your swing.
Insulated Golf Pants: Opt for water-resistant and insulated golf pants to keep your lower half warm and dry.
Windproof Jacket: A windproof and water-resistant jacket is essential for blocking out the winter chill.
Winter Golf Hat: A warm, moisture-wicking golf hat or beanie keeps your head and ears cozy on cold days.
Golf Gloves: Invest in thermal golf gloves that provide grip and warmth for your hands.
Winter Golf Socks: Keep your feet warm and dry with moisture-wicking, insulated golf socks.
Golf Shoes with Spikes: Ensure you have golf shoes with spikes for traction on wet and slippery surfaces.
Hand Warmers: Disposable hand warmers in your pockets can provide extra comfort on exceptionally cold days.
Thermal Neck Gaiter: A neck gaiter or scarf adds warmth and can be easily adjusted for comfort.
Rainproof Golf Umbrella: Be prepared for unexpected rain or snow showers with a compact, windproof golf umbrella.
Golf Cart Cover: If you use a golf cart, consider a cover to shield yourself from the elements.
Traction Aids: Carry traction aids like shoe grips or cleat covers for icy conditions.
Layering Options: Have multiple layers you can add or remove as needed to regulate your body temperature.
Rain Gear: Don't forget a waterproof jacket and pants for protection against rain or wet snow.
Hand and Toe Warmers: Keep extra hand and toe warmers in your bag in case you need them during your round.
Remember that staying warm and comfortable is essential for enjoying your winter golf rounds. Dressing in layers allows you to adapt to changing conditions and maintain peak performance while on the course.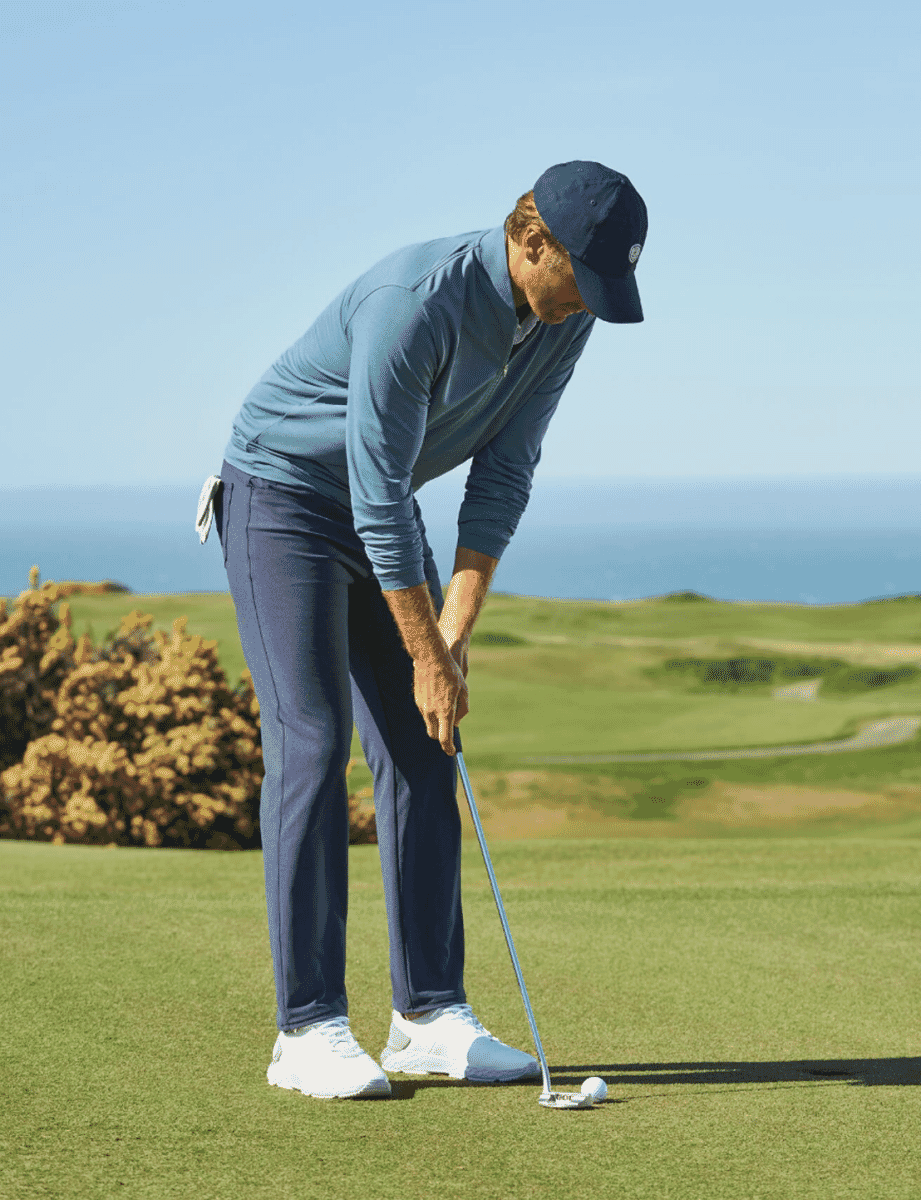 How to assemble winter golf attire
Creating a stylish and functional winter golf attire requires a delicate balance of comfort, performance, and aesthetics. Here's a set of do's and don'ts to guide you in assembling your perfect winter golf ensemble:
Do's:
Layer Thoughtfully: Layering is key for winter golf. Start with moisture-wicking thermal base layers to keep warm and dry, then add lightweight golf sweaters for insulation while maintaining mobility.
Choose Appropriate Fabrics: Opt for fabrics like merino wool or synthetic blends for base layers that efficiently wick moisture away from your skin.
Windproof and Water-Resistant: Invest in a windproof and water-resistant jacket. Look for breathable materials to prevent overheating during your swing.
Accessorize Smartly: A moisture-wicking golf hat or beanie keeps your head warm, and thermal golf gloves maintain dexterity. Consider a neck gaiter or scarf for added warmth.
Golf Shoes with Spikes: Ensure your golf shoes have spikes for traction, as winter conditions can be slippery.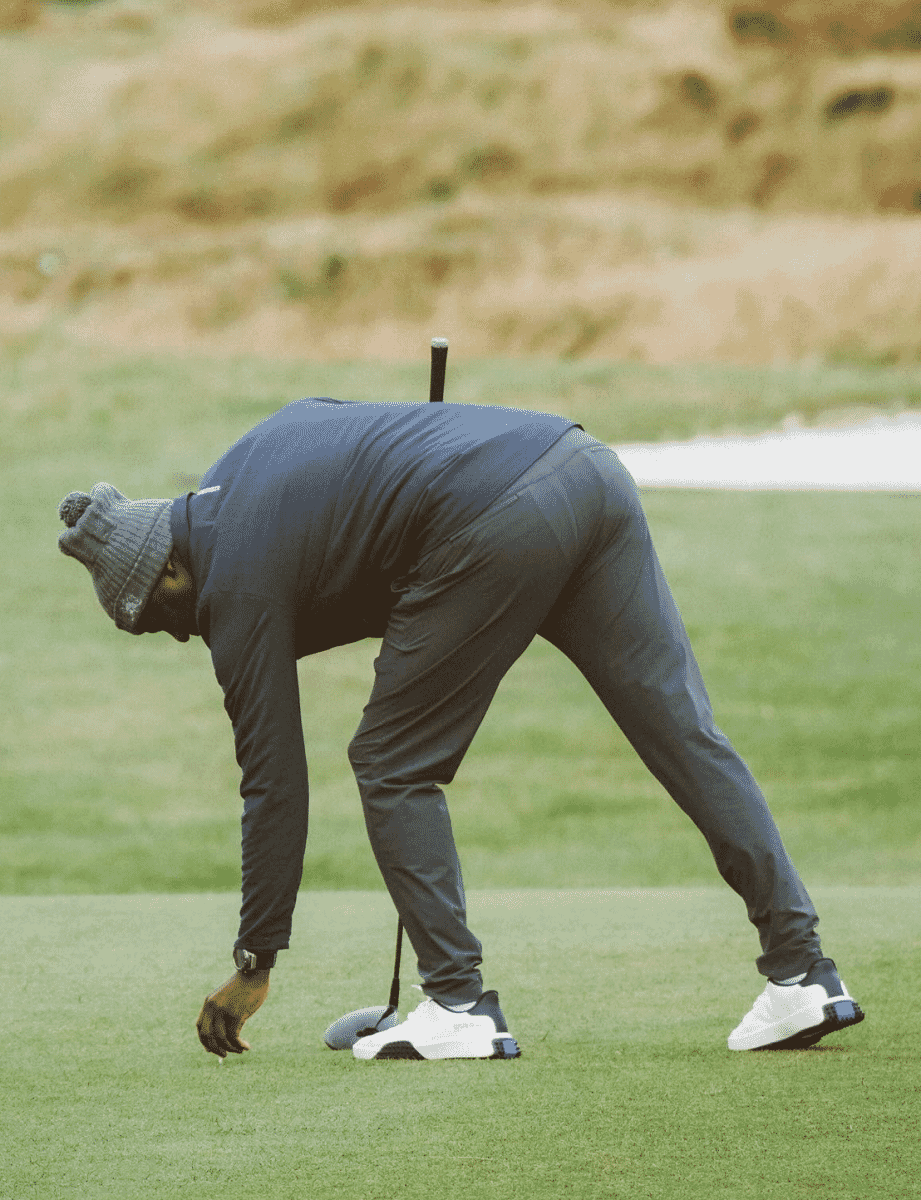 Don'ts:
Avoid Bulky Layers: While layering is essential, avoid bulky clothing that restricts your movement during your swing.
Say No to Cotton: Cotton retains moisture, which can lead to discomfort in cold weather. Stick to moisture-wicking, insulating fabrics.
Skip the Rain Gear: Always carry waterproof rain gear. Unexpected showers or wet snow can catch you off guard.
Neglect Footwear: Don't overlook your footwear. Wet and slippery conditions demand golf shoes with good traction.
Overlook Style: Finally, don't forget that style matters. Choose golf attire that reflects your personal taste while keeping functionality in mind. Coordinating colors and well-fitted pieces can enhance your overall look.
By following these do's and don'ts, you can confidently put together a winter golf outfit that not only keeps you warm and dry but also ensures you look your best on the course.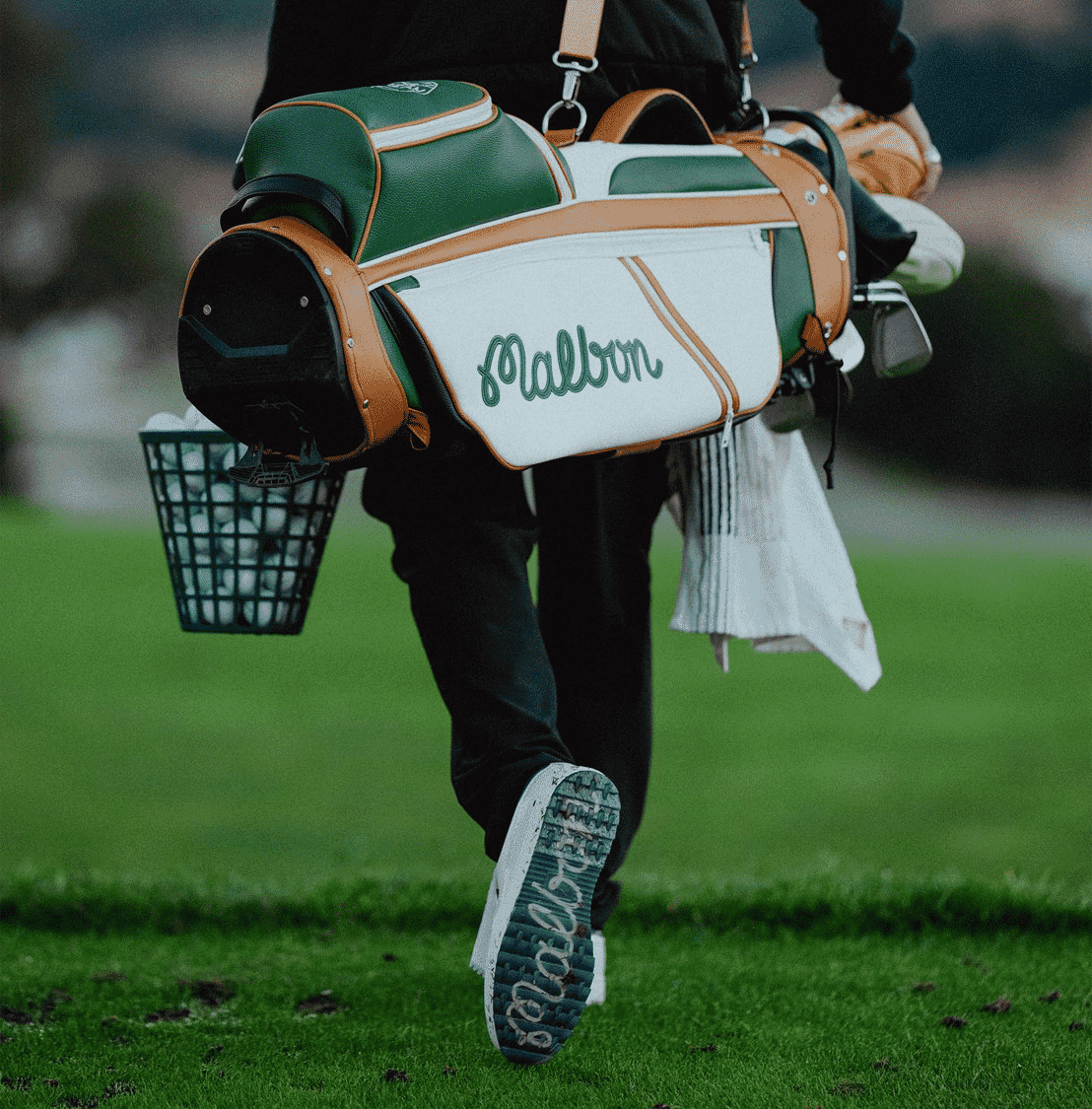 Best winter golf attire for 2023
Classic elegance
Incorporate timeless style into your winter golf attire with a classic ensemble. Start with moisture-wicking thermal base layers that keep you warm without adding bulk. Pair them with well-fitted golf pants made from water-resistant and insulated fabric. On top, a lightweight V-neck golf sweater provides both warmth and flexibility during your swing. Finish the look with a windproof, water-resistant jacket that complements your outfit's color palette. Accessorize with a moisture-wicking golf hat and thermal gloves to ensure comfort. This outfit strikes the perfect balance between tradition and functionality, offering a timeless appeal while keeping you warm and dry throughout your winter round.
Sleek monochrome
For a modern and sleek winter golf look, consider a monochrome ensemble. Opt for a black or navy base with moisture-wicking base layers, offering both warmth and style. Layer up with a matching thermal golf sweater and slim-fit, water-resistant golf pants. Top it off with a sleek windproof jacket in the same color family for a cohesive and stylish appearance. Keep accessories understated with a black beanie and thermal gloves. A monochrome outfit exudes sophistication and simplicity, allowing you to focus on your game while making a fashion statement on the fairways.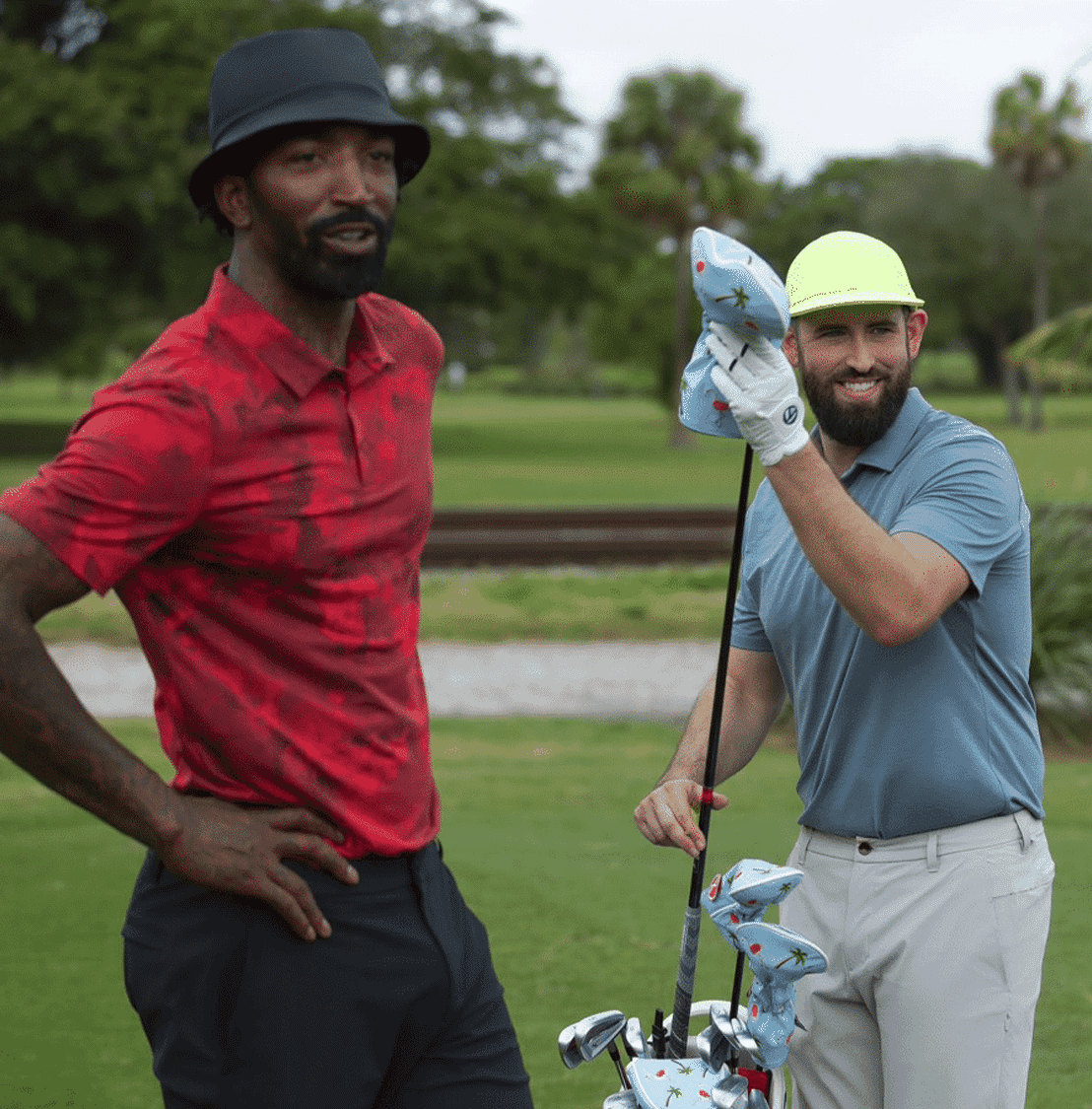 Sporty performance
Embrace a sporty, high-performance winter golf outfit that combines functionality with a touch of athletic flair. Start with a moisture-wicking white base layer for comfort. Layer it with a matching gilet or vest to keep your core warm while maintaining flexibility. Pair these with golf pants that harmonize with the vest for a cohesive look. Opt for stylish white sneakers that provide comfort and traction, and complete the outfit with a sporty white cap for sun protection and added flair. This outfit offers both style and functionality, ensuring you make a statement on the fairways.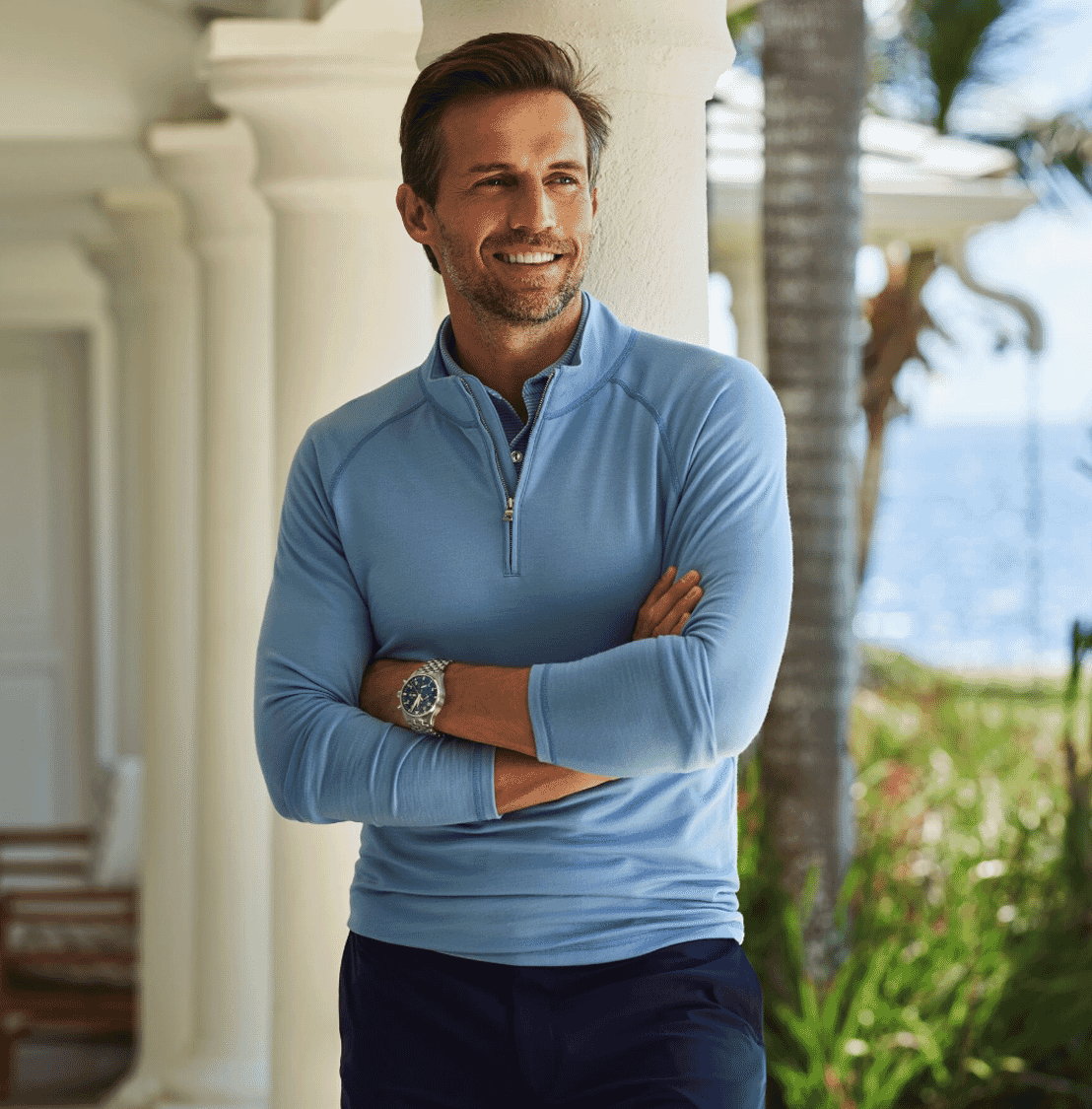 Country Club Classic
For a refined country club golf outfit, opt for khaki pants paired with a brown belt for a classic touch. Complement these with a well-fitted button-up shirt, exuding sophistication. Layer on a sleek black parka for warmth and a contemporary edge. Add a green cap for a pop of color and finish with golf shoes for stability. This ensemble blends style and practicality, making it ideal for a day on the country club fairways.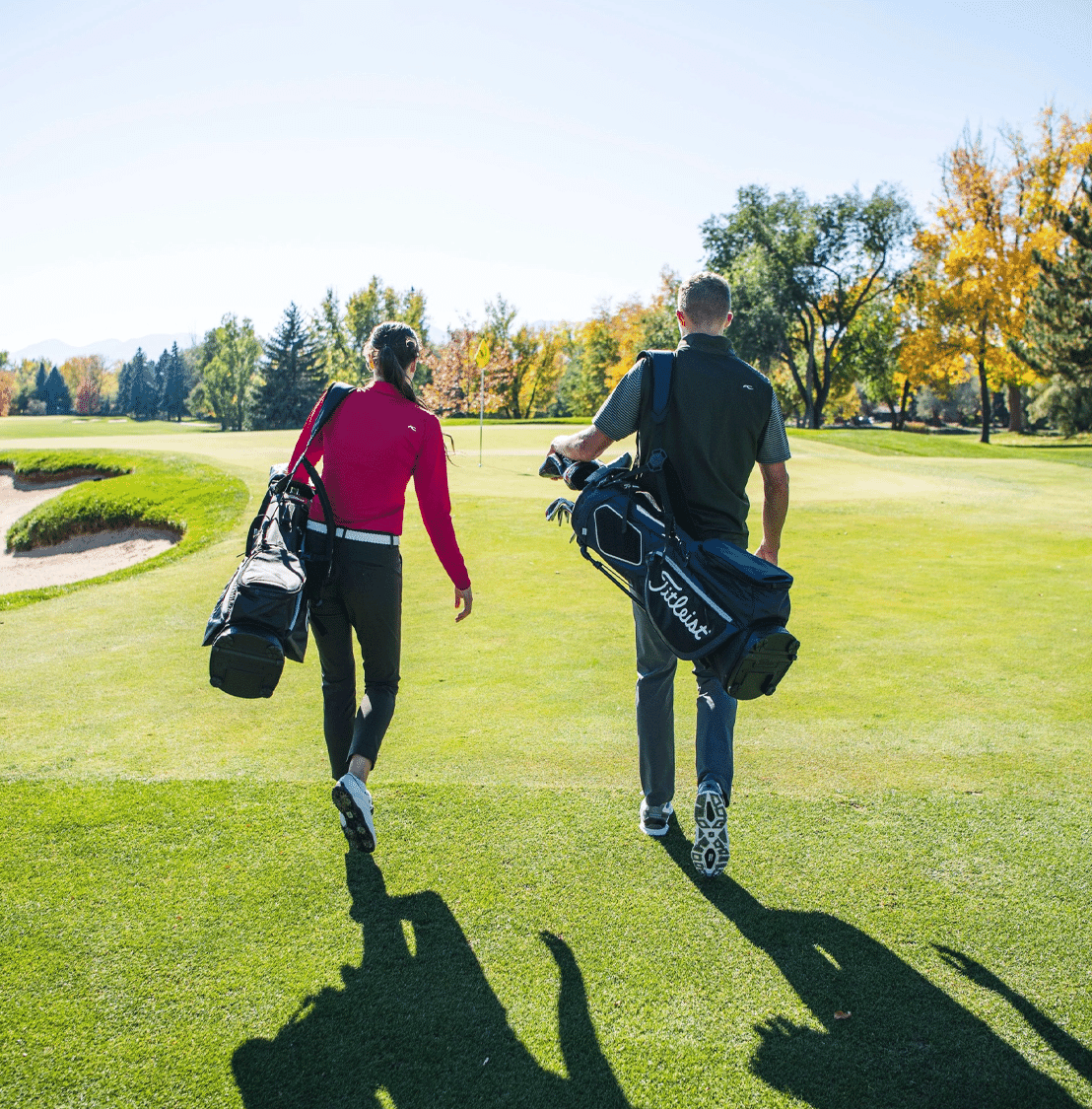 High-Performance Layers
Embrace the winter golf season with an ensemble designed for both warmth and style. Start with a versatile fleece jacket or a thermal half-zip top that not only provides essential insulation but also exudes a sporty appeal. Top it off with a snug beanie, ensuring that you stay comfortably warm while adding a touch of winter charm to your look. For the lower half, opt for dark-colored waterproof pants that are both practical and stylish. These pants not only keep you dry in damp conditions but also contribute to a sleek and put-together appearance on the fairways. Complete the ensemble with equally dark-colored shoes that offer the necessary grip and stability during your golf swing. This outfit effortlessly combines functionality and fashion, guaranteeing you a comfortable and stylish round of winter golf.
Now, see fail-safe streetwear outfits for men.
---
---