Winter office outfits present an exciting opportunity for men to combine style and warmth in the workplace. As temperatures drop, crafting a polished and cozy ensemble becomes essential. In this article, we'll explore 10 versatile winter office outfit ideas tailored to professional settings. From classic layering techniques to statement accessories, we'll guide you through the art of staying both fashionable and comfortable during the colder months. Additionally, we'll recommend key products to invest in, ensuring your workwear wardrobe is well-equipped to tackle the challenges of winter while exuding confidence and professionalism. Whether you're navigating a corporate office or a more casual workspace, these outfit suggestions and product recommendations will help you elevate your winter work attire game.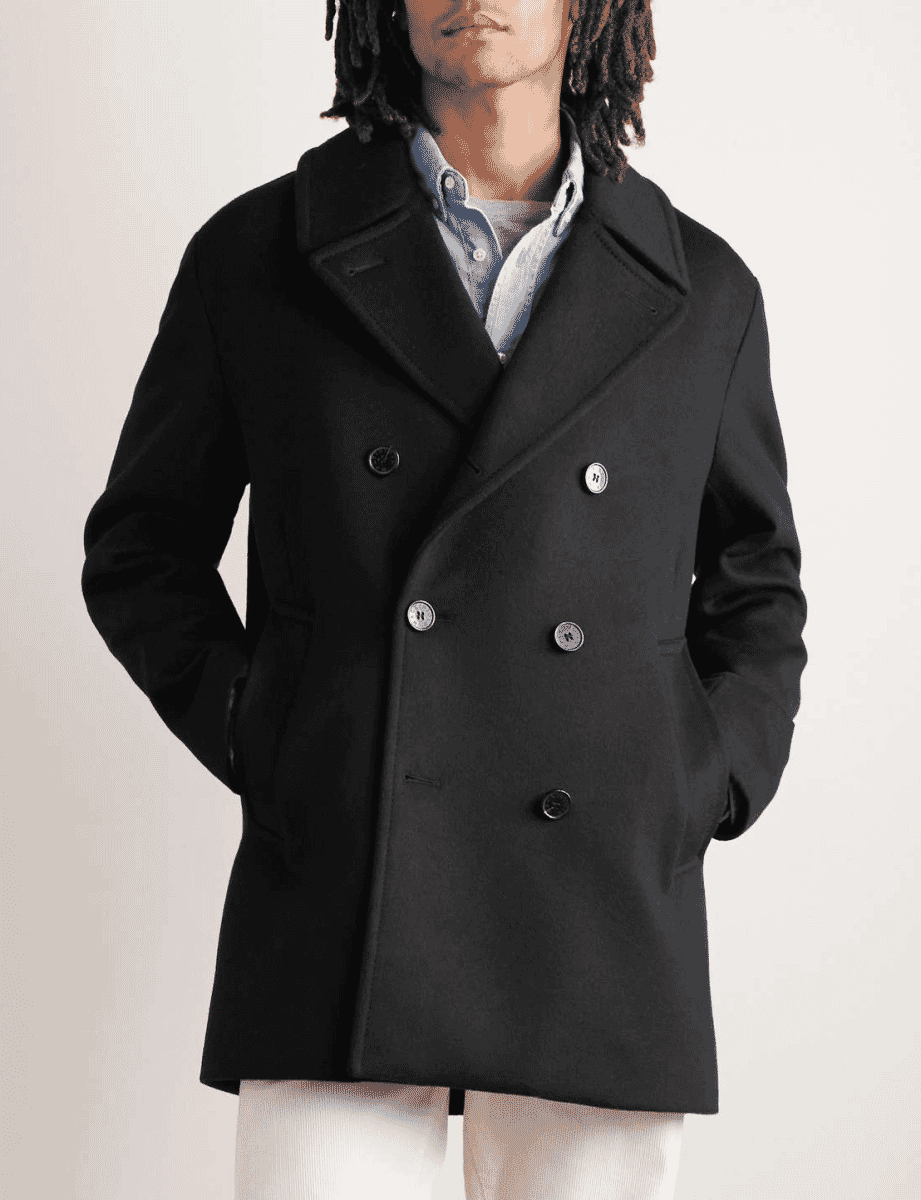 Outerwear for winter office outfits
Pea coat: Mackintosh
Crafted from a luxurious wool and cashmere blend, the Mackintosh Dalton peacoat is a timeless wardrobe essential. This charcoal iteration features a classic double-breasted design, structured shoulders, and smart notch lapels, exuding sophistication for the winter office ensemble.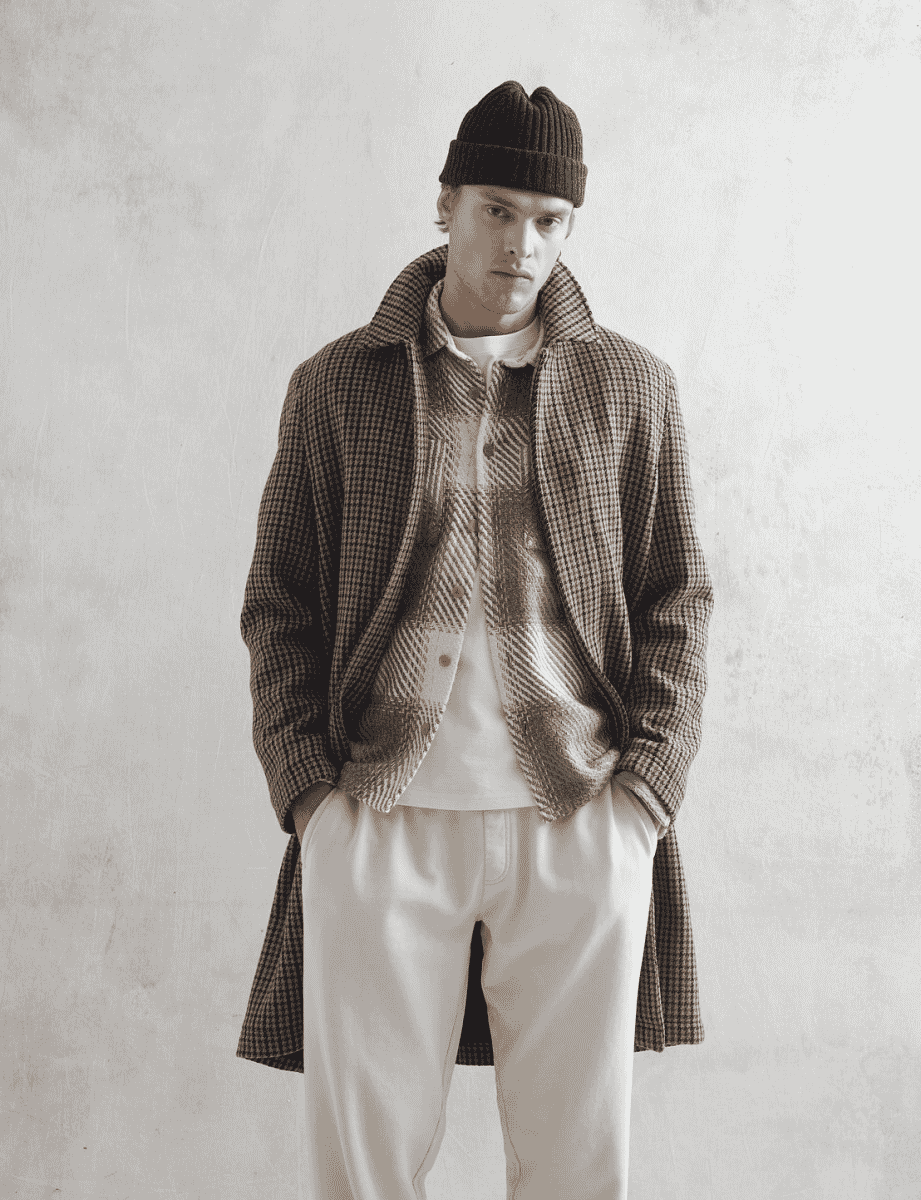 Houndstooth coat: Wax London
Introducing the Wax London Chester Coat in Natural Houndstooth, a stylish addition to your workwear wardrobe. Crafted from a wool blend, it features a classic collar and concealed front fastening for a sleek appearance. Fully lined with a back vent and internal pockets, it offers both functionality and style.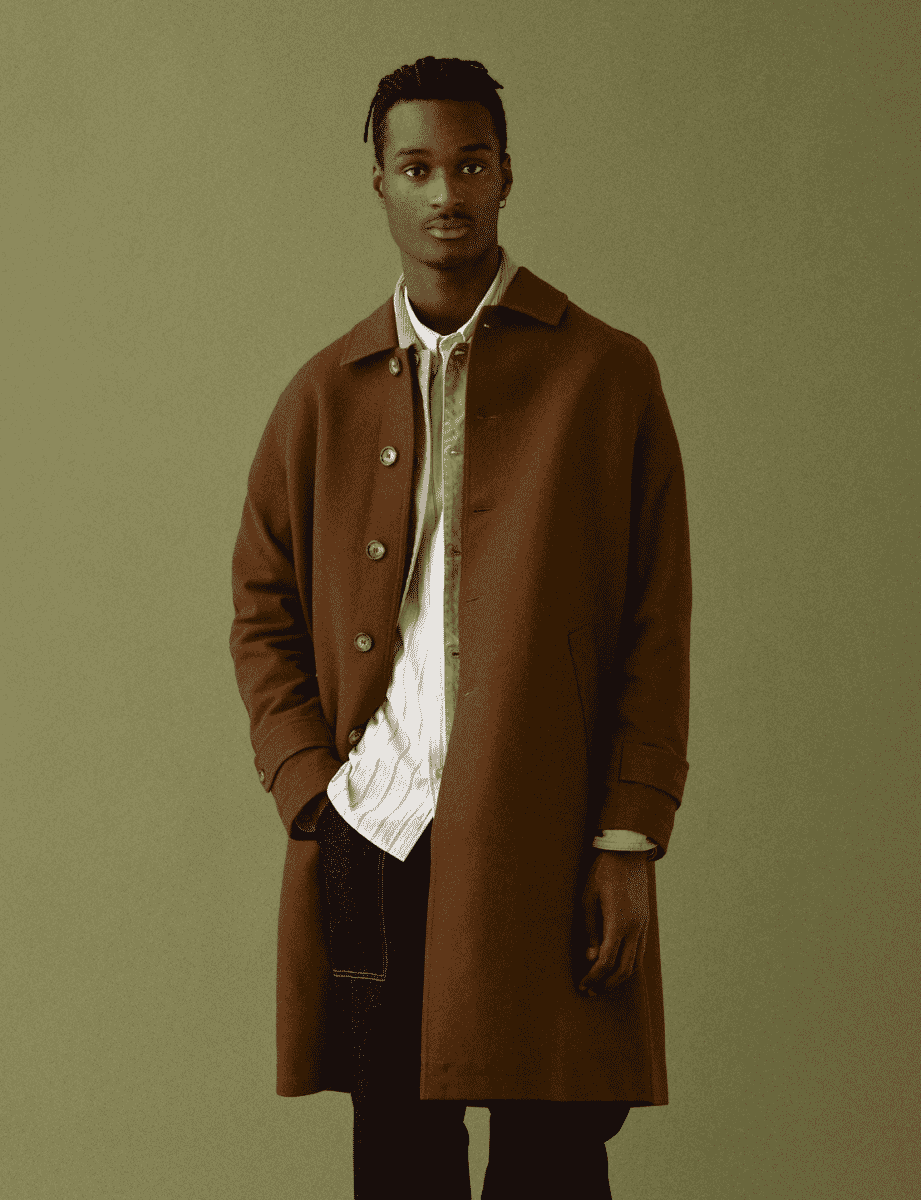 Single-breasted overcoat: Foret
The Foret Shelter Wool Long Coat is a meticulously tailored outerwear piece designed for the discerning wearer. Its perfectly cut silhouette makes it a versatile staple for fall and winter. With a single-breasted button fastening adorned with horn-look buttons, this coat exudes understated elegance.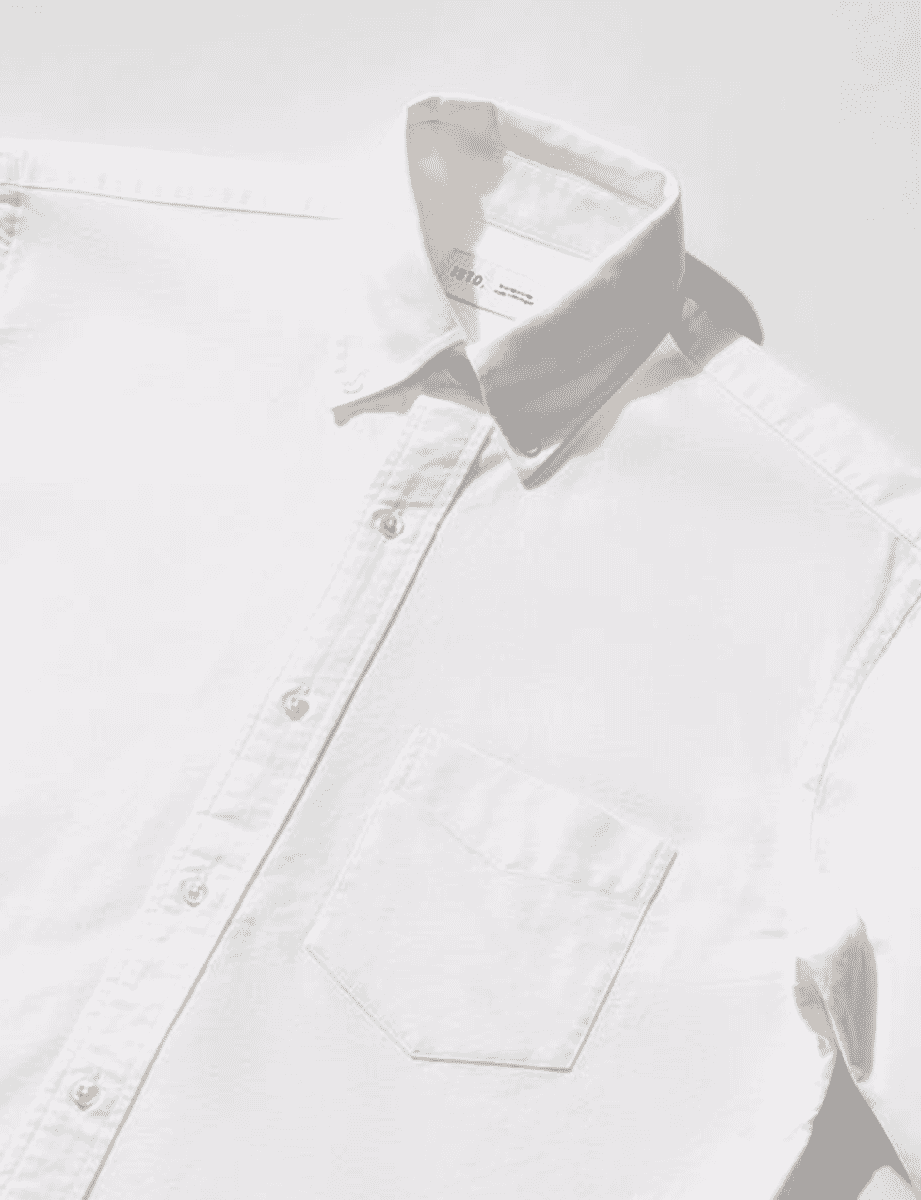 Shirting for winter office outfits
Oxford shirt: ISTO.
Experience sophistication with the ISTO. Oxford Shirt. Crafted in Portugal with precision by top tailors and garment suppliers, it boasts unmatched distinctiveness. Made from 175 g/sqm organic cotton, it's light and breathable. Meticulous attention to detail, from cuffs to buttons, ensures unrivaled quality. Balancing classical and slim fits, it's versatile and stylish.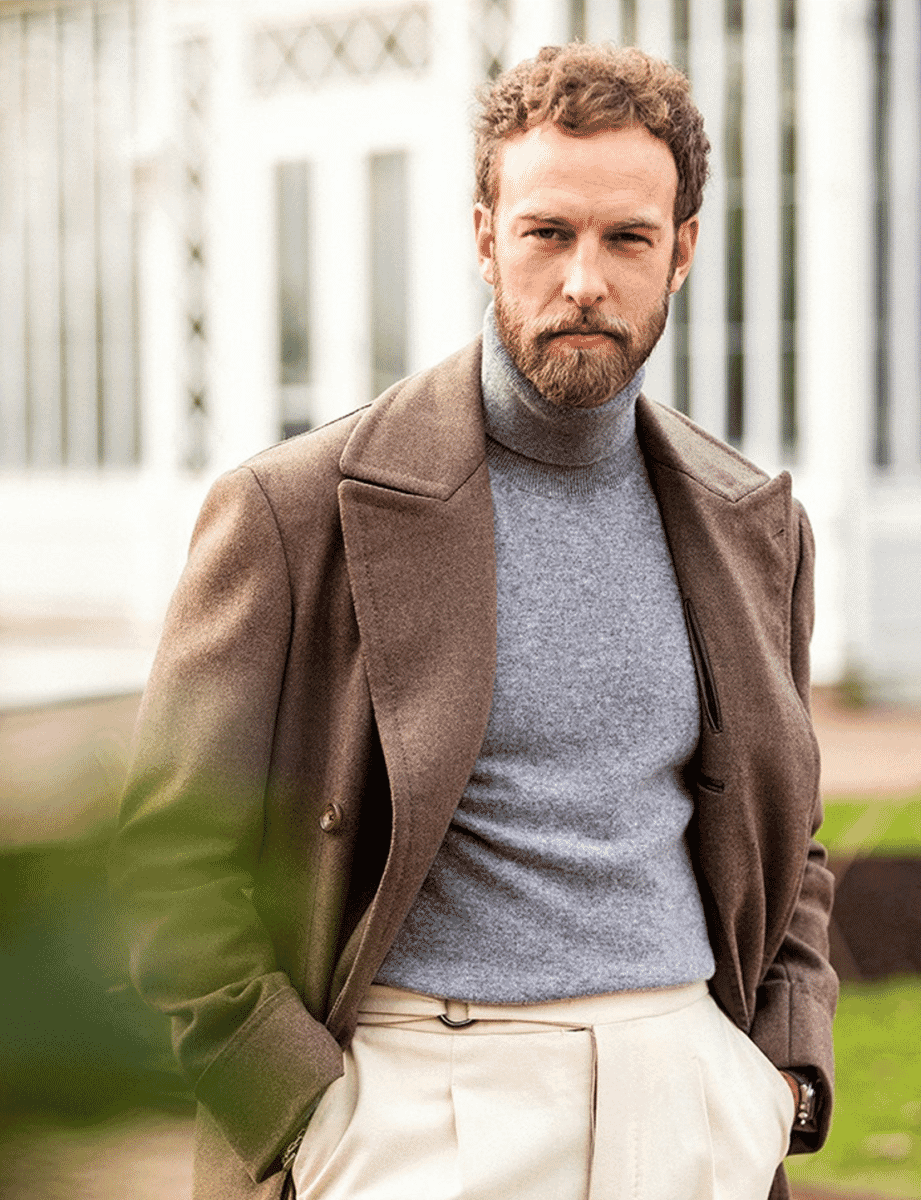 Rollneck: Luca Faloni
Elevate your winter office attire with Luca Faloni's Pure Cashmere Roll Neck. Crafted in Bergamo, Italy, from Cariaggi Fine Yarns' 100% pure cashmere, it offers luxurious softness and warmth at 300 gr weight. The fitted design ensures comfort, while the iconic Dolcevita neckline adds a timeless, distinguished touch.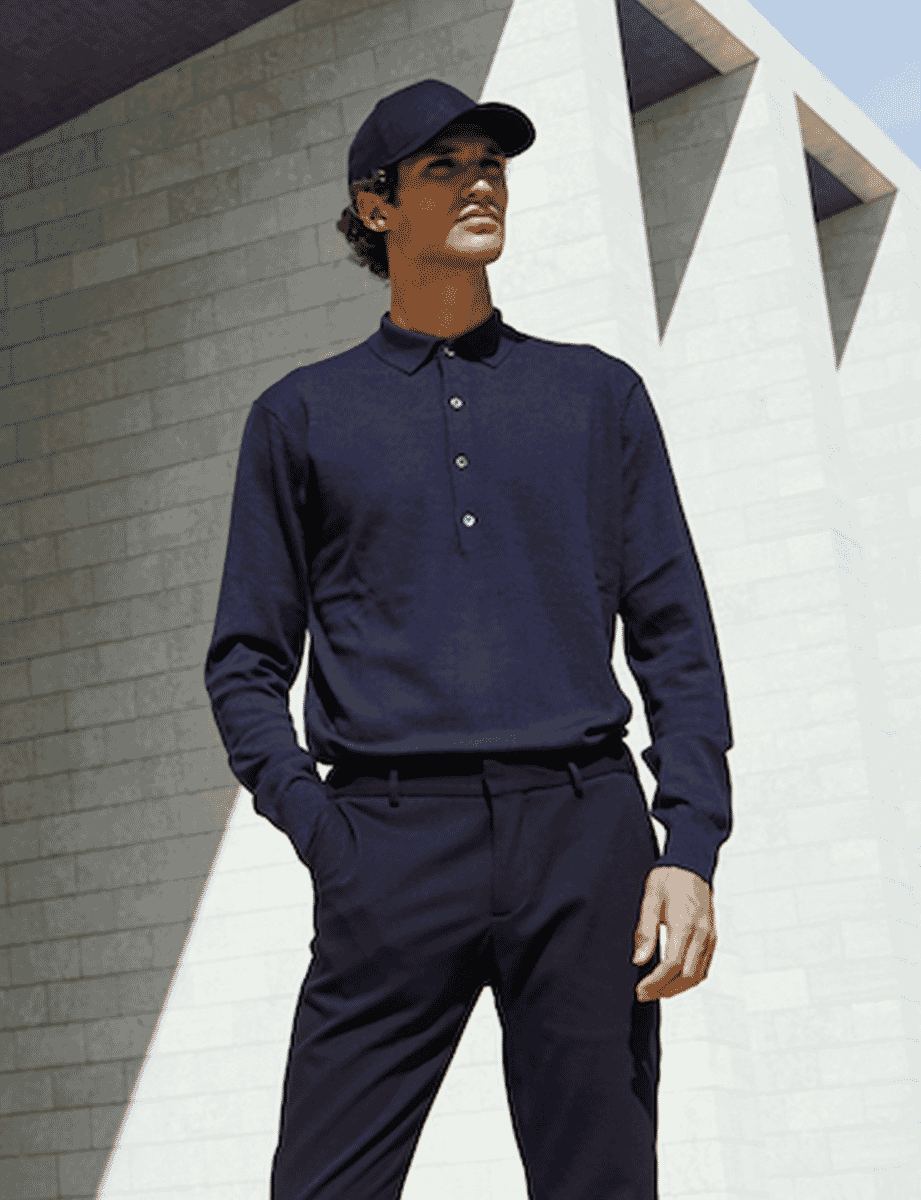 Polo shirt: WAHTS
The WAHTS Cashfeel Knitted Polo Shirt is spun from extra-fine merino with a cashmere touch, perfect for this season. Though as simple as it is timeless, the contemporary slim fit, ribbed collar, cuffs, and hem provide a distinctive feel.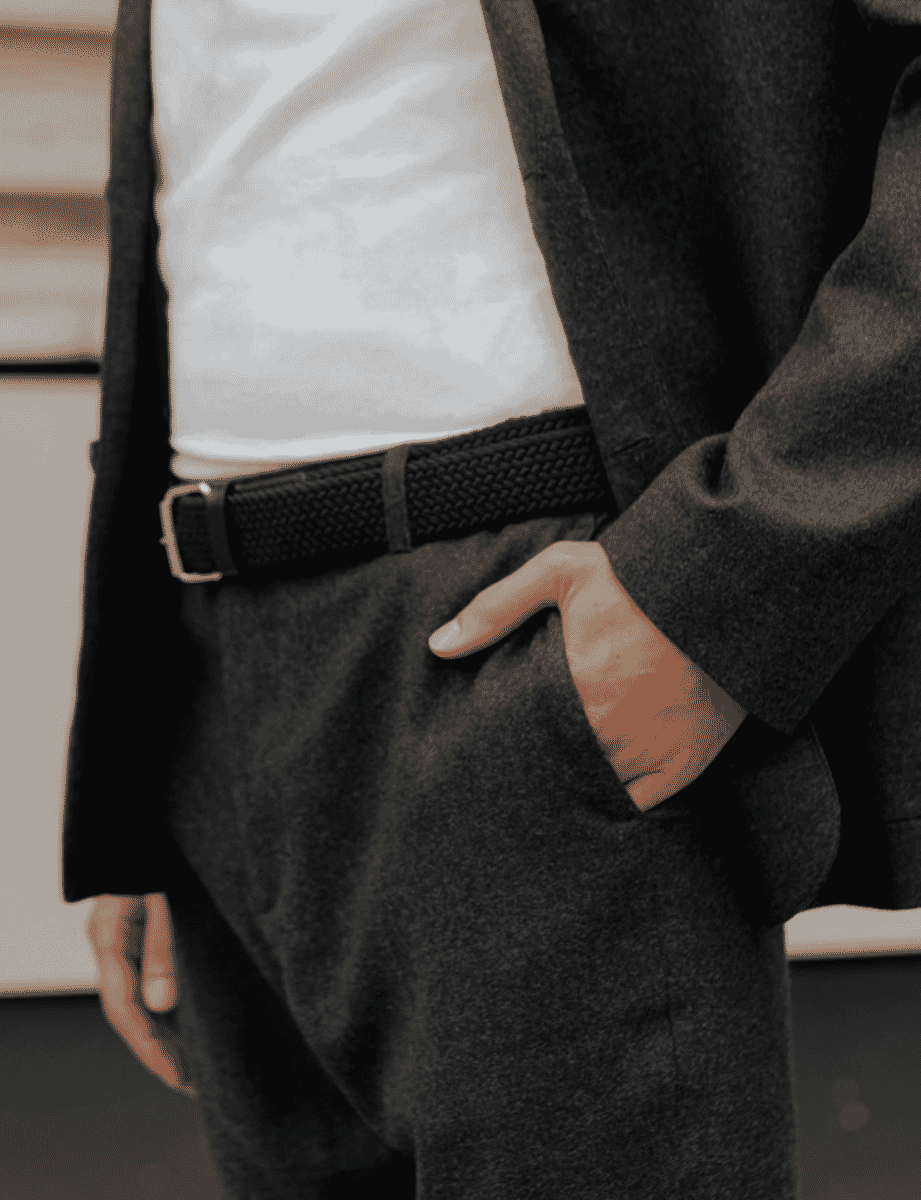 Trousers for winter office outfits
Wool trousers: L'Estrange
Discover unparalleled comfort in L'Estrange's 24 Trouser Wool. Crafted from 100% fine merino wool with natural stretch, it's soft, scratch-free, and cozy. Featuring a hidden elastic waistband, internal drawstring fastening, and three pockets with brass back poppers, it blends style and functionality effortlessly.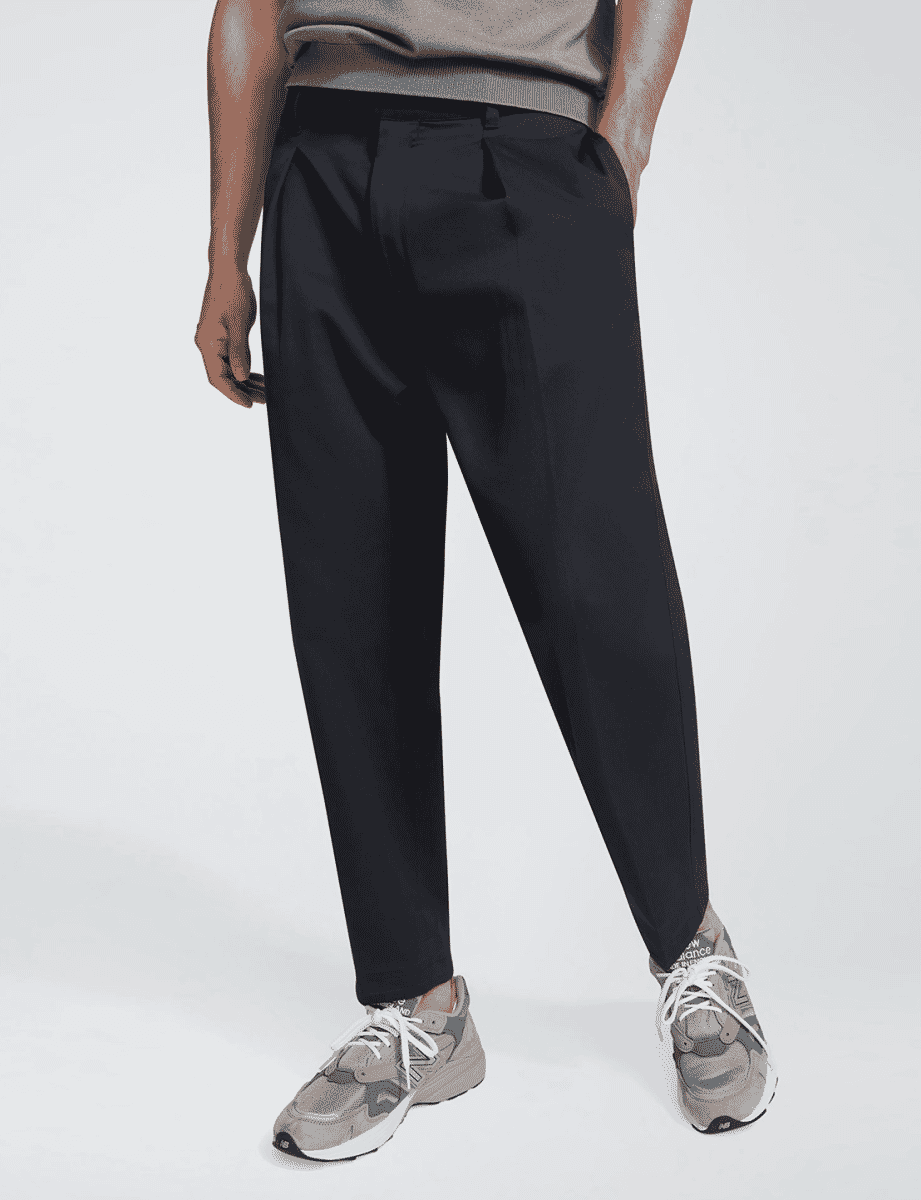 Chinos: Handvaerk
Handvaerk's Chino Pants are designed for comfort with a subtle taper, making it an effortlessly versatile piece. Tailored from lightweight cotton twill fabric, they boast a single pleat, a tailored waistband, and practical pockets. Whether crisp or relaxed, they always exude style. Made in Italy for a touch of luxury.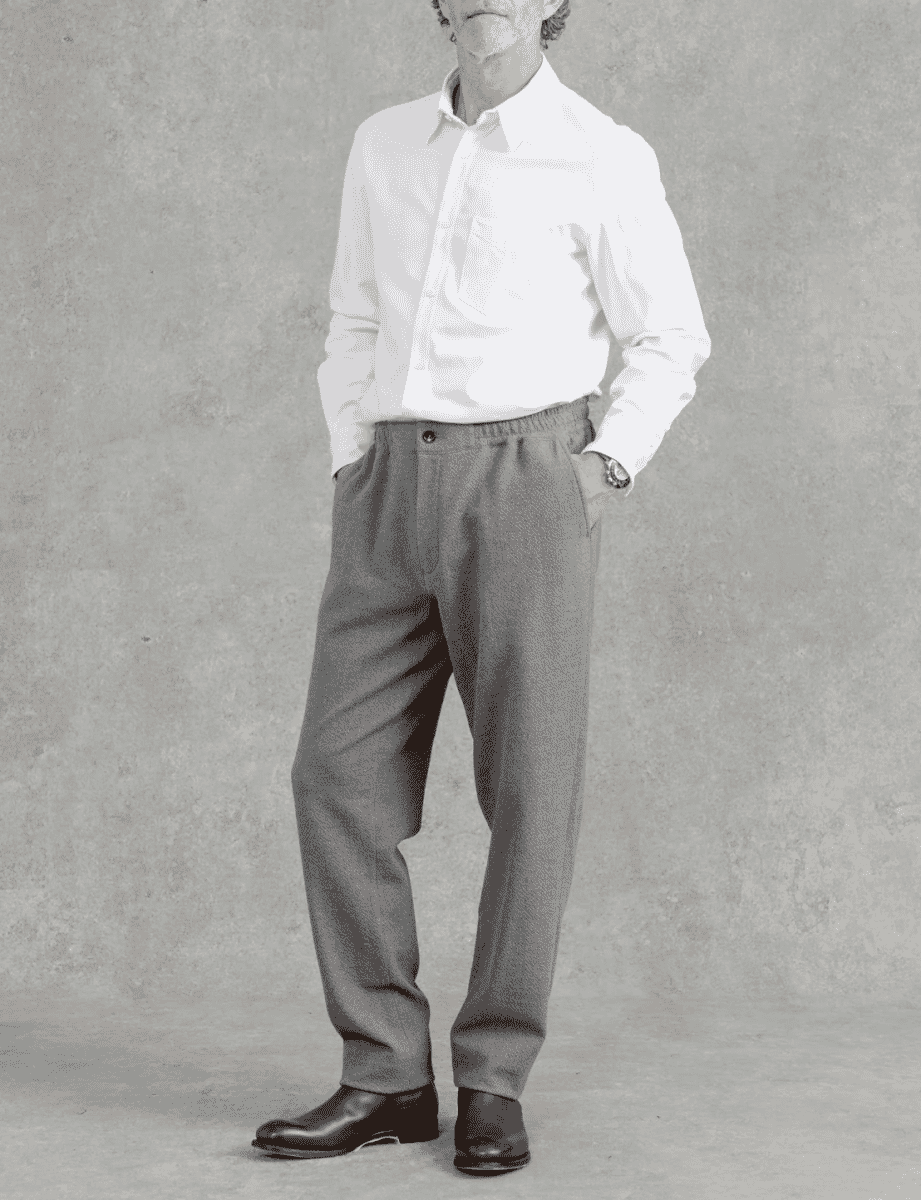 Drawstring trousers: Private White V.C.
Elevate your workwear wardrobe with Private White V.C.'s Seersucker Drawstring Trousers. Versatile for various dress codes, they offer a regular fit with an elasticated drawstring waist. Crafted in Manchester, England, for quality. Pair with the Edmund Seersucker Blazer for a complete look.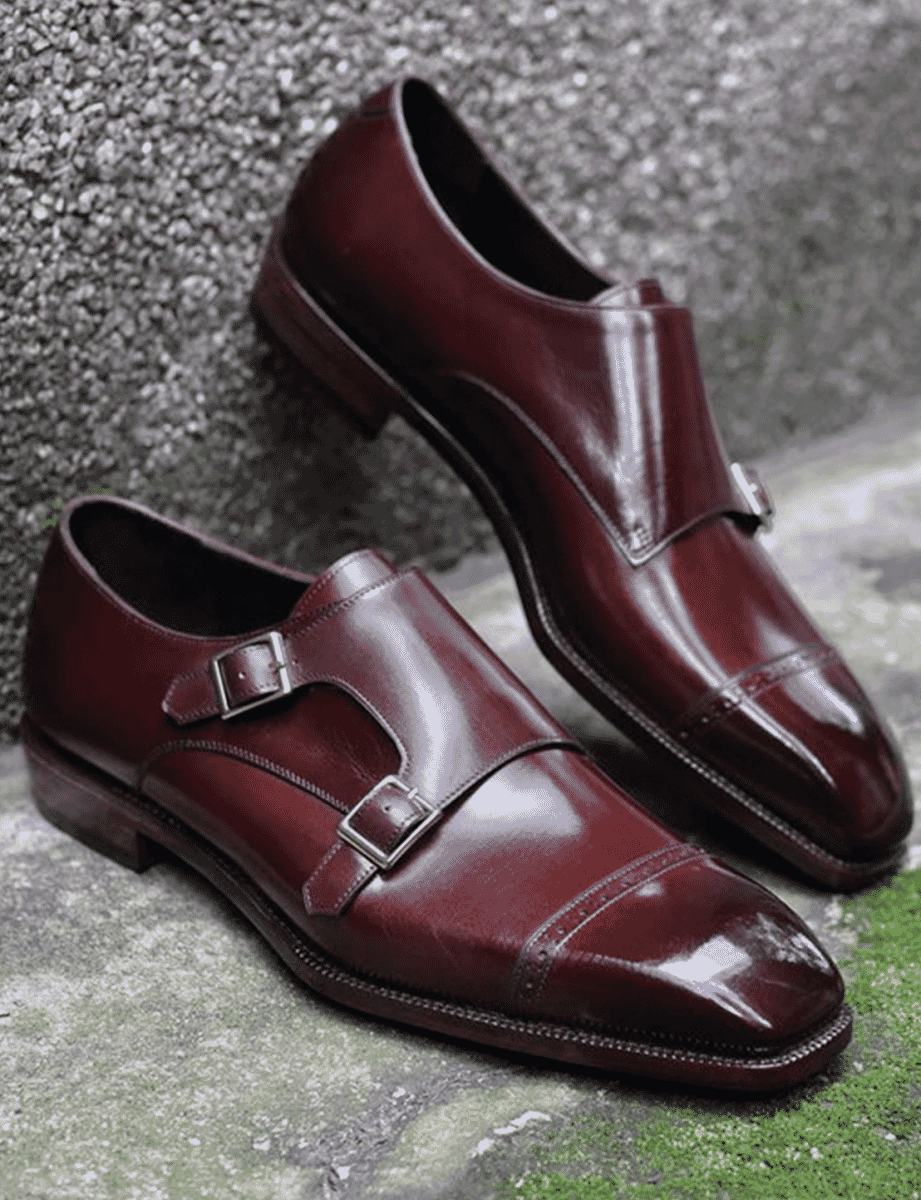 Footwear for winter office outfits
Monkstraps: Arterton
For a hardworking pair of office shoes, turn to Arterton's MON 723 Double Monks. These meticulously crafted shoes feature finely shaped double straps, adding a touch of sophistication. Made with German Weinheimer leather and hand-lasted for comfort and flexibility, they epitomize quality and style.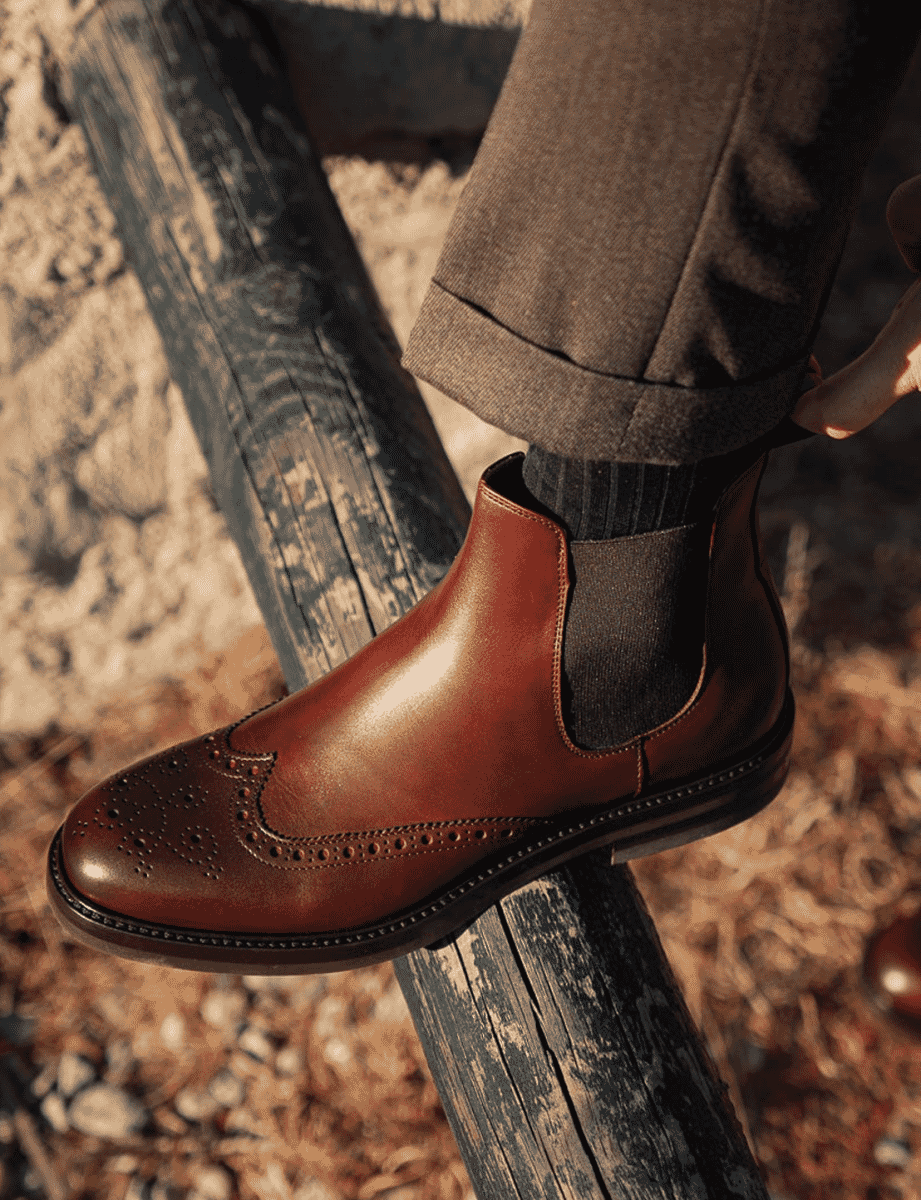 Chelsea boots: Velasca
Velasca's Lampionèe Chelsea Boots redefine office elegance with full brogue leather detailing. Crafted in full-grain leather with a sturdy Vibram rubber sole, they complement woolen pants effortlessly. Featuring a non-slip sole, they ensure style and practicality, even in wet conditions.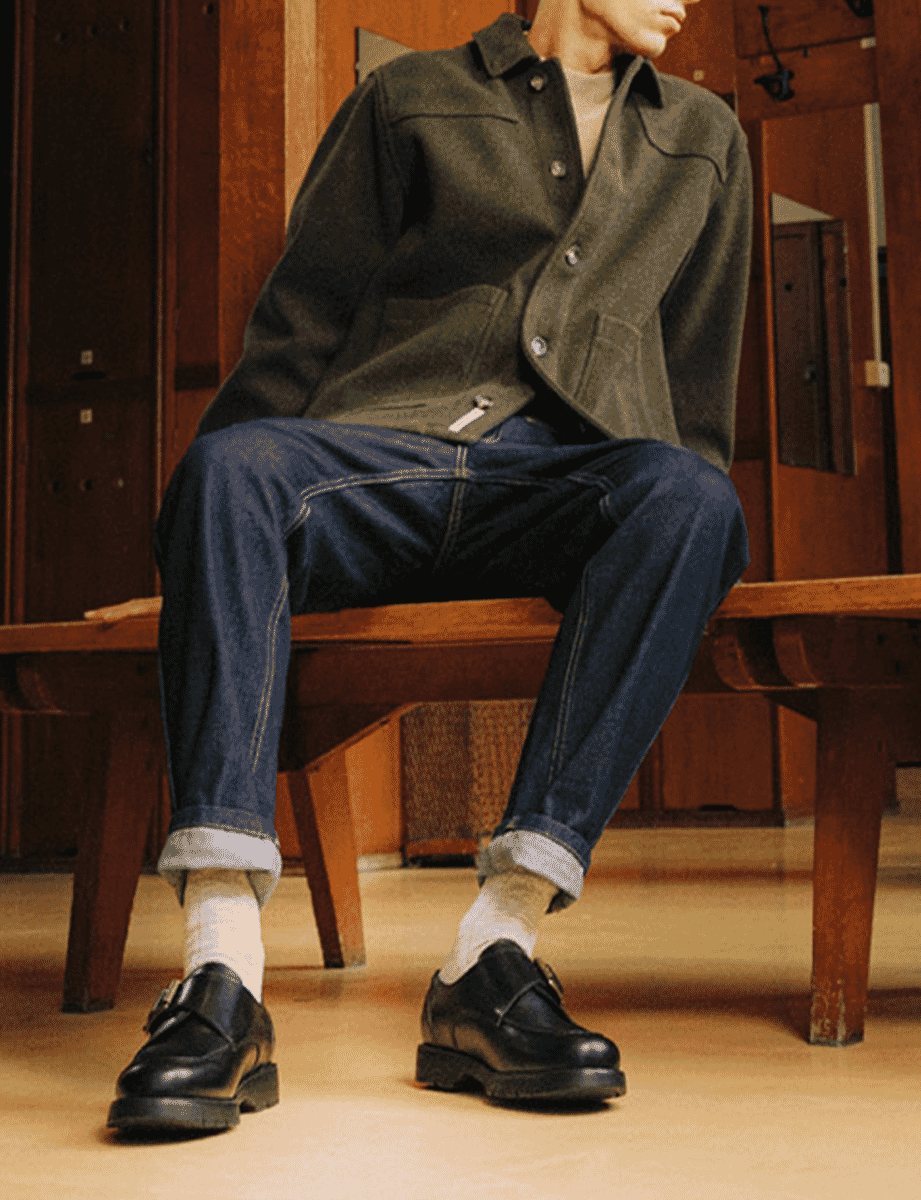 Buckle shoes: Kleman
Kleman's Marechal M VGT buckle and leather Tyrolean shoes are a sleek choice in black. Crafted in France with cemented assembly, these shoes feature leather and textile lining, a leather insole, and a rubber outsole. The buckle strap closure adds a touch of sophistication to your style.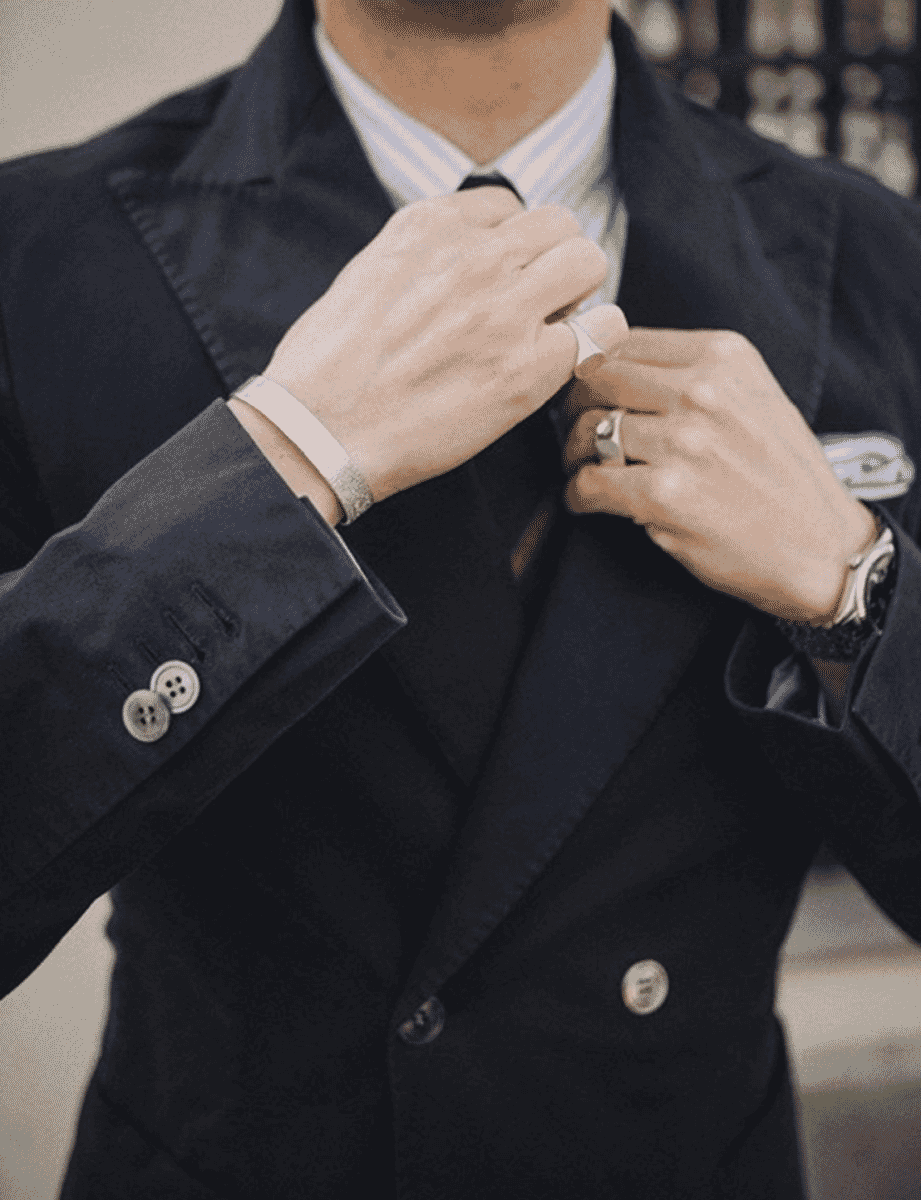 Accessories for winter office outfits
Jewelry: Cuff Copenhagen
Silver and gold jewelry from Cuff Copenhagen adds a touch of elegance to winter office outfits. Their unique designs, including necklaces, rings, and bracelets, elevate your style, showcasing craftsmanship and personal expression. Founded on a passion for quality, Cuff Copenhagen's jewelry complements professional attire effortlessly.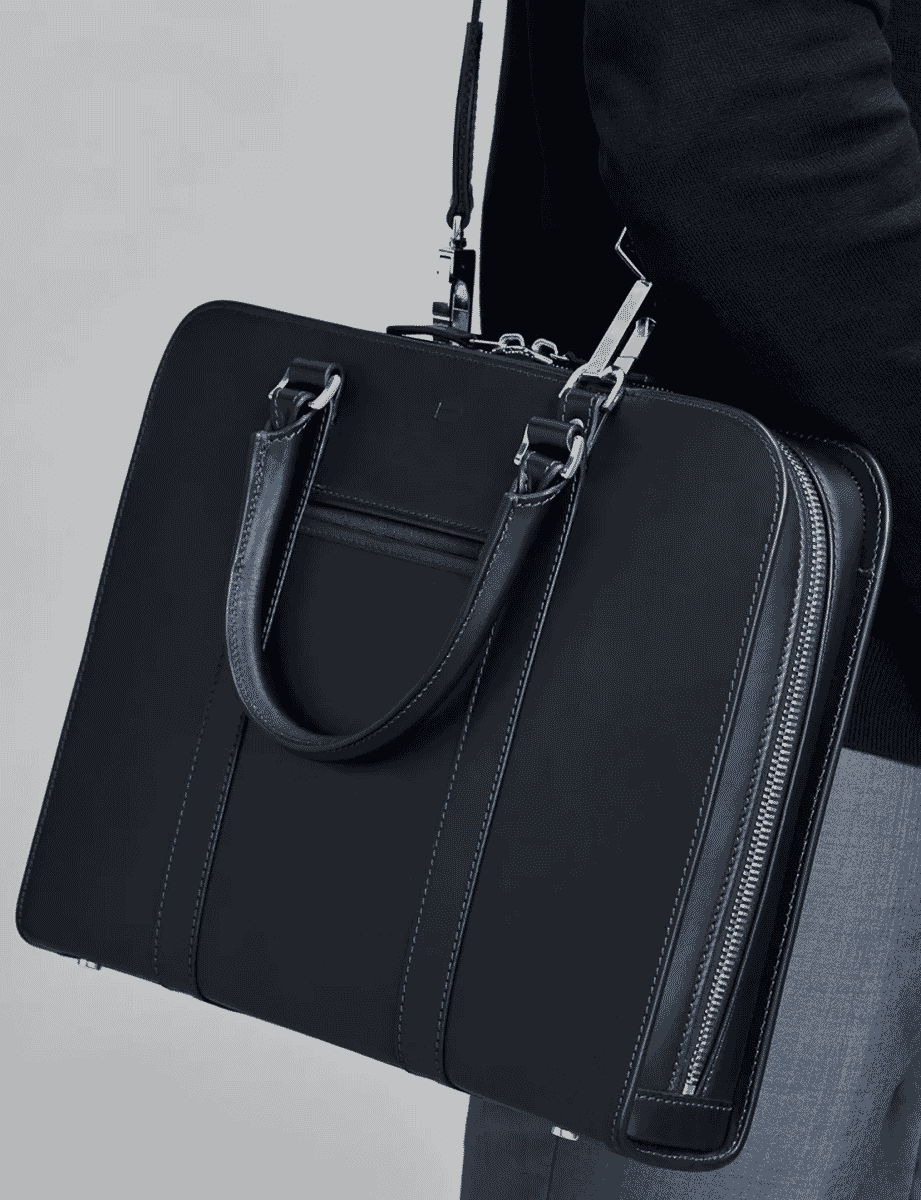 Leather briefcase: Carl Friedrik
The Palissy Briefcase by Carl Friedrik effortlessly combines style and functionality. With dedicated pockets for a 15-inch MacBook, 16-inch MacBook, and more, it's perfect for modern professionals. Complete with a 40mm shoulder strap, it's the epitome of everyday elegance and office-ready practicality.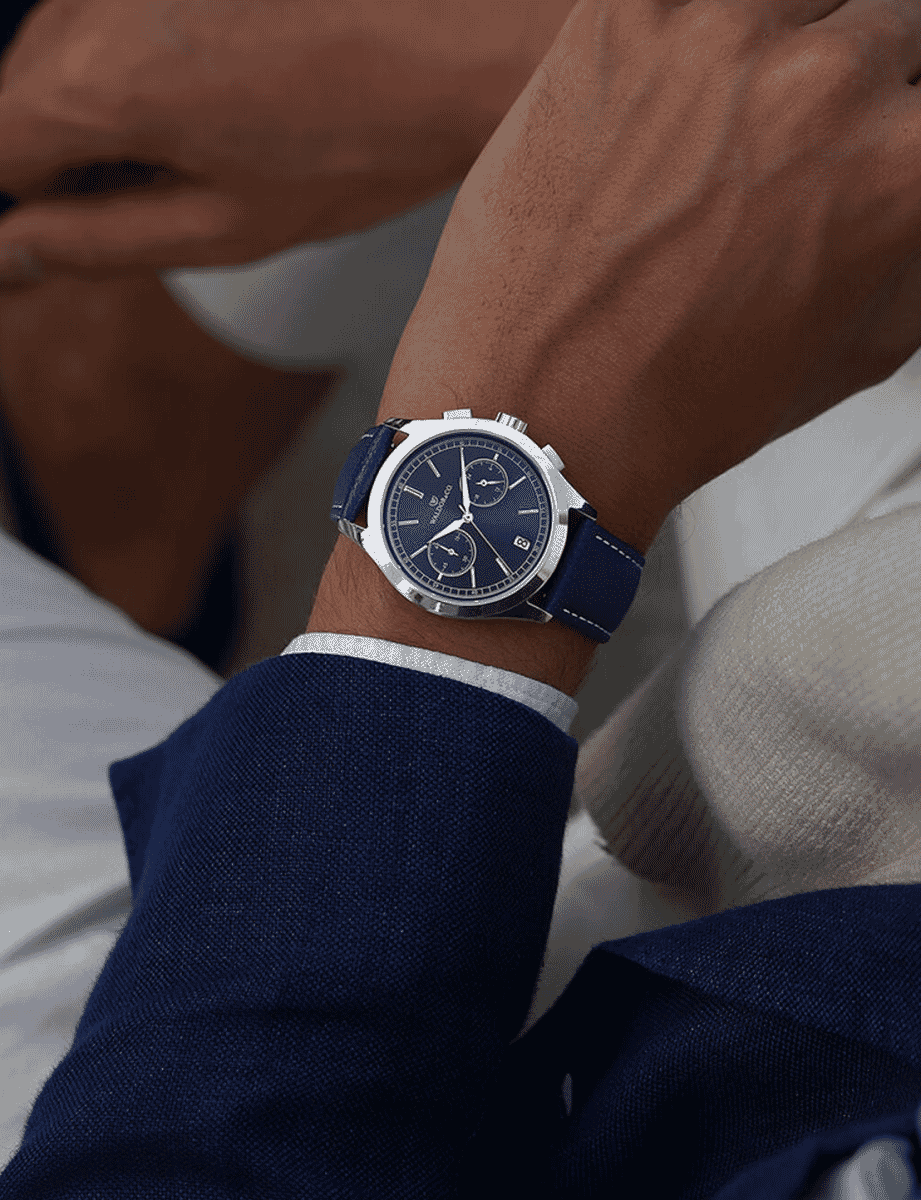 Watch: Waldor & Co.
Waldor & Co., a distinguished watch brand, presents the best-selling Chrono 39 Sardinia, an ideal work companion. Featuring a captivating blue sunray dial, robust brass case, scratch-resistant sapphire crystal glass, and a genuine blue leather strap, it marries style and functionality seamlessly.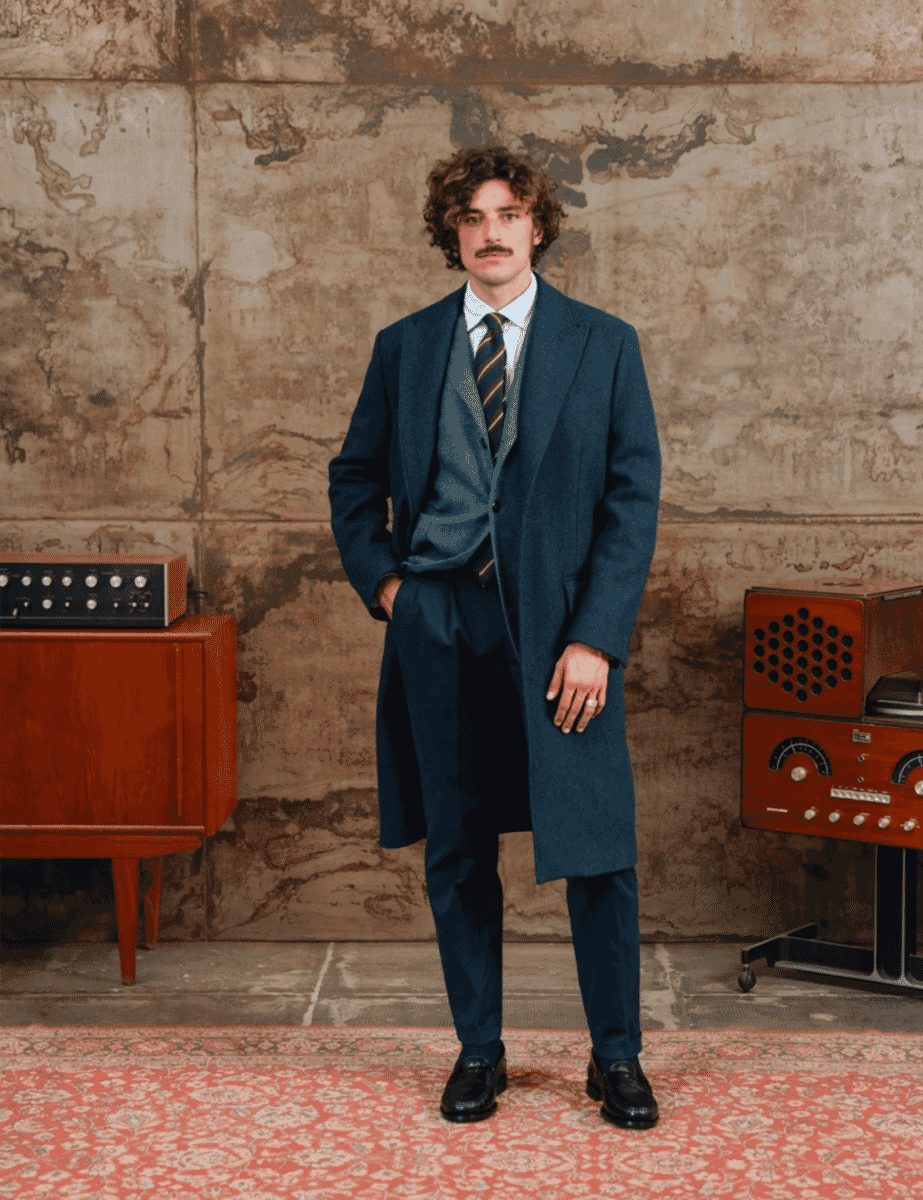 10 Best winter office outfits for businessmen
Boardroom briefings
Exude undeniable authority in a herringbone tweed coat and navy slacks to match. Create dimension with a striped dress shirt, grey blazer for added warmth, and a tie with a subtle, sophisticated pattern. Elevate the ensemble with polished black leather loafers and a class silver jewelry.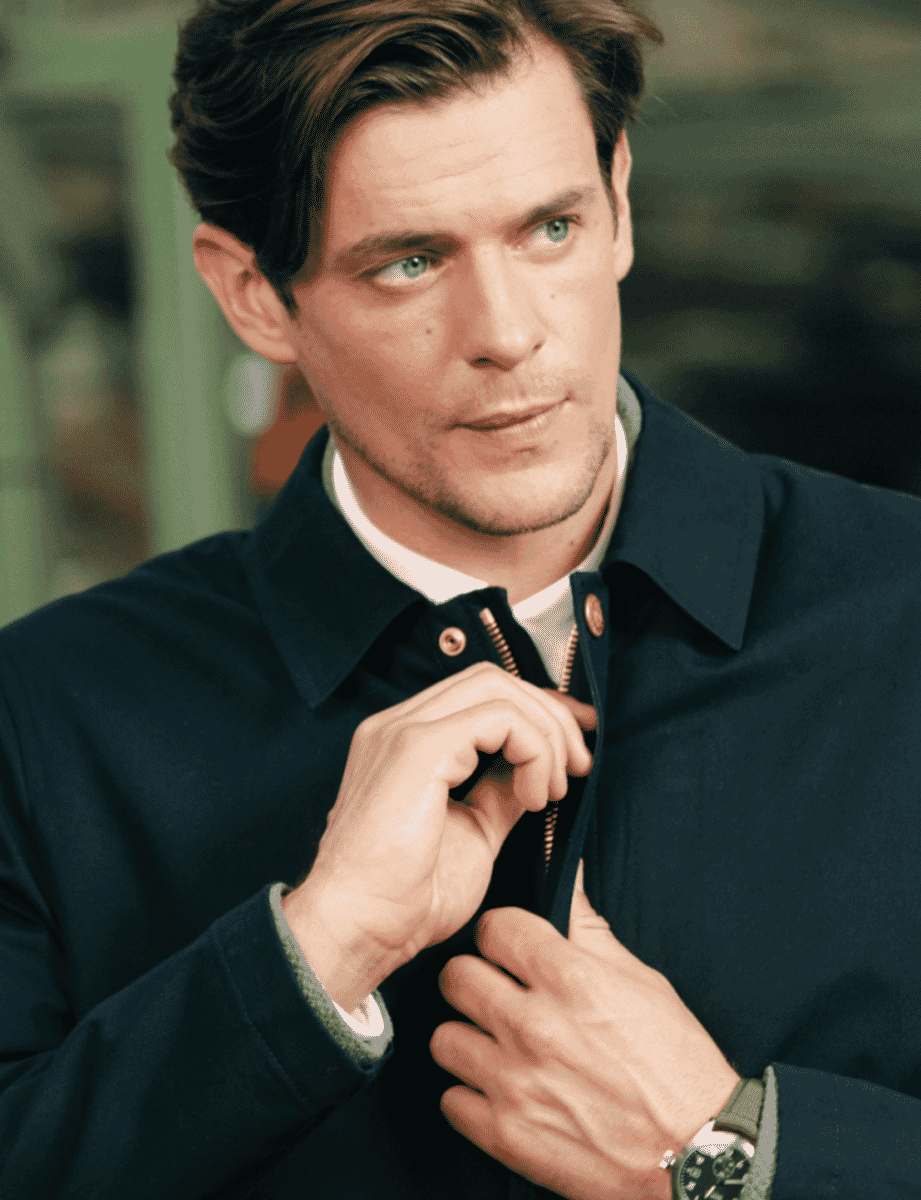 Client conferences
Make a lasting impression with a charcoal gray suit that boasts impeccable craftsmanship. Pair it with a meticulously pressed white dress shirt. Add a single-breasted mac coat for a touch of character. Complete the look with a leather briefcase and a watch.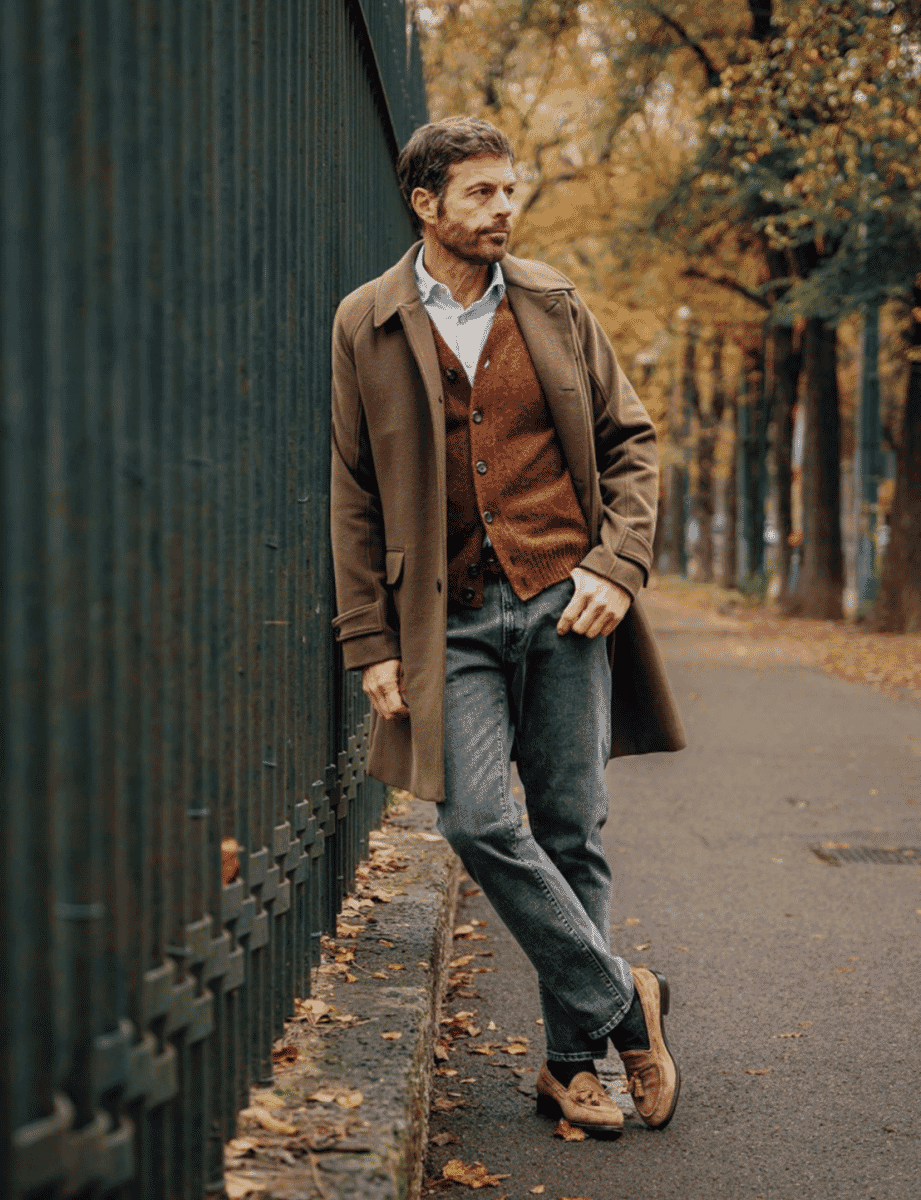 Networking luncheons
Strike the perfect balance between approachable and polished in a brown single-breasted coat, expertly tailored for a flattering fit. Dress it down with black denim jeans, providing both comfort and style. Layer an orange cardigan over a light blue dress shirt, and slip into tassel loafers, preferably suede, for a refined touch.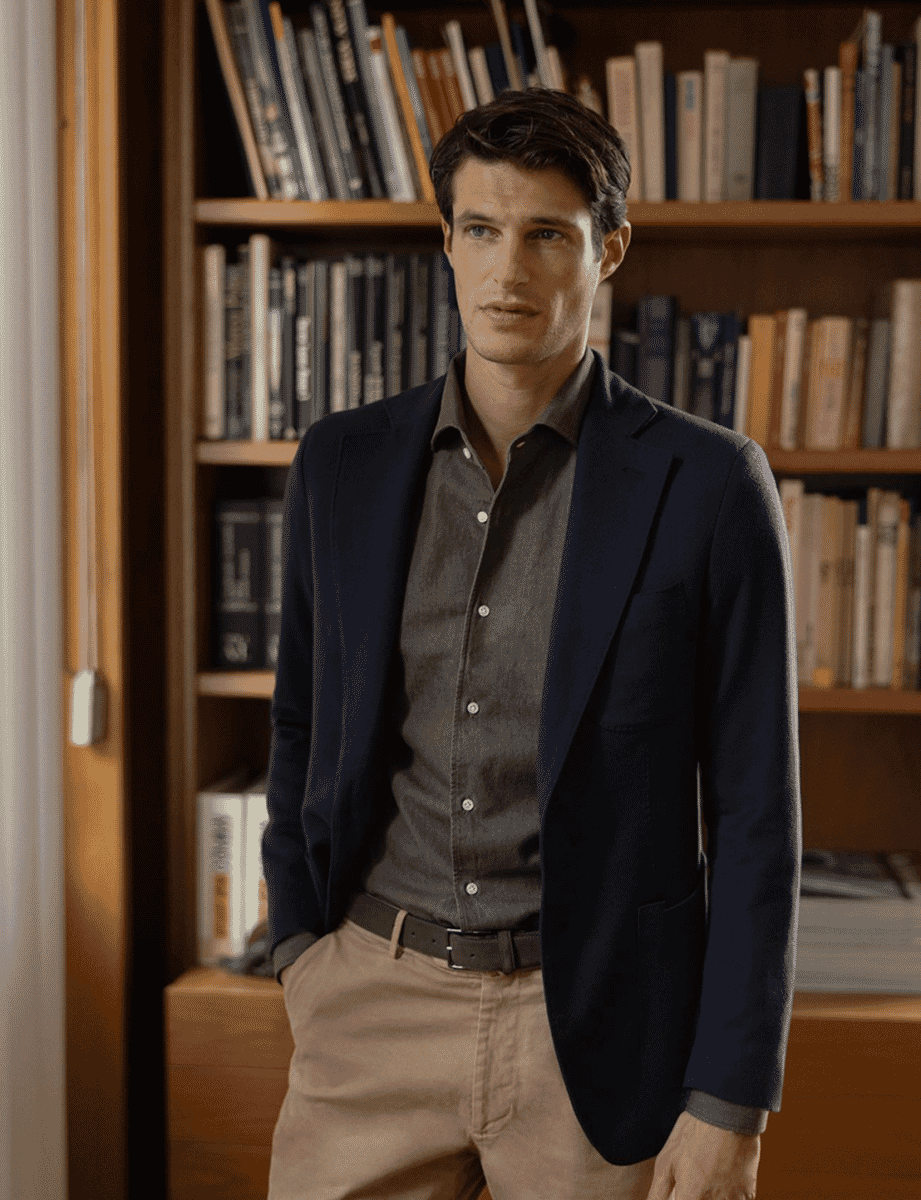 Presentation prowess
Make a statement in a modern navy blazer that showcases your confidence. Opt for a slim-cut silhouette that complements your physique, and pair it with a pristine dress shirt. Elevate the ensemble with a brown leather belt, creating a polished look. Add khaki chinos to project peak professionalism.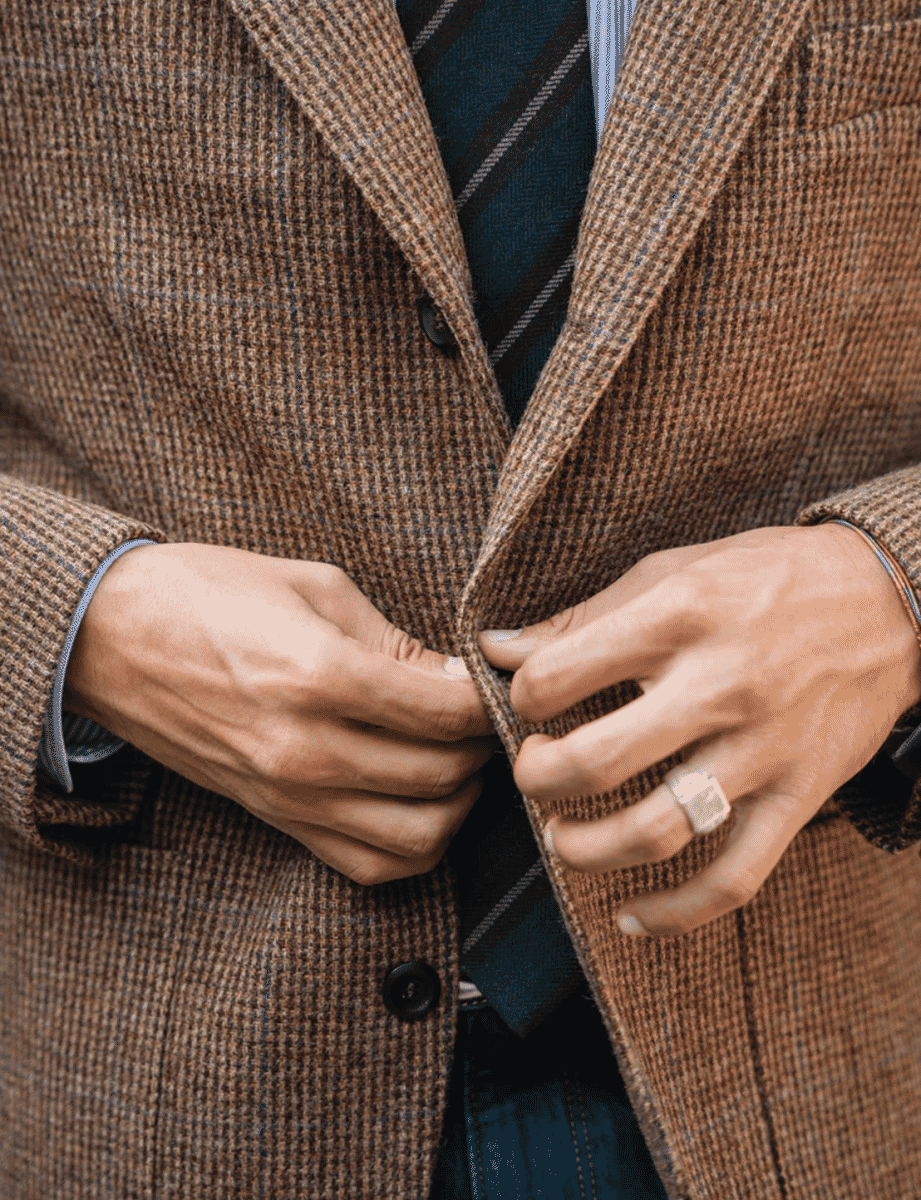 Corporate celebrations
Embrace a timeless look with a well-fitted brown suit. Elevate the ensemble with a crisp blue dress shirt, accessorized with a silver watch. Complete the outfit with patent leather dress shoes and embody sophistication and elegance with striped brown socks.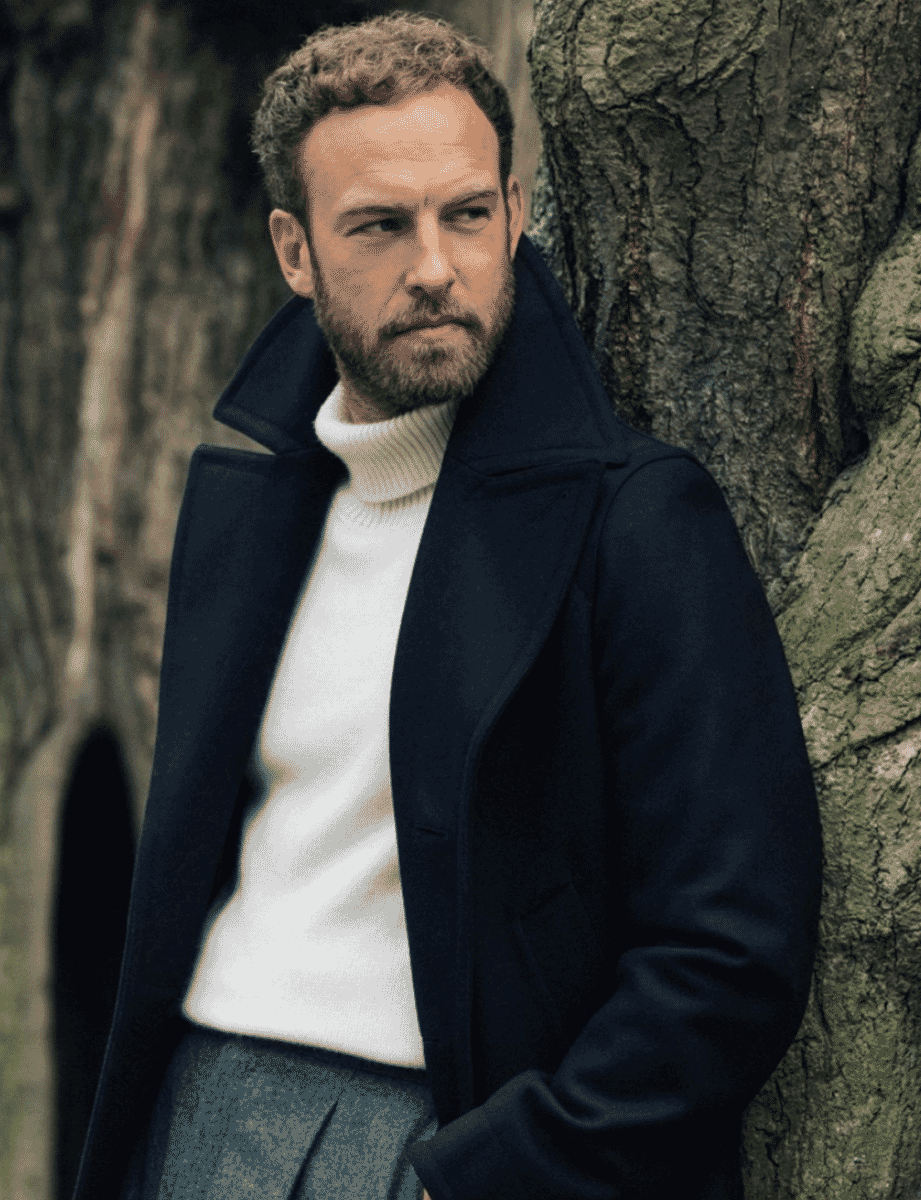 Meeting with management
Radiate confidence in a double-breasted wool coat in navy, tailored to perfection. Swap crisp white dress shirts for a thick roll neck on chillier days, which can be easily dressed up with pleated wool trousers. Slip into black leather monk-strap shoes, projecting refinement and authority.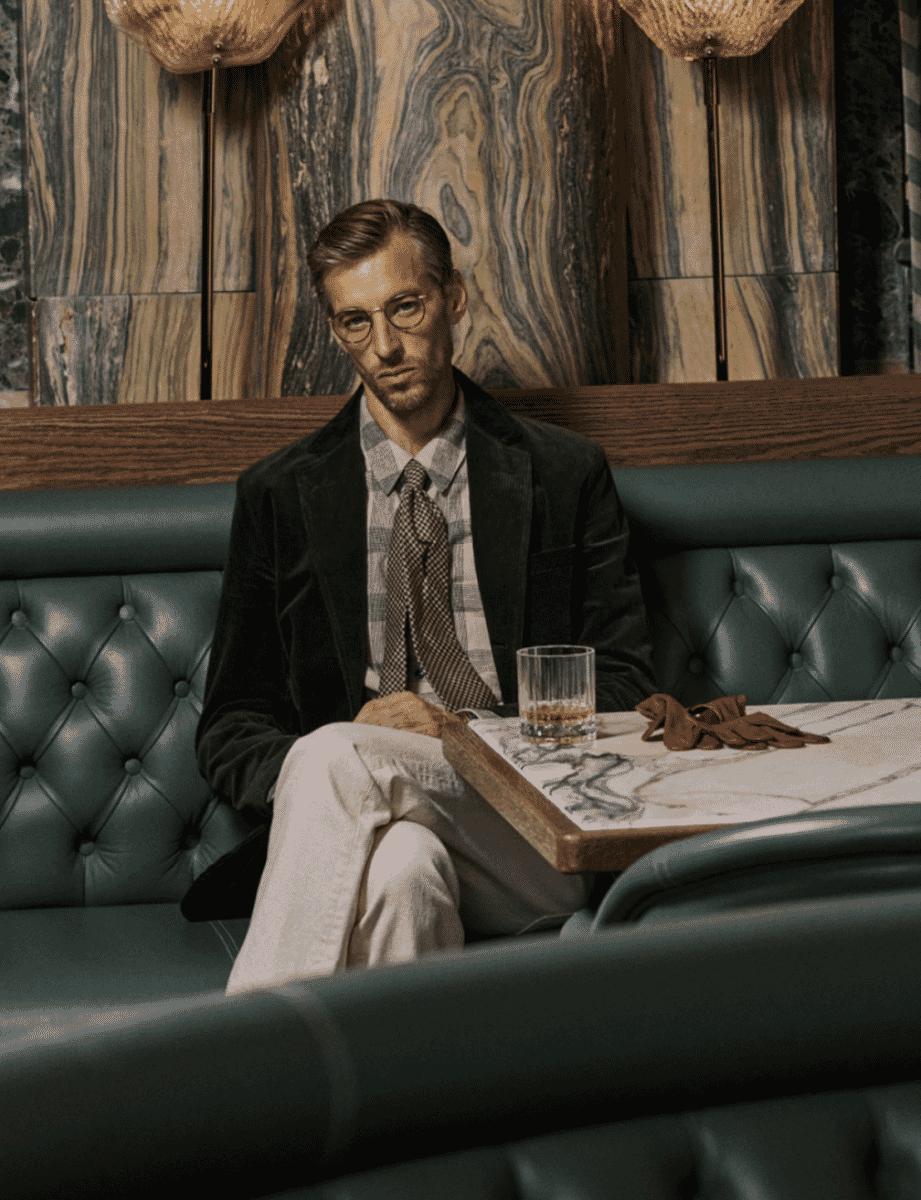 Deal-making dinners
Command respect with a dark green corduroy blazer that underscores your executive presence. Choose a patterned shirt crafted from premium cotton, ensuring comfort throughout your meeting. Elevate your look with a silk tie featuring a subtle pattern. Finish the ensemble with white trousers, watch, and reading glasses.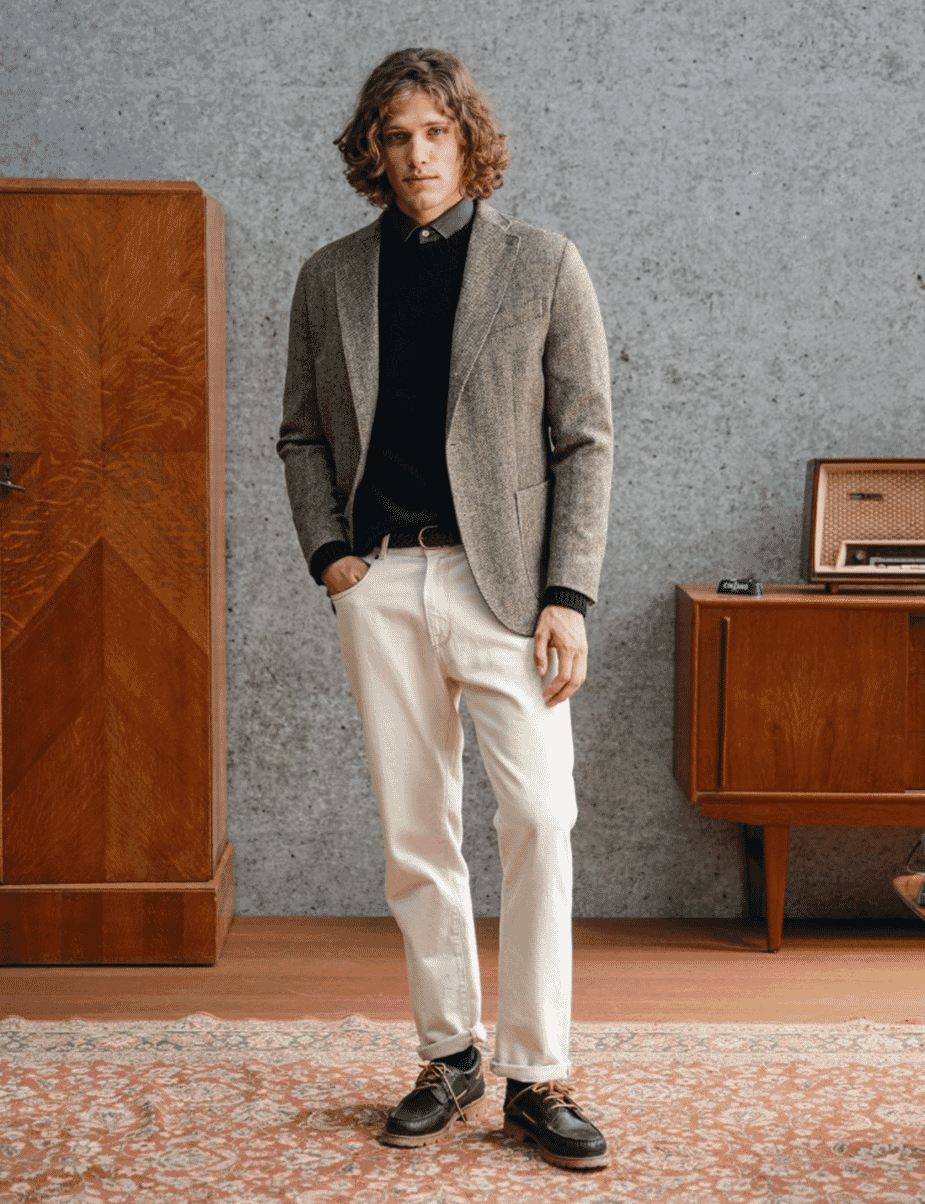 Executive engagements
Command attention in a wool blazer, showcasing your impeccable taste and sense of style. Layer it with a navy jumper atop a luxuriously green dress shirt. Add white denim jeans, cuffed at the hem, and a leather belt, infusing character into your ensemble. Elevate the look with brown moccasins, embodying confidence and sophistication.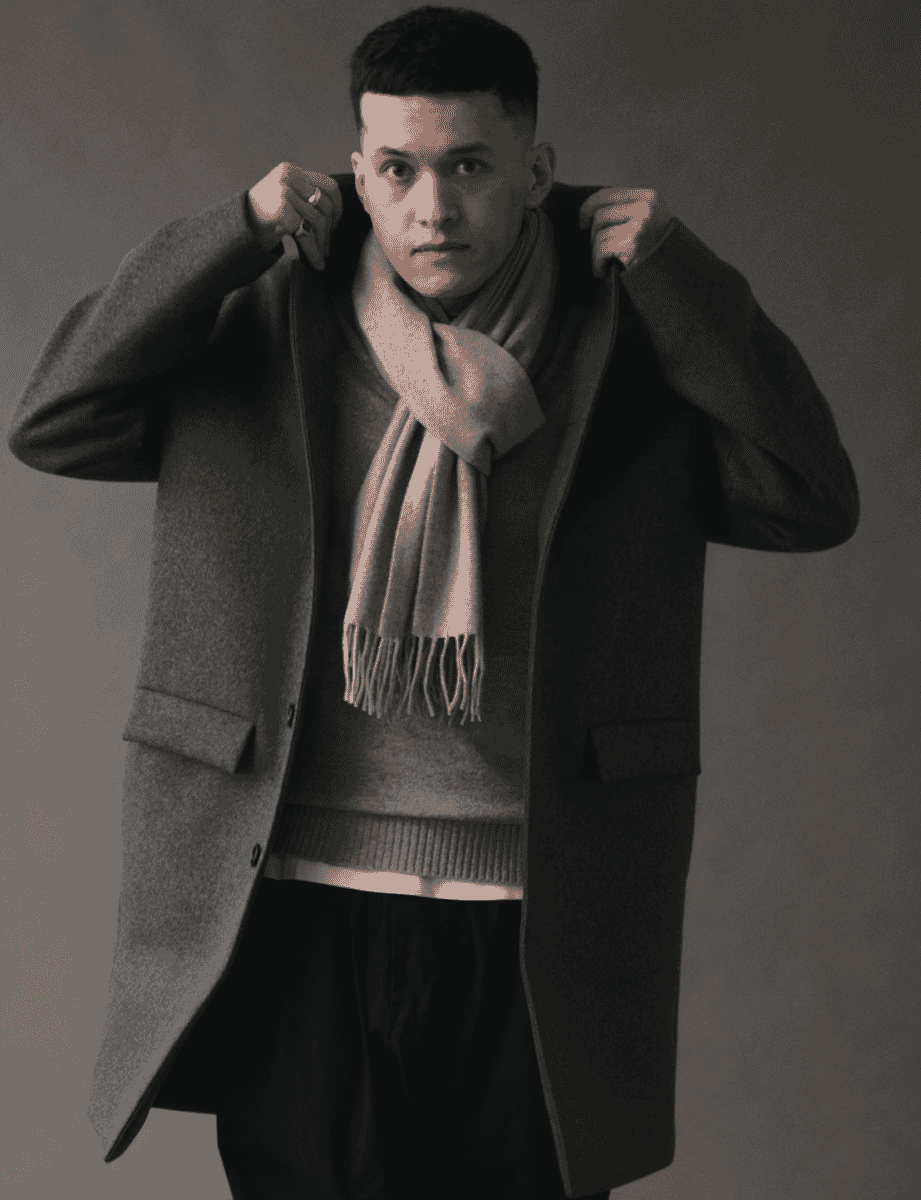 Professional photoshoots
Opt for a classic gray wool coat that exemplifies timeless elegance. Ensure it's expertly tailored to your measurements. Pair it with a pristine cashmere crewneck, layered with a white organic cotton T-shirt. Adorn yourself with a scarf that complements your ensemble's colors, adding a touch of character to your attire. Complete the ensemble with navy trousers and if casual shoes are more up your alley, sneakers.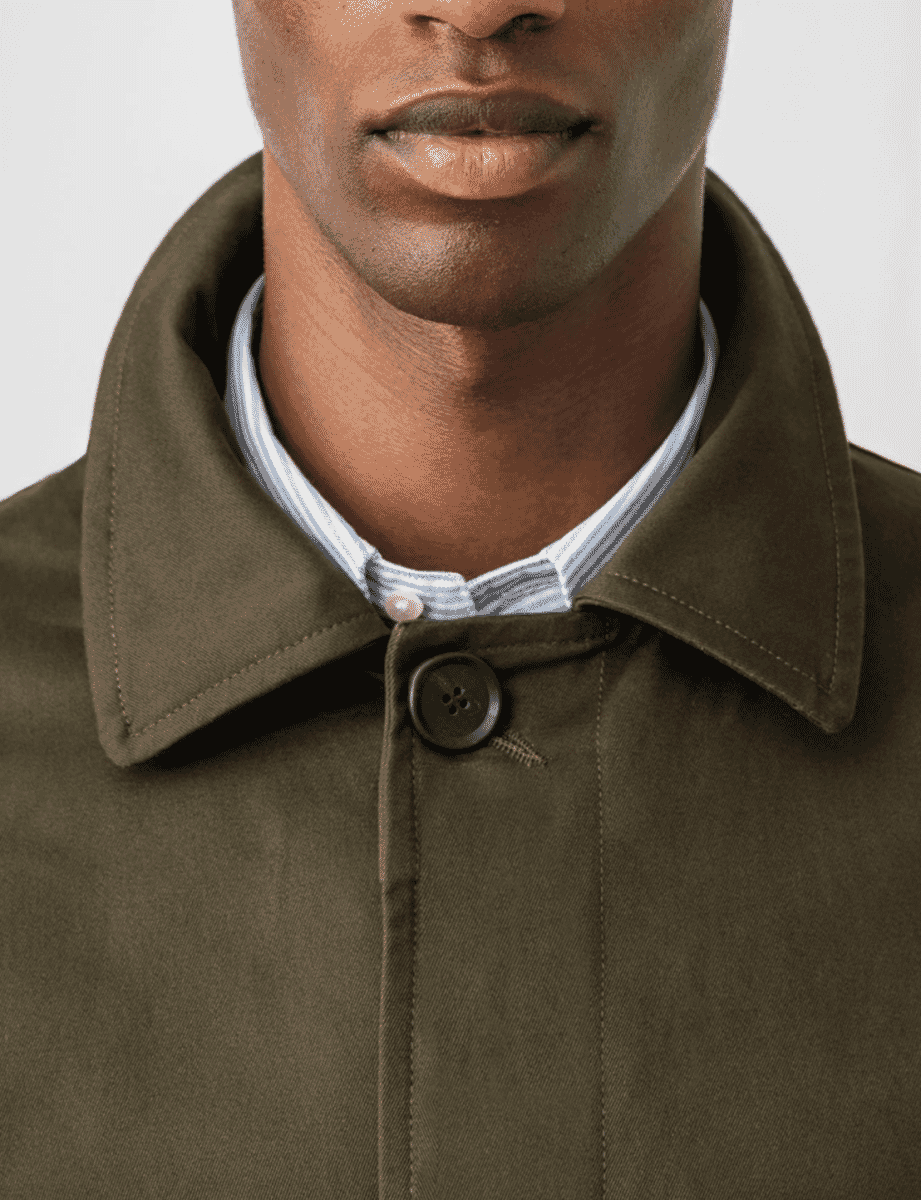 Business breakfasts
Strike a balance between sharpness and comfort with an army green coat with a classic mac collar, meticulously tailored for a flattering fit. Pair it with a pinstripe button up that offers both style and comfort. Finish the ensemble with navy trousers and a brown leather belt, projecting a relaxed yet refined image.
For more like this, discover 20 ways to style a business casual jacket for winter.
---
---