Winter suits for men are not merely fashion statements; they are essential components of a well-suited winter wardrobe. As the temperatures plummet and snowflakes fall, the importance of dressing appropriately for the season becomes unmistakably clear. The right winter suit not only keeps you warm but also elevates your style, ensuring you look impeccable even in the chilliest of months. In this comprehensive guide, we'll delve into the intricacies of men's winter suits, exploring the key factors to consider when selecting one. From the choice of fabrics and materials that provide warmth and style to the nuances of styles, colors, and layering techniques, we'll cover it all. By the end of this article, you'll be equipped with the knowledge to assemble a winter wardrobe that seamlessly combines elegance and functionality.
Table of Contents
What are winter suits for men
Differentiating winter suits from regular suits
Distinguishing winter suits from regular ones is fundamental. Winter suits are specifically designed to provide warmth and comfort in cold weather. Unlike regular suits, they incorporate heavier fabrics and more insulation, which help to trap heat. Additionally, winter suits often feature specific design elements such as thicker linings and extra layers, making them distinctively suited for low temperatures.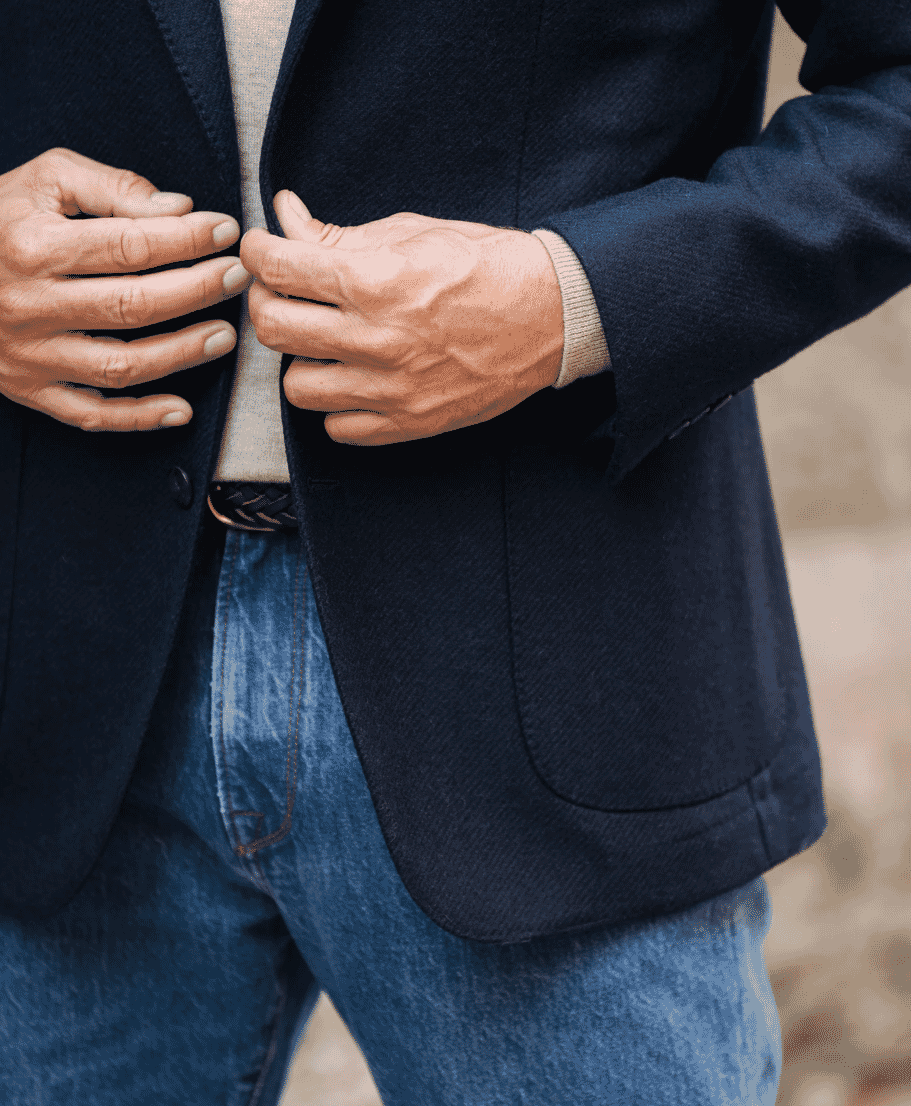 Key components of a winter suit
Fabric: The choice of fabric is critical in winter suits. Wool, tweed, and flannel are popular options known for their insulation properties and ability to retain warmth.
Weight: Heavier weight fabrics (often measured in ounces) are ideal for winter suits as they provide better insulation. Look for suits in the range of 12 to 16 ounces for colder months.
Lining: Winter suits typically have thicker linings, which add warmth and structure. These linings also enhance the durability and longevity of the suit.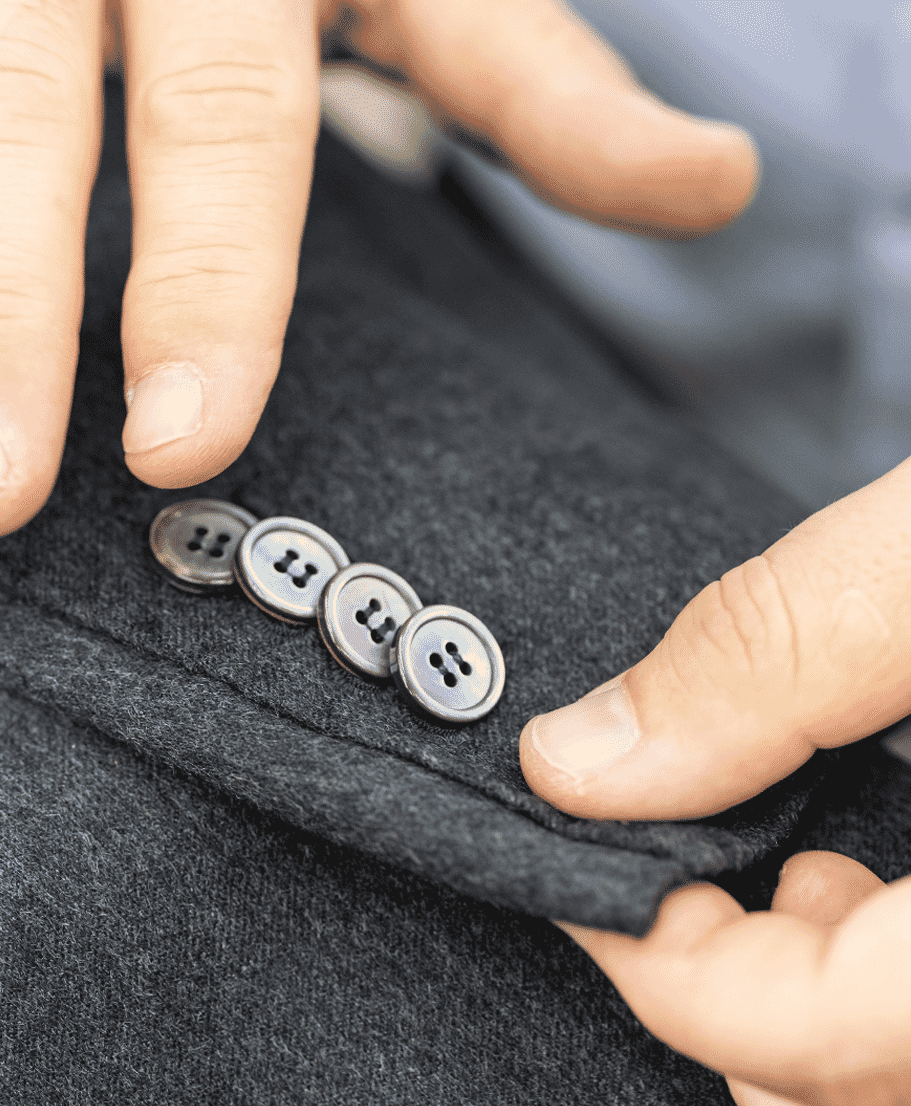 Winter suits as a worthwhile investment
Investing in a winter suit is not just about fashion; it's a practical choice. Winter suits keep you comfortably warm while ensuring you maintain a stylish appearance. They serve as versatile pieces for various cold-weather occasions, from formal events to business meetings. A well-made winter suit is durable and can last for years, making it a smart long-term investment for your wardrobe. Ultimately, owning a winter suit allows you to brave the chill with confidence and sophistication, making it a worthwhile addition to your collection.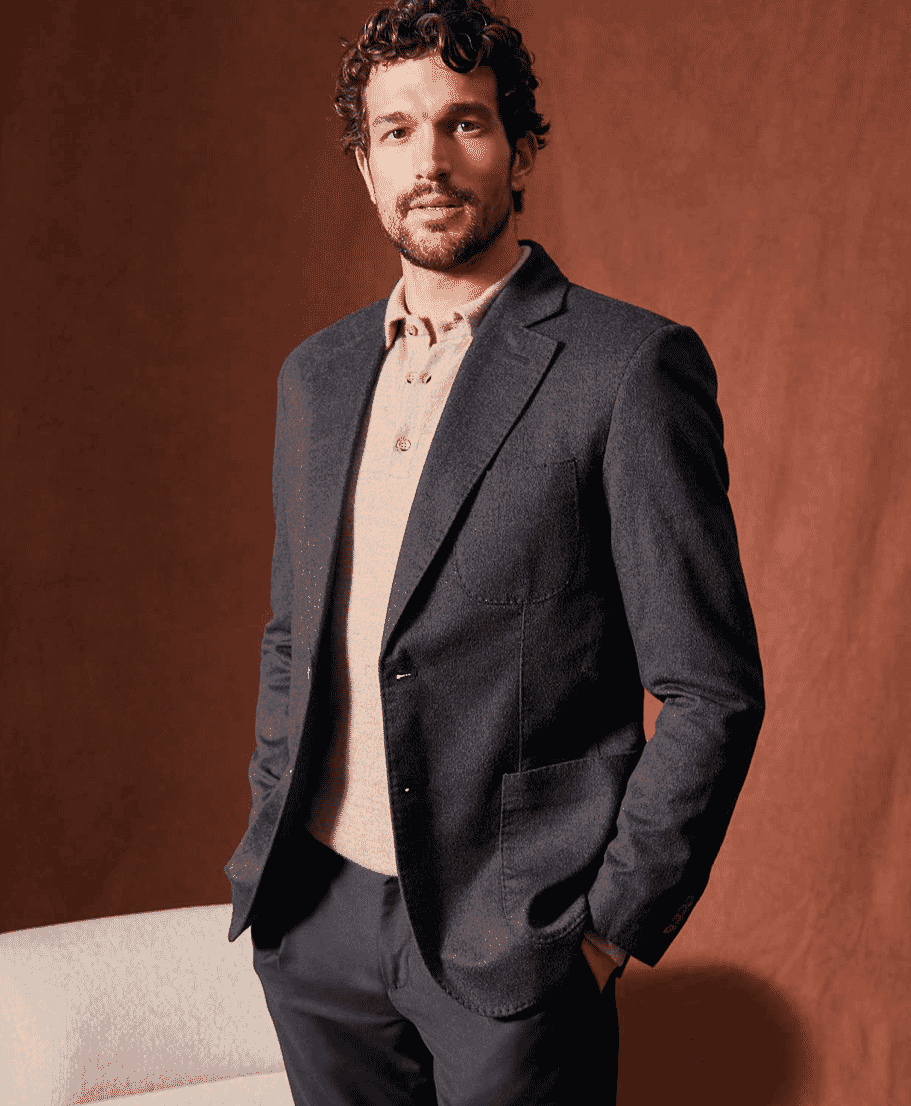 What fabrics to find in winter suits for men
When it comes to winter suits for men, the choice of materials is crucial. Wool, tweed, and flannel are among the top options. Wool is a classic choice for its warmth and versatility. Tweed is a rugged, textured fabric that adds a rustic charm to winter ensembles. Flannel, known for its softness, offers both warmth and comfort.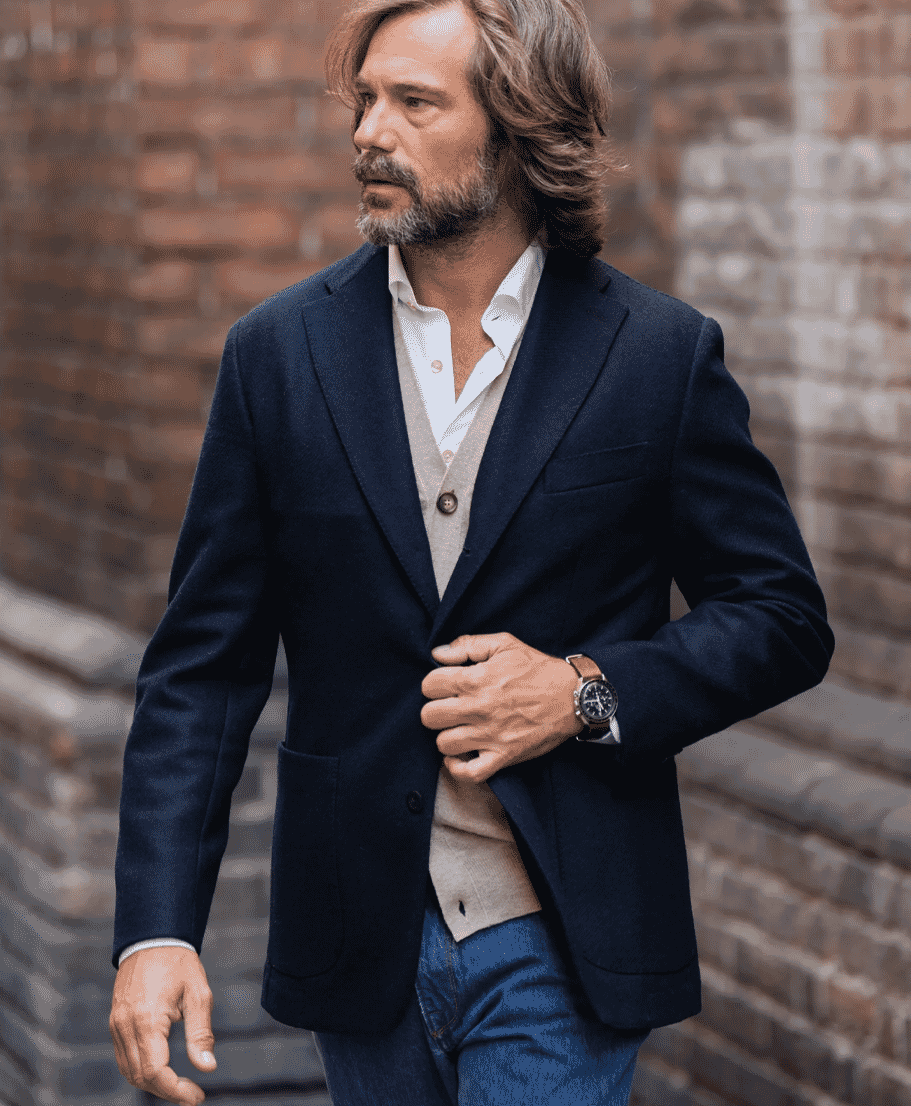 Suitable materials for warmth and style
Wool: Wool provides excellent insulation and is naturally moisture-wicking, keeping you warm and dry. It also drapes well and exudes timeless elegance.
Tweed: Tweed's dense weave offers exceptional warmth, making it ideal for extremely cold climates. Its rugged texture adds a touch of sophistication.
Flannel: Flannel is renowned for its softness and comfort. It offers insulation without sacrificing style, making it perfect for modern winter suits.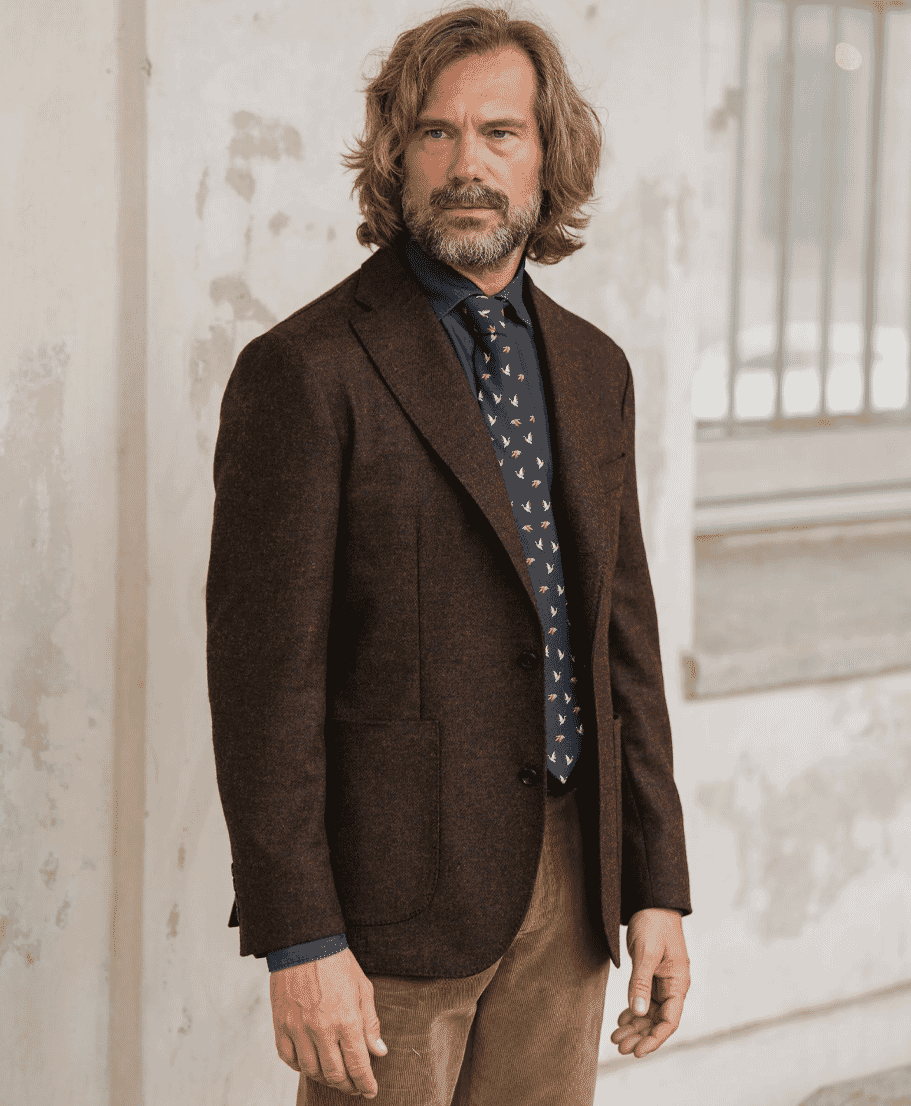 Consider your climate and personal style when choosing a fabric. Wool suits are versatile for various climates, while tweed suits are better suited for extremely cold regions. Flannel suits strike a balance between warmth and comfort, making them suitable for milder winter climates. Personal preference, budget, and the intended use of the suit should also influence your decision.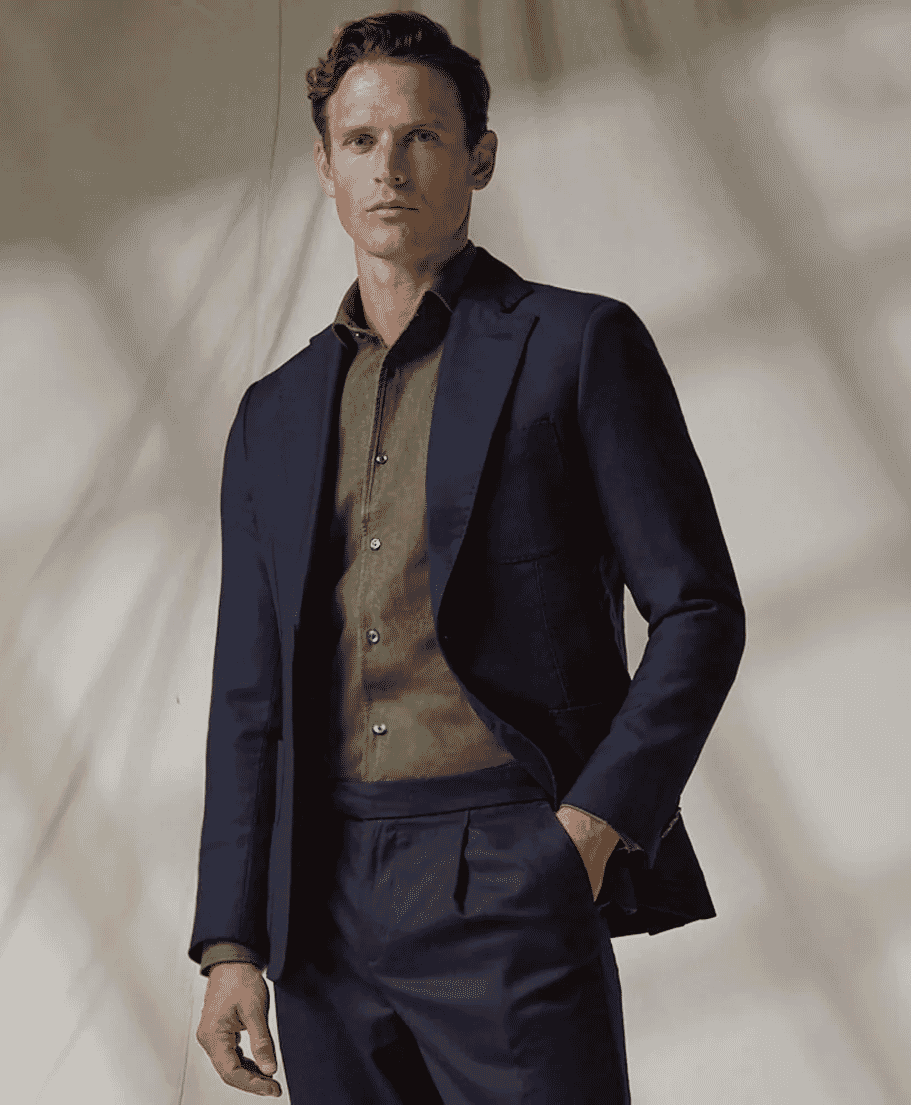 What styles to seek in winter suits for men
Men's winter suits come in different styles, each with its unique appeal. Single-breasted suits are versatile and suitable for most occasions, while double-breasted suits offer a more formal and structured look. Understanding these style options allows you to tailor your winter suit to the event and your personal taste.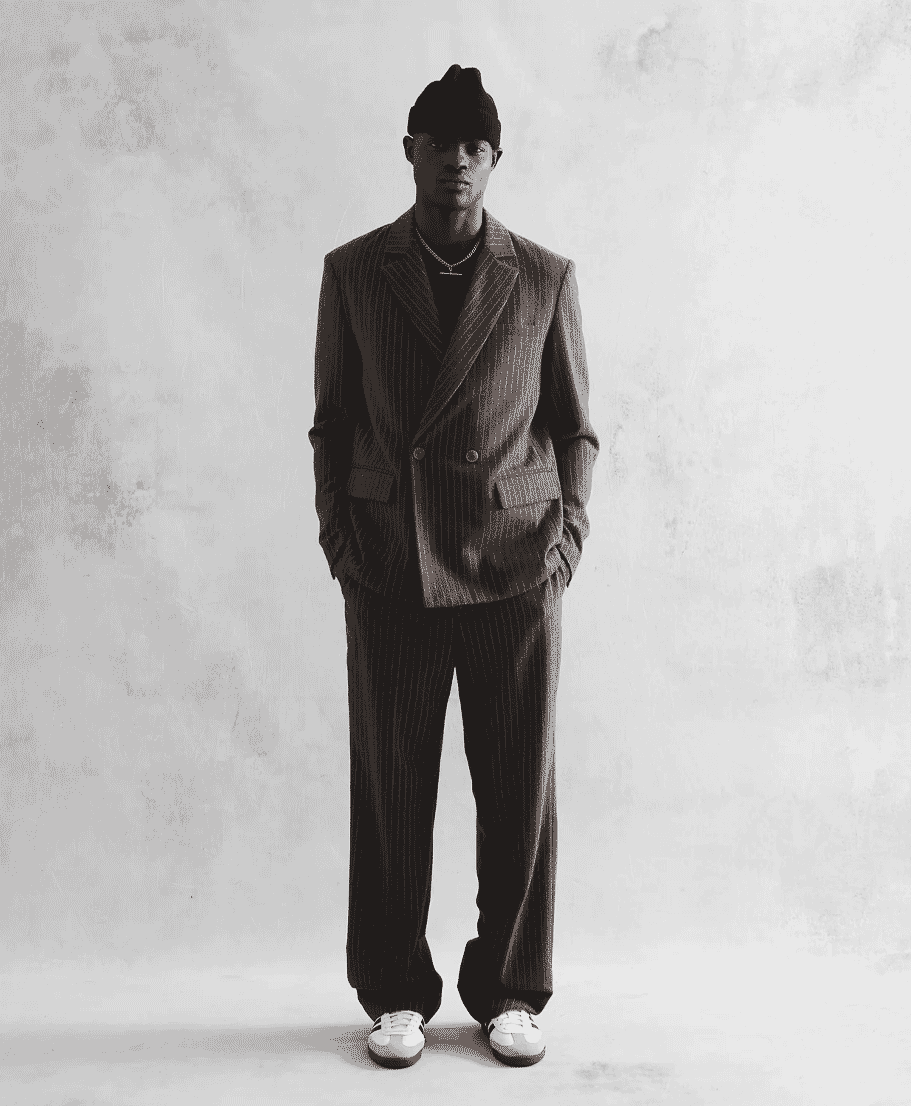 How cuts affect comfort and appearance
The choice of cut greatly impacts how your winter suit feels and looks. Slim fits offer a modern, tailored appearance but may restrict movement. Regular or classic fits provide comfort and ease of movement. Choose a cut that suits your body type and your comfort preferences.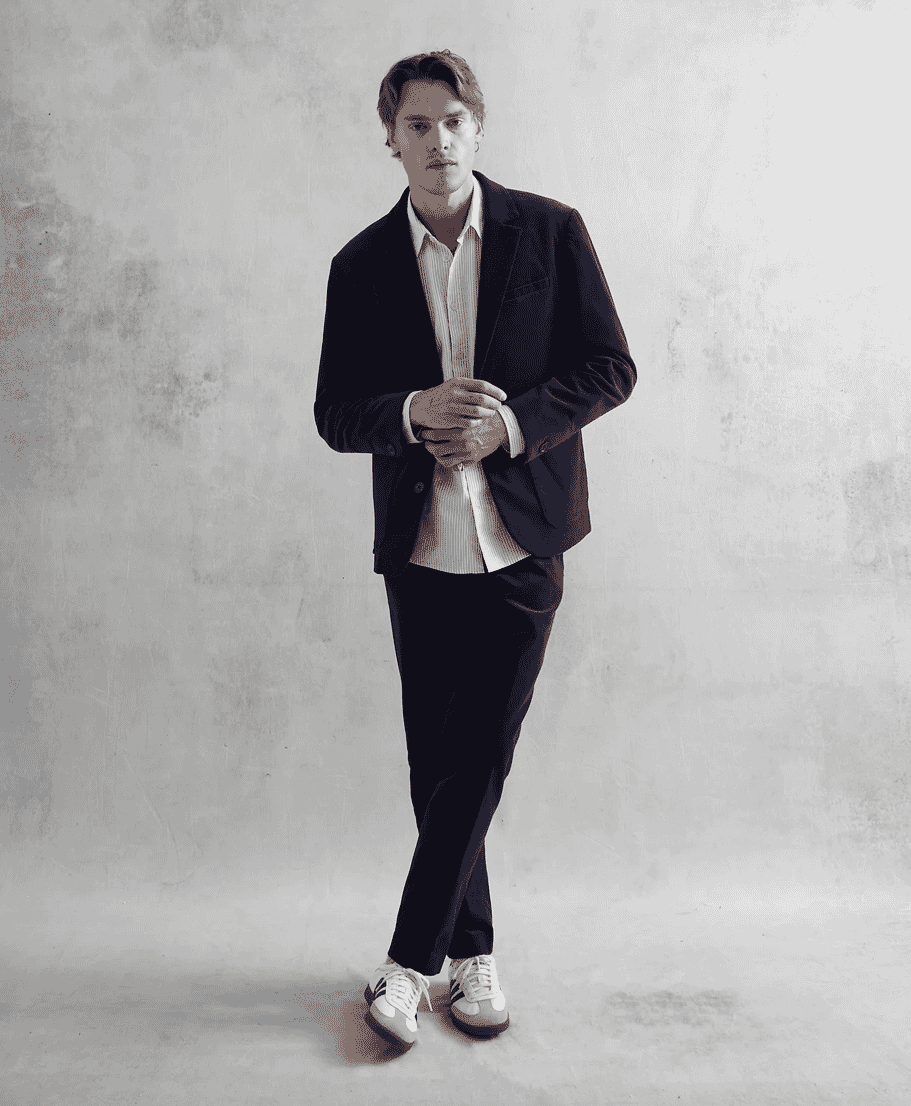 How styles vary for different body types
For lean individuals, slim-fit suits can accentuate their frame. Athletic builds may opt for a well-fitted classic or regular cut. Full-figured individuals may find comfort and style in a classic fit with broader shoulders. Ultimately, the right style depends on your body type and personal style preferences, so try different cuts to discover what suits you best.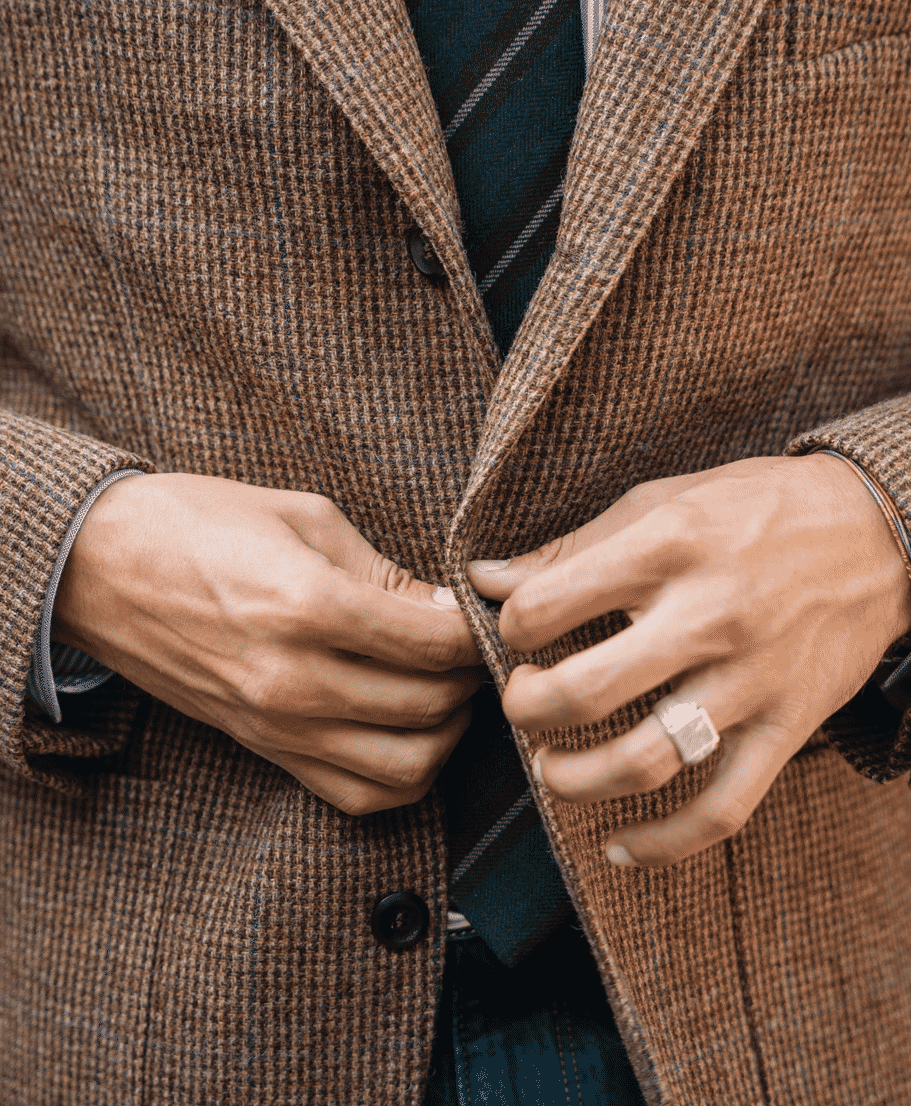 Ways to layer winter suits for men
Layering is a cornerstone of staying both warm and stylish during the winter months. It allows you to adapt to fluctuating temperatures while creating visually appealing outfit combinations. Effective layering not only keeps you comfortable but also adds depth and texture to your overall look.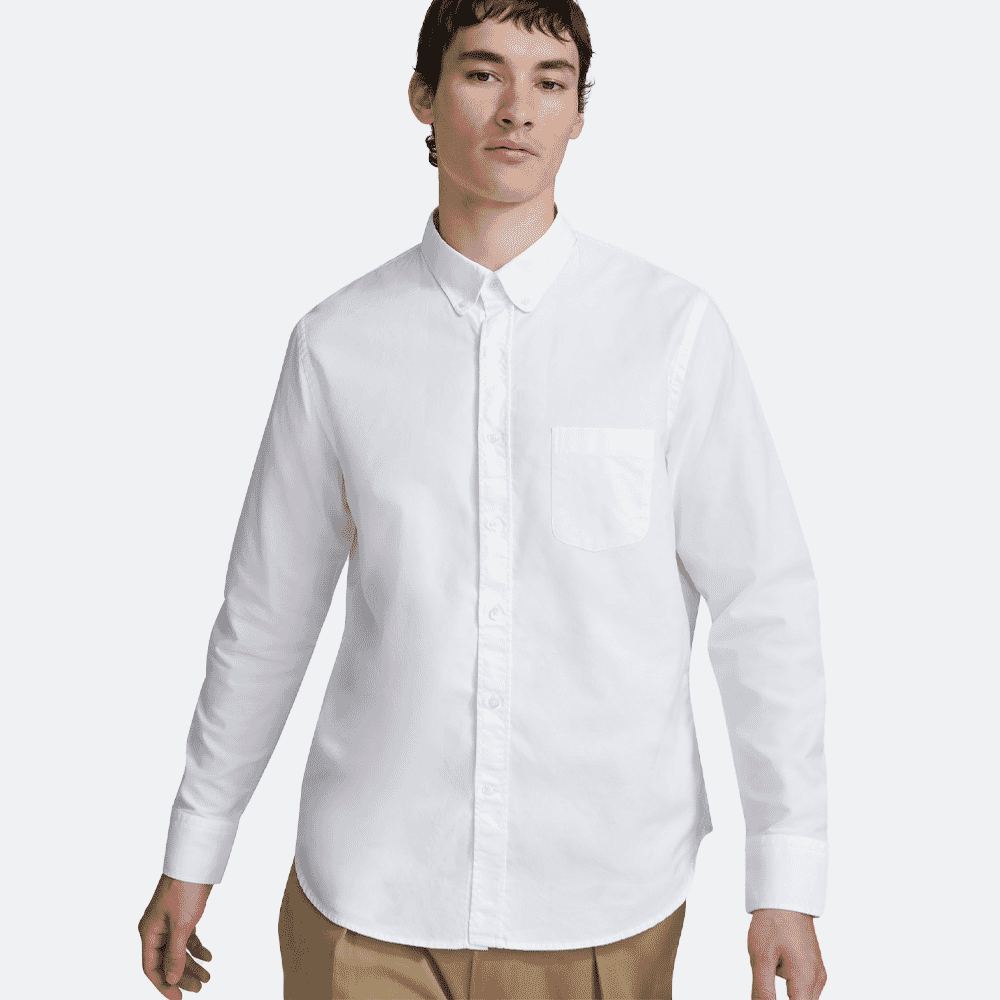 Dress shirt
Handvaerk's Oxford Shirt, crafted in Italy, combines refinement and comfort. Made from mid-weight cotton Oxford with mother-of-pearl buttons, it's a timeless piece for winter suit layering. Versatile and slightly relaxed in fit, it's 100% natural and biodegradable, using Italian fabric and Japanese buttons. Ethically made in Italy, it's low maintenance—dry clean only—and perfect for dressing up or down.
---
---
Rollneck
Aurelien's Extrafine Merino Rollneck, an alternative to a dress shirt, offers a unique and luxurious touch. Crafted in Italy from Cashwool, sourced from Australia's finest Merino sheep, it's as shiny as silk and soft as cashmere, measuring just 19.5 microns in diameter. Perfect for refined leisure looks, it's a choice for connoisseurs. Made from 100% Extrafine Merino Wool, it's handmade in Italy and comes in a slim fit. A premium addition to elevate your winter suit style.
---
---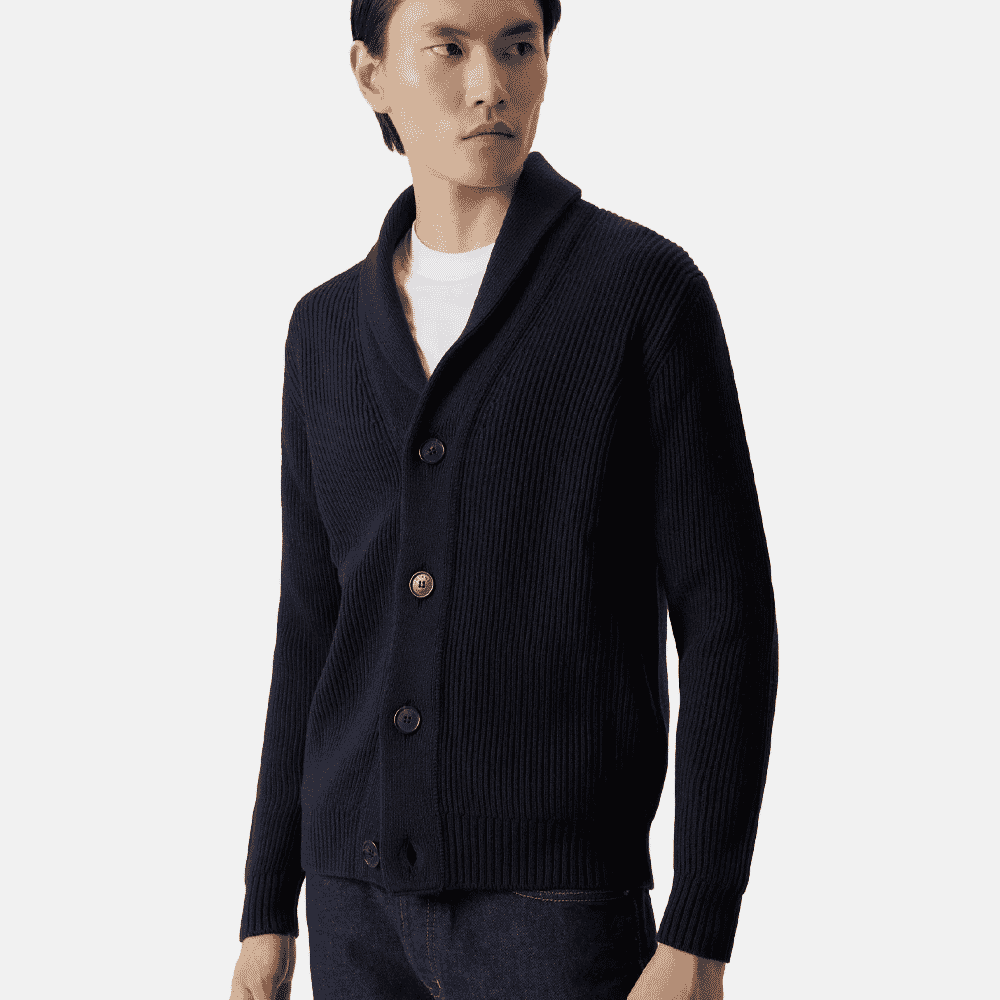 Cardigan
Artknit Studios' Merino Wool Shawl Cardigan is a cozy layer for winter suits. Featuring a shawl collar, rib stitch, and bio-resine buttons, it exudes warmth and style. With a drop shoulder and gauge 7, 2 ply construction, it's both comfortable and durable. Perfect for enhancing your winter suit ensemble.
---
---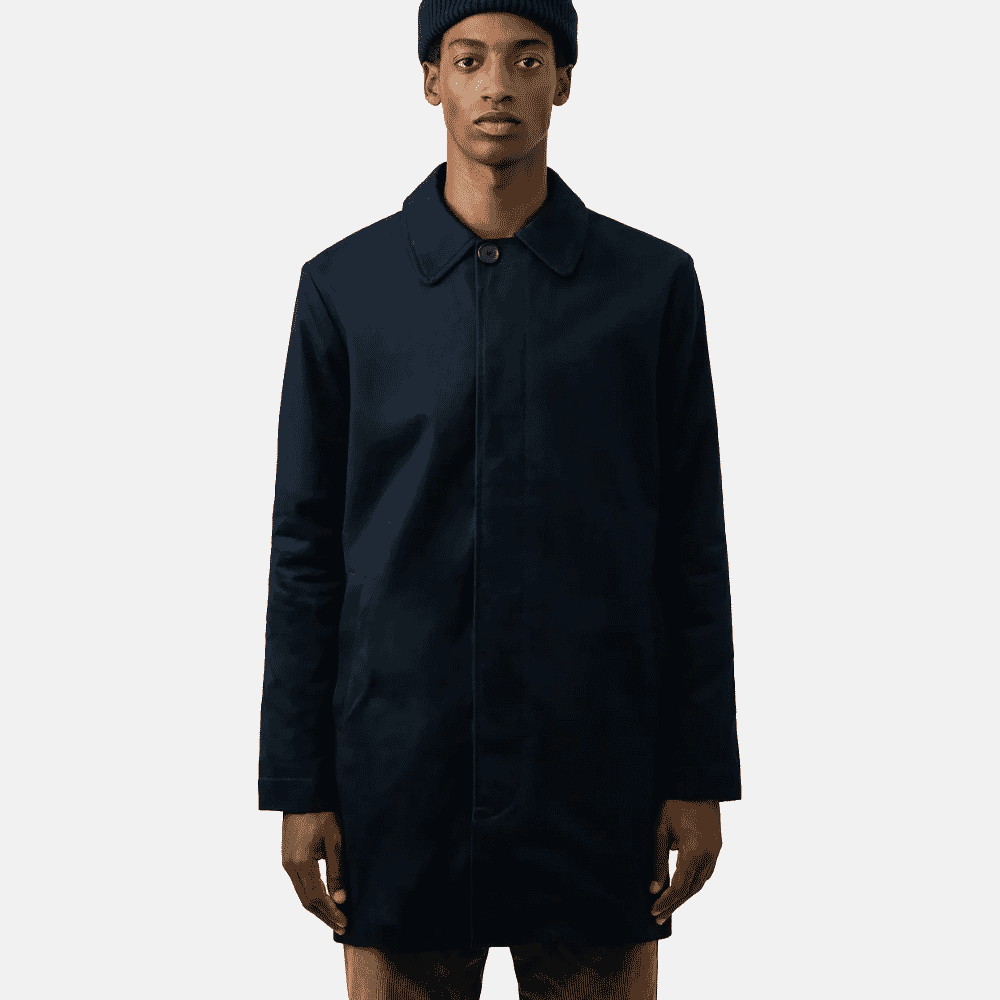 Overcoat
ISTO's Car Coat, meticulously crafted from premium Portuguese cotton, boasts a perfectly fitted silhouette and a timeless Mac collar. Its 100% certified Tencel lining adds a touch of smooth elegance. Ideal for refined winter suit layering, this coat combines style and comfort seamlessly.
---
---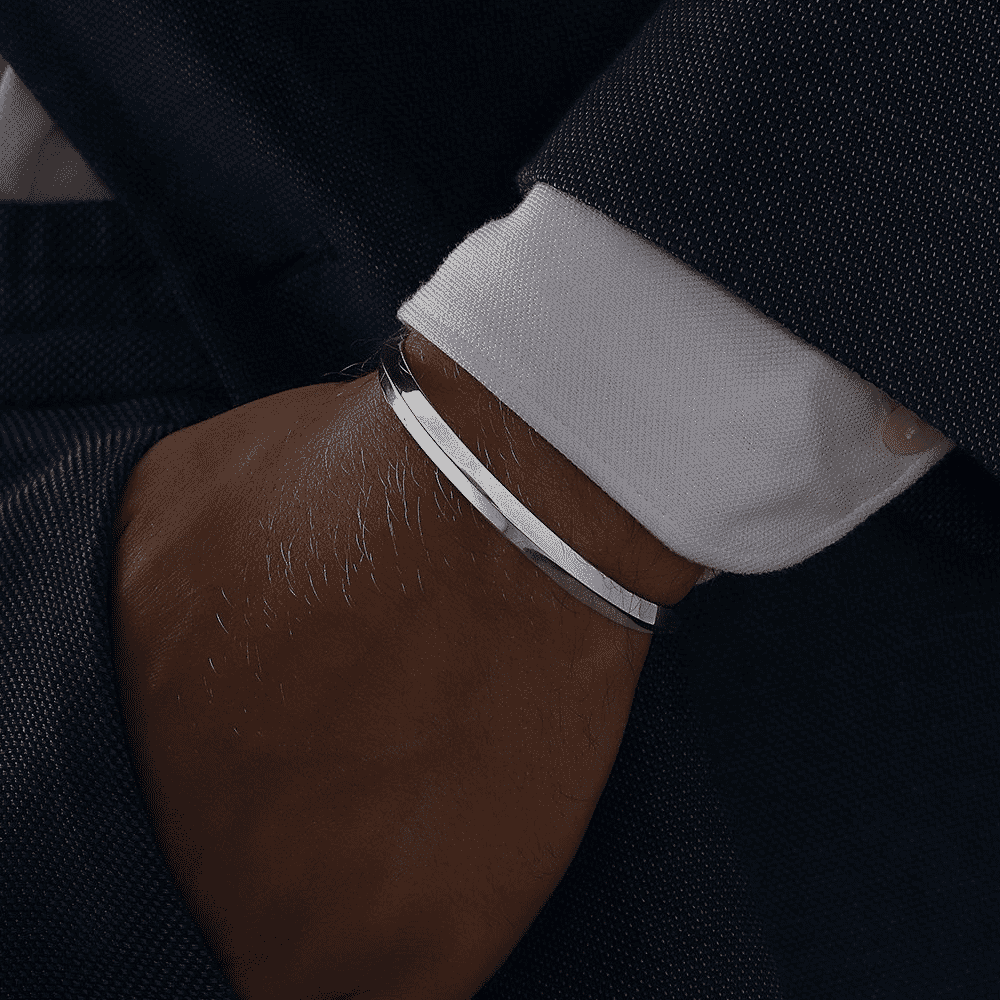 Ways to accessorize winter suits for men
Accessories play a pivotal role in styling winter suits for men by adding a layer of sophistication, personalization, and warmth. They transform a basic suit into a well-coordinated, statement ensemble, elevating one's style and enhancing the overall winter look.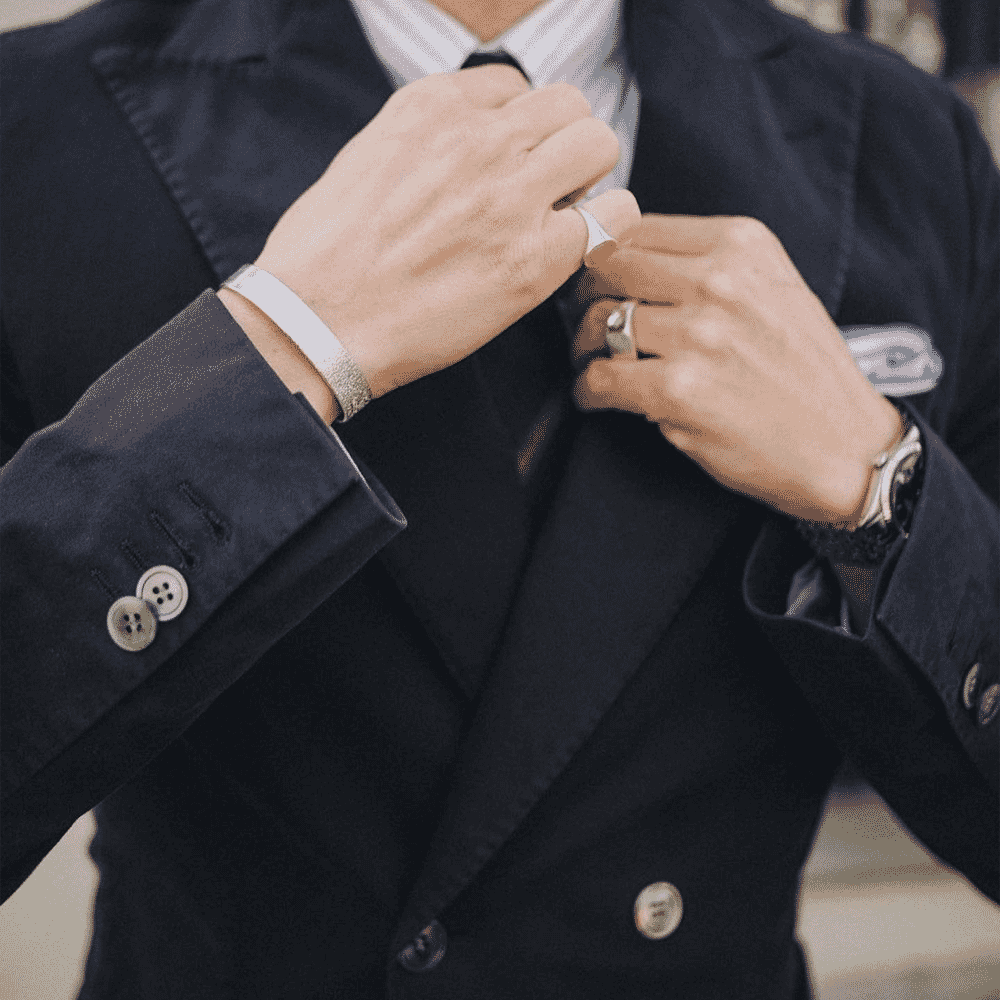 Jewelry
Jewelry can elevate a winter suit, adding sophistication and personal flair. Cuff Copenhagen is a prime example, offering simple and elegant pieces that harmonize with evolving fashion. Their emphasis on timeless, quality jewelry ensures long-lasting style, making their pieces a cherished addition to any winter wardrobe.
---
---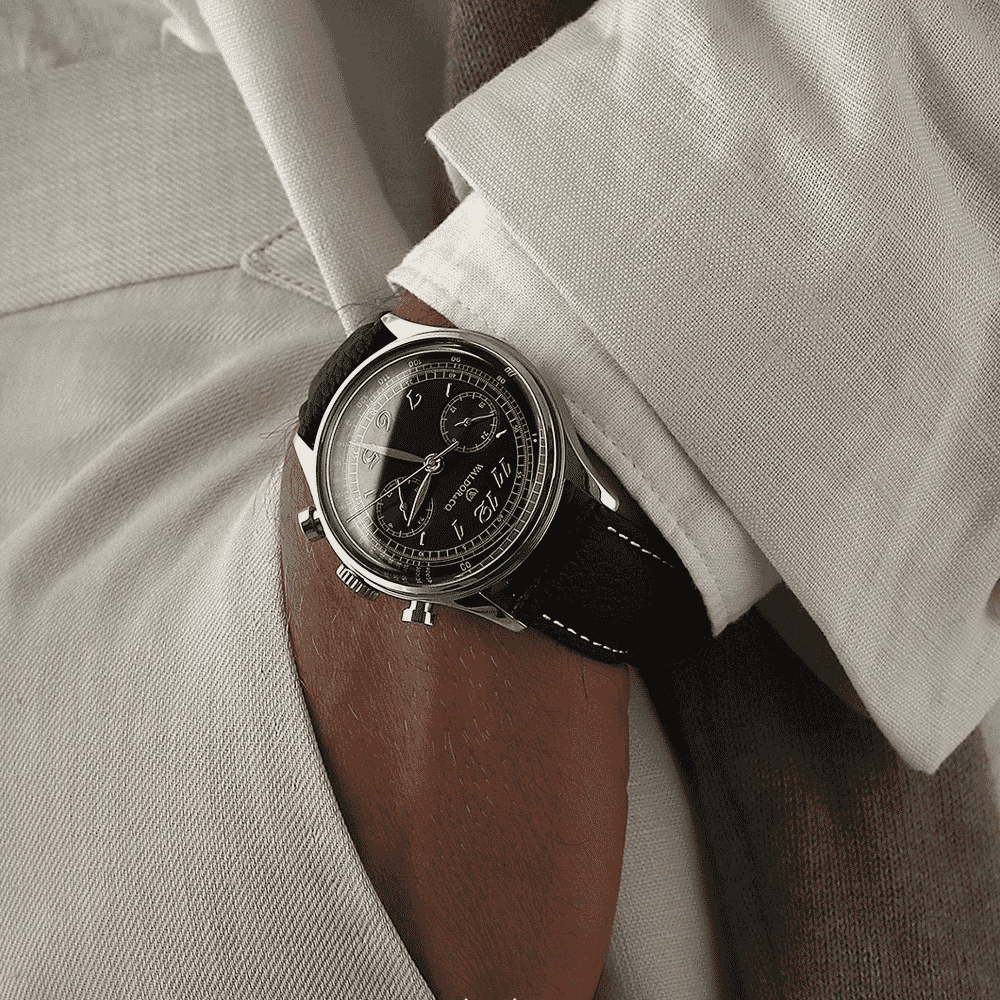 Watch
When styling a watch with a winter suit, consider the occasion and suit color. For formal events, opt for a classic leather or metal band watch. Casual suits pair well with versatile, modern designs. Waldor & Co. offers timeless timepieces that effortlessly blend Scandinavian minimalism and Southern European charm for any outfit.
---
---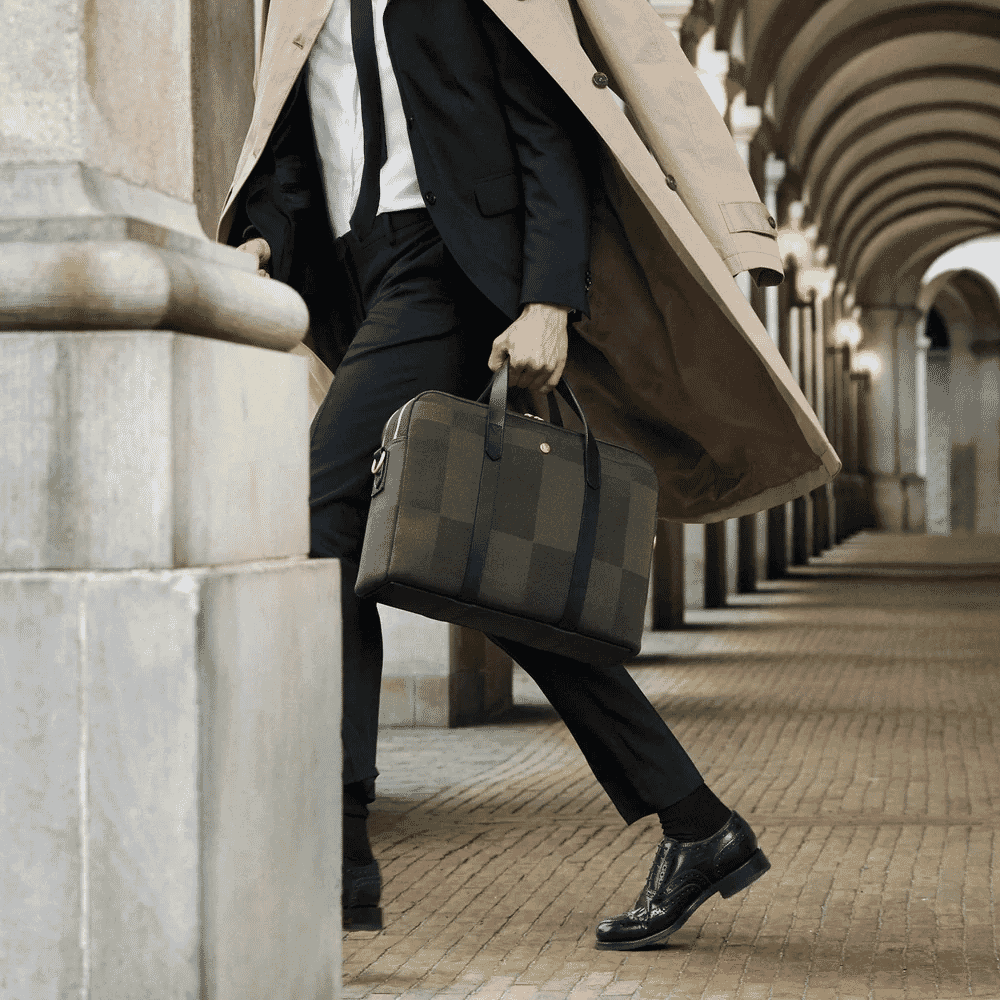 Briefcase
To pair a briefcase with a winter suit, choose a design that complements your suit's color and style. A leather briefcase is the key to classic ensembles, and lucky for you, MISMO offers timeless options that combine function with pure-lined style. Crafted from premium materials that age gracefully, they add a touch of sophistication to your winter ensemble.
---
---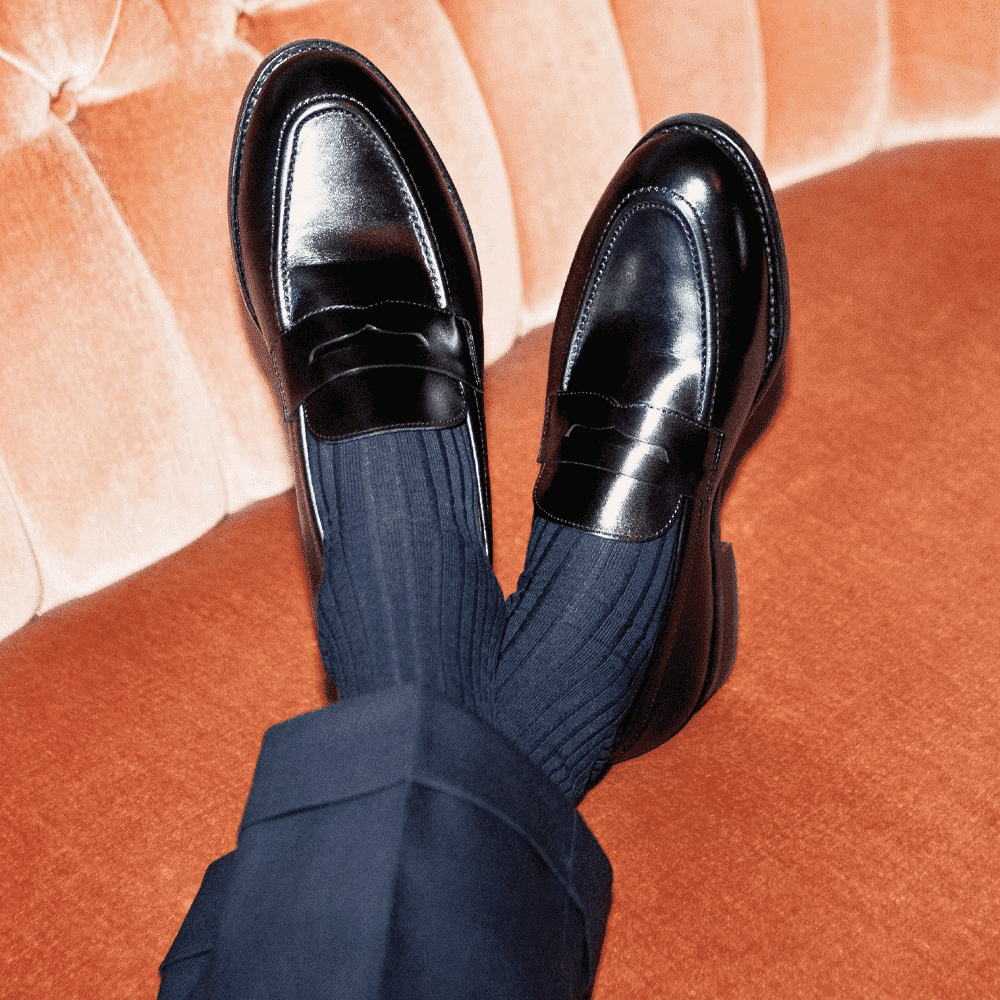 Loafers
To style a winter suit with loafers, choose the right type and color. Penny loafers or tassel loafers in dark brown or black work well with formal suits. For a more casual look, opt for suede loafers in earthy tones. Myrqvist offers a range of men's loafers, from penny to tassel, black suede to brown calf leather, for various suit styles and occasions.
---
---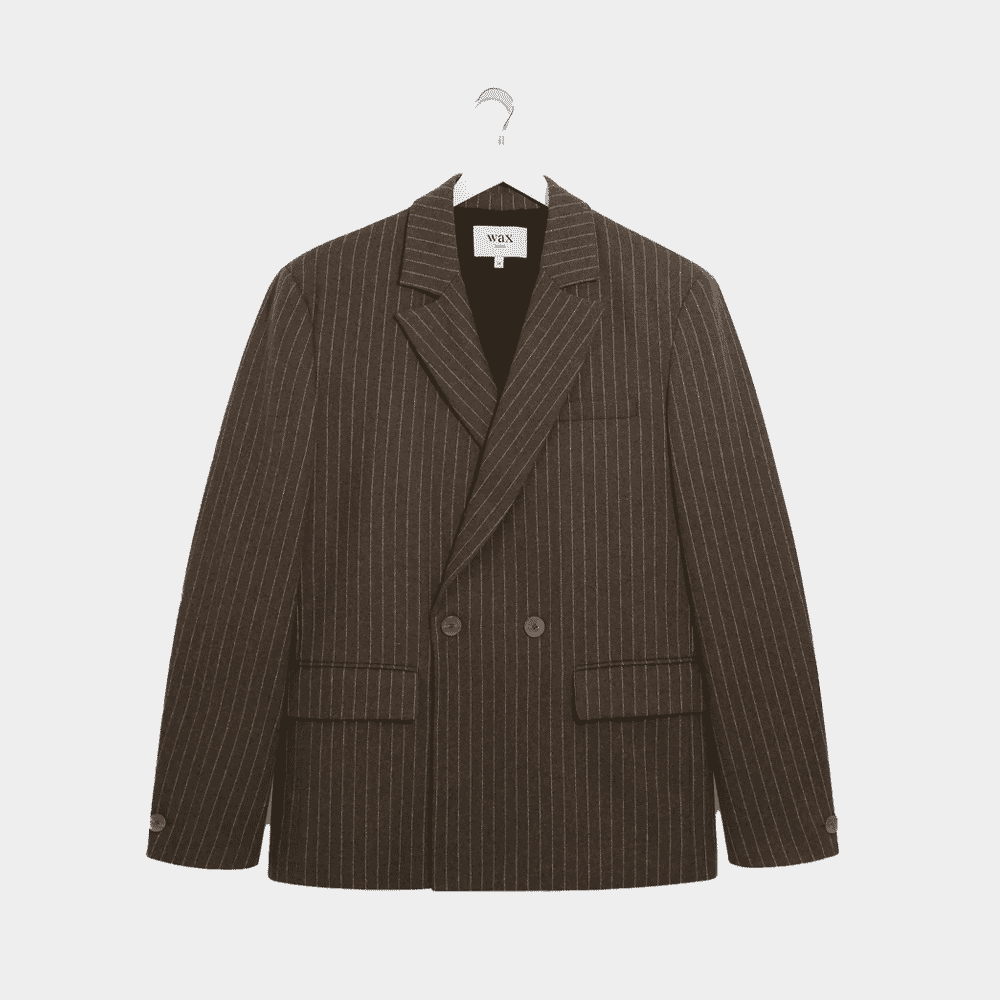 Stand-out winter suits for men
Wax London
Wax London's AW23 double-breasted Gekko Blazer is a winter standout. Crafted from a wool blend chalk stripe fabric, it offers a relaxed tailored silhouette for comfort and style. This suit, complemented by matching Ari trousers, features a distinctive chalk stripe design and boasts a relaxed fit. It's the perfect choice for a winter ensemble that exudes both sophistication and ease.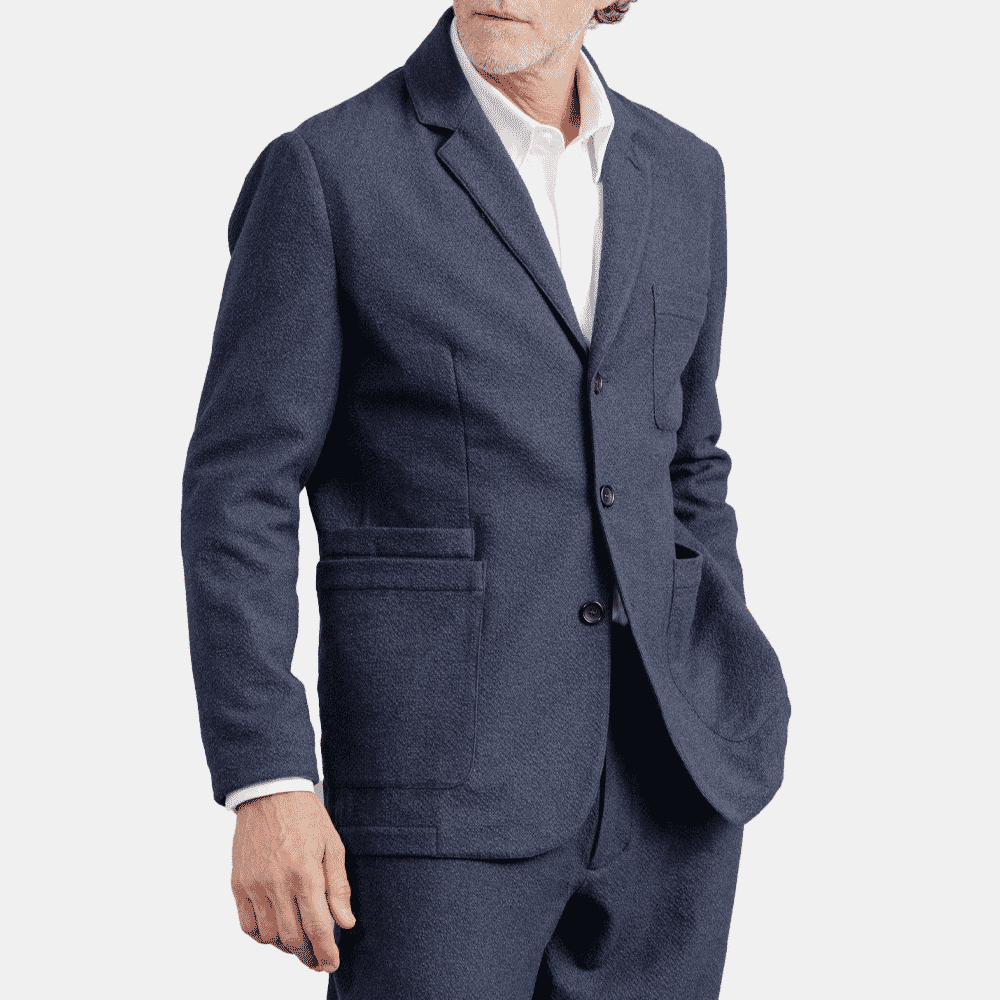 Private White V.C.
Private White V.C.'s winter suit is a masterpiece of craftsmanship. Handcrafted in Manchester, the unlined, unstructured notch lapel blazer is fashioned from luxurious wool and cotton seersucker, featuring a hint of elastane for just the right amount of stretch. Pair it with the Seersucker Drawstring Trouser for a complete look. With its regular fit, bound internal seams, British-made real-horn buttons, and meticulous detailing, this suit embodies elegance and comfort, proudly made in their own Manchester factory.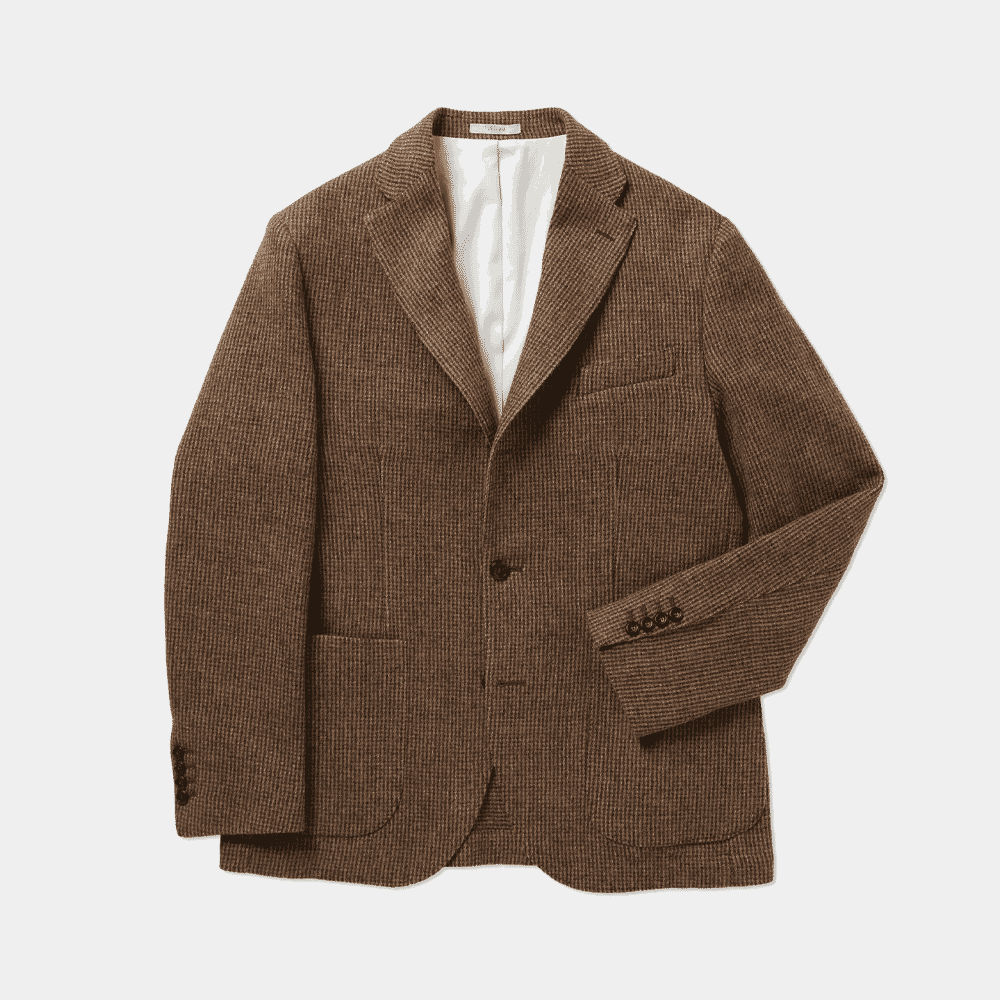 Velasca
Velasca's single-breasted deconstructed jacket is the epitome of versatile winter style. Ideal for men seeking a blazer that pairs effortlessly with any trouser choice. Crafted from 100% Shetland Wool in a classic Brown Prince of Wales pattern, it's tailored for the Autumn/Winter season. This blazer combines timeless elegance with the flexibility to complete various looks, making it a must-have addition to any discerning wardrobe.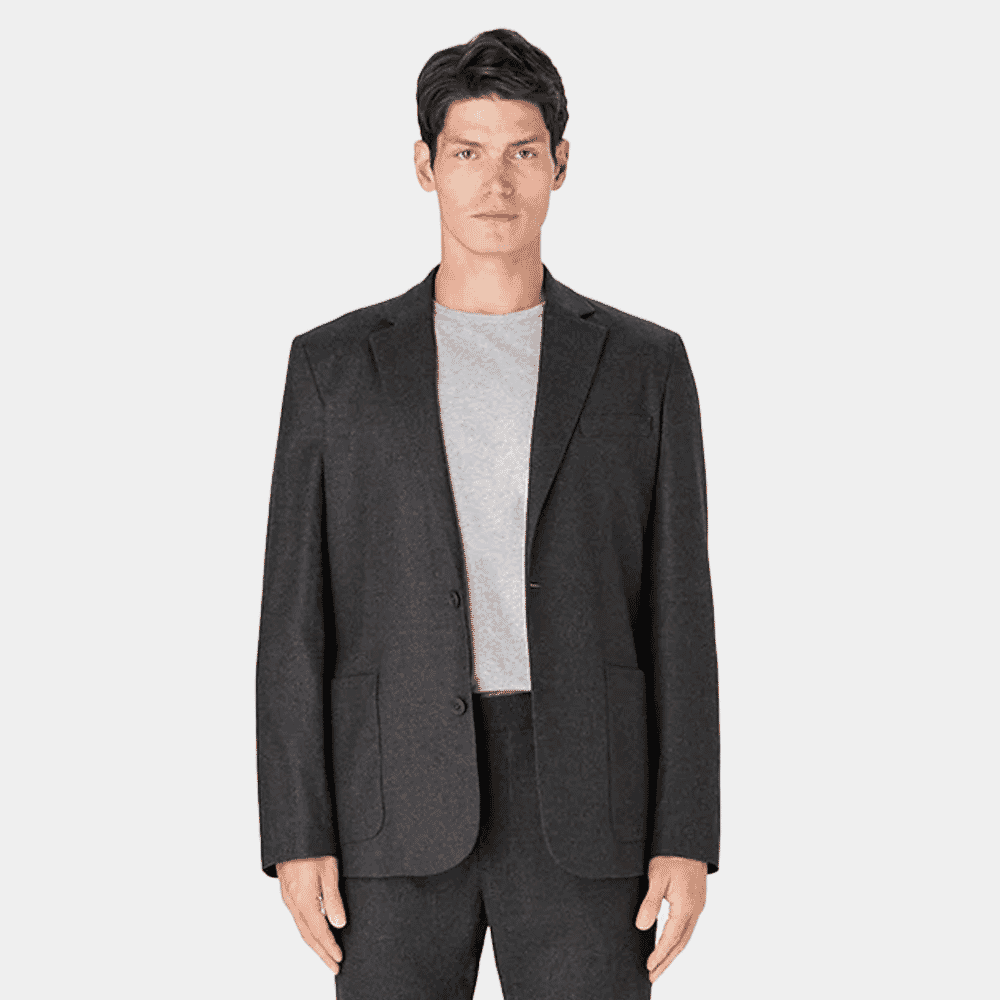 L'Estrange
L'Estrange's 24 Blazer in wool is your ultimate versatile wardrobe piece. Unstructured and unpadded, it's made from 100% super-fine Merino wool flannel, transforming the traditional rigid blazer into comfortable everyday wear. This blazer offers unparalleled flexibility and can be effortlessly paired with their wool 24s to create a casual suit. It's the perfect choice for those seeking both style and comfort in one exceptional piece.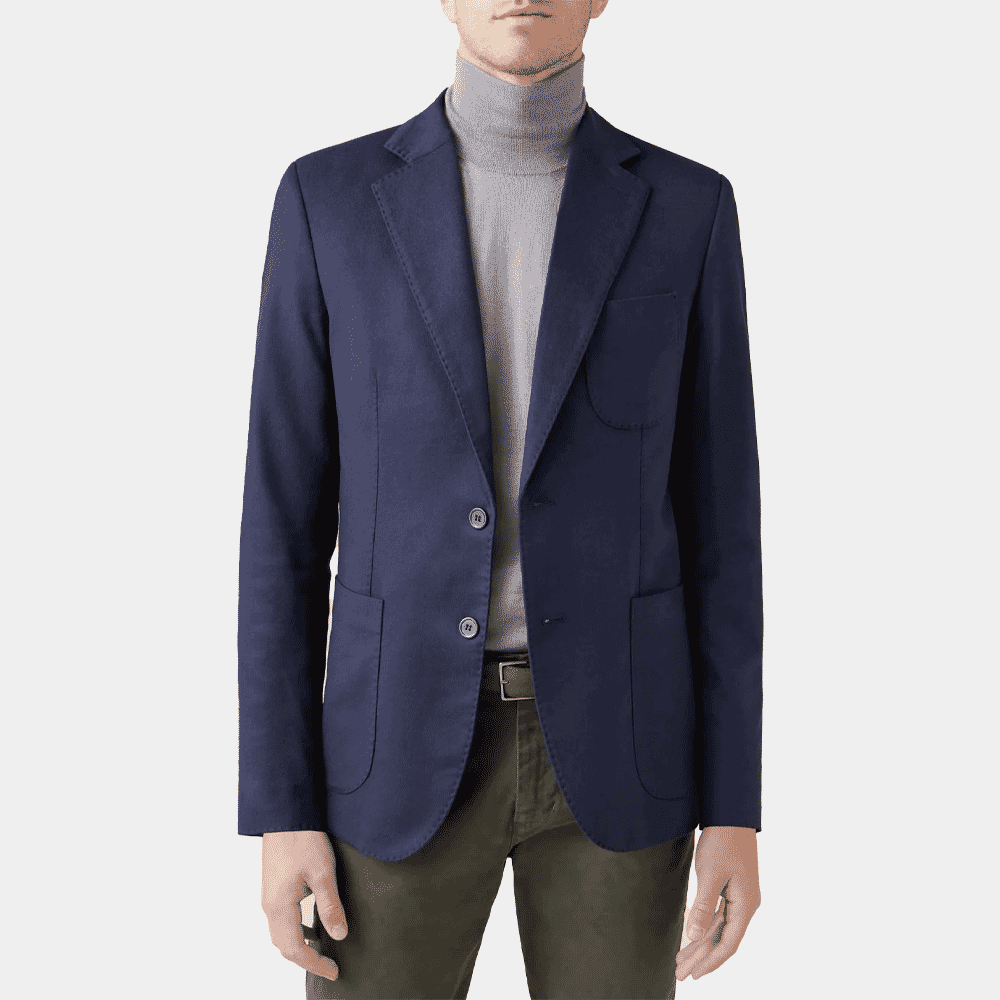 Luca Faloni
The Luca Faloni Cashmere Blazer is a winter essential, meticulously crafted in Northern Italy. Its pure brushed cashmere fabric with a unique beaver finish offers an exceptionally soft and compact weave, creating a luxurious lightweight texture at 220 g/sqm. Ideal for business-casual occasions, it elevates your winter look when paired with chinos or jeans and a cashmere roll neck.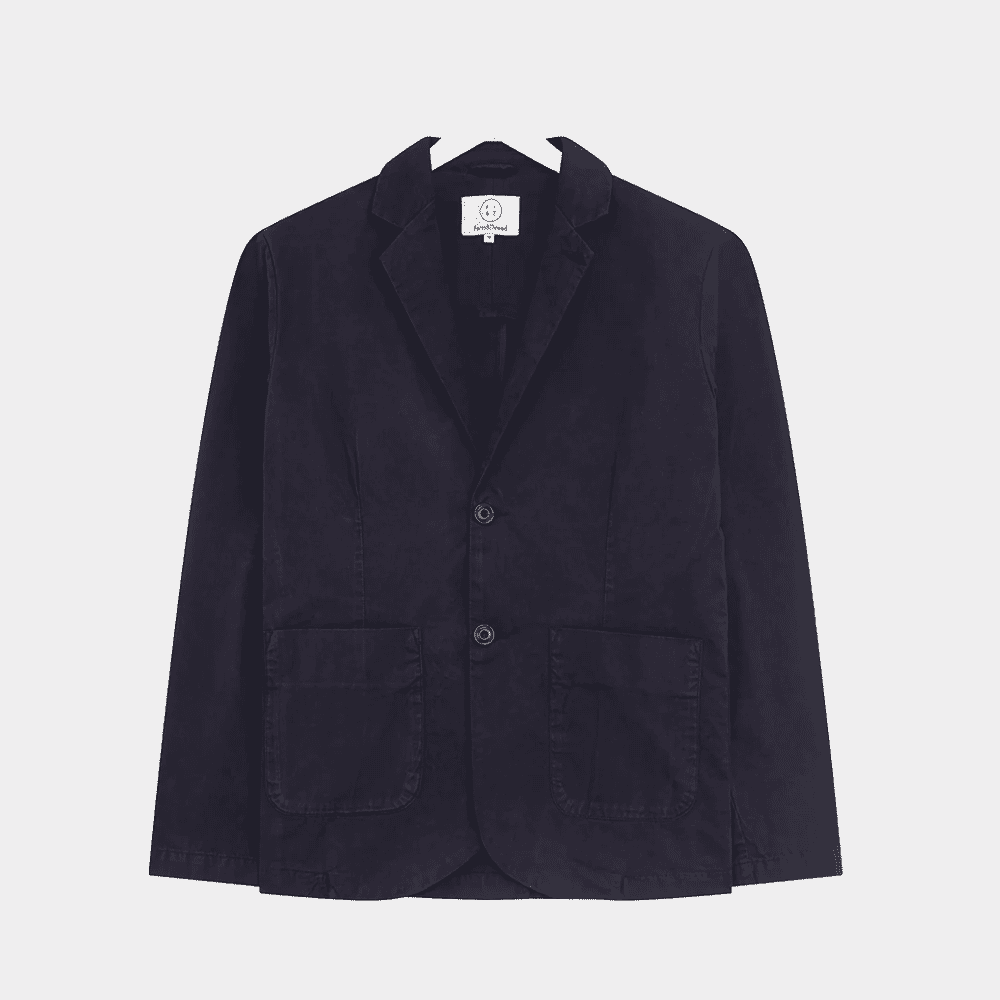 Form & Thread
Form & Thread presents their Organic Twill Casual Jacket, a versatile piece that combines sustainability with style. Crafted from GOTS certified organic cotton twill, it boasts a relaxed fit and features a vent at the center back, buttoned lapel, and two patch pockets. Ideal as a casual suit when paired with matching trousers or as a stand-alone jacket, it's a must-have addition for any fashion-conscious individual.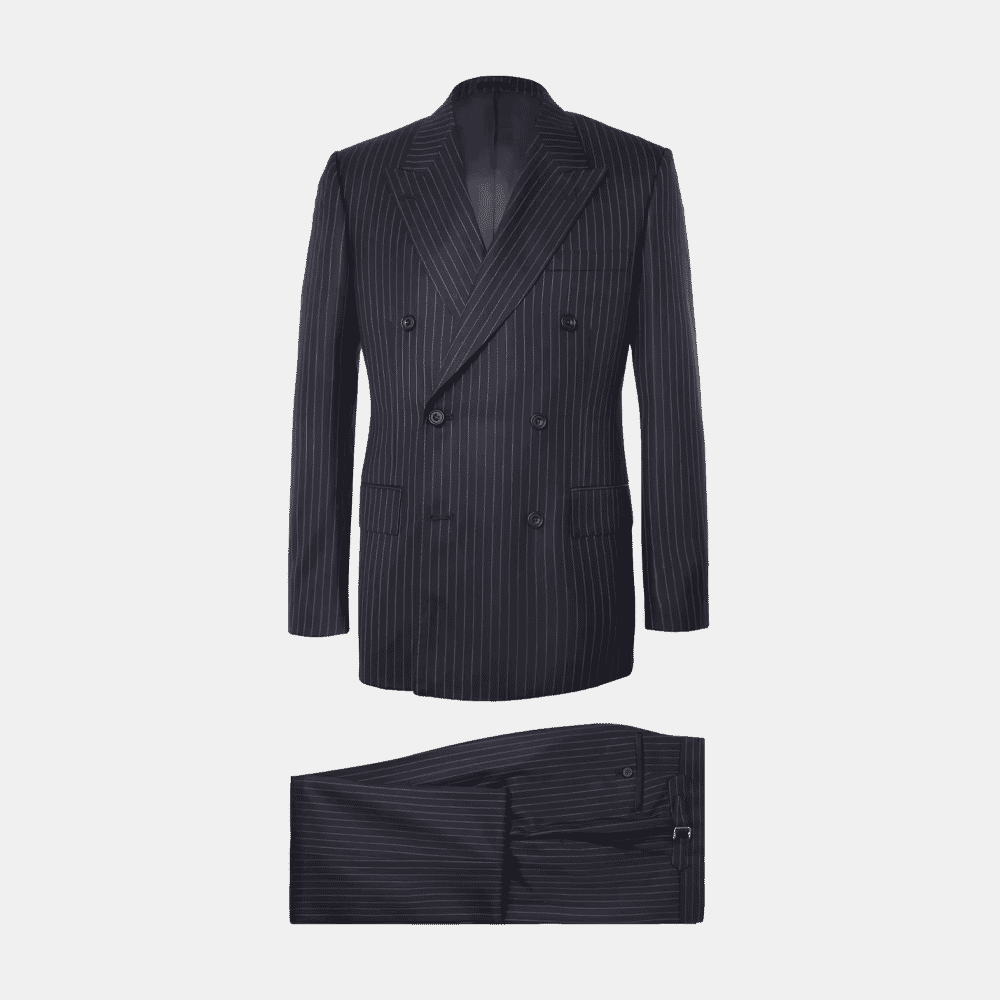 Kingsman
Harry's Navy Pinstriped Super 120s Wool Suit by Kingsman is the epitome of winter professionalism. This double-breasted masterpiece, crafted with meticulous tailoring expertise, offers a sharp silhouette with high armholes and broad peak lapels. The slim, straight trouser profile and pinstripes elongate the legs, while the UK-sourced wool from William Halstead mill and impeccable selvedge trim inside pockets add luxurious detail. Ideal for the discerning professional seeking both style and warmth.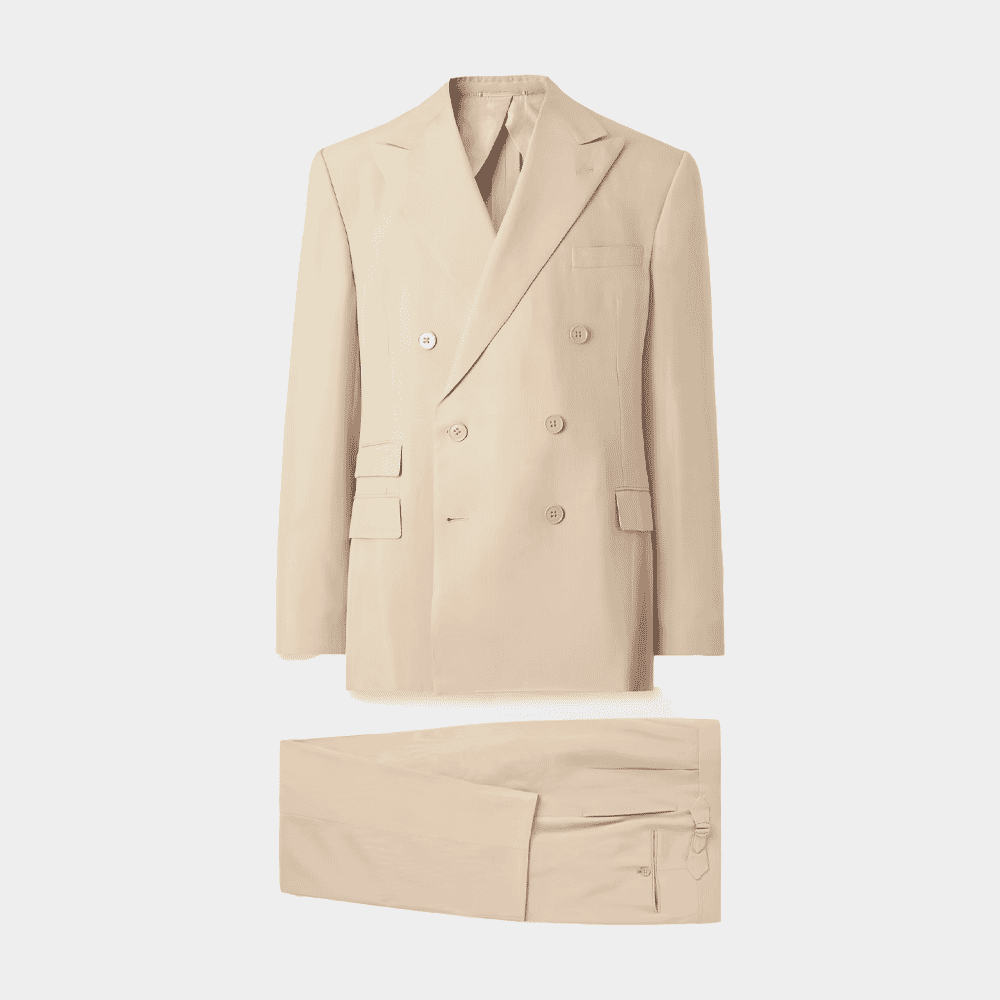 Ralph Lauren
The Ralph Lauren Purple Label's slim-fit double-breasted silk-shantung suit is a top choice for winter suits for men. Handcrafted in Italy, it exudes luxury and precision. With peak lapels and padded shoulders, it creates a sharp silhouette. The unfinished cuffs and hems allow for a personalized, impeccable fit. A timeless winter suit option.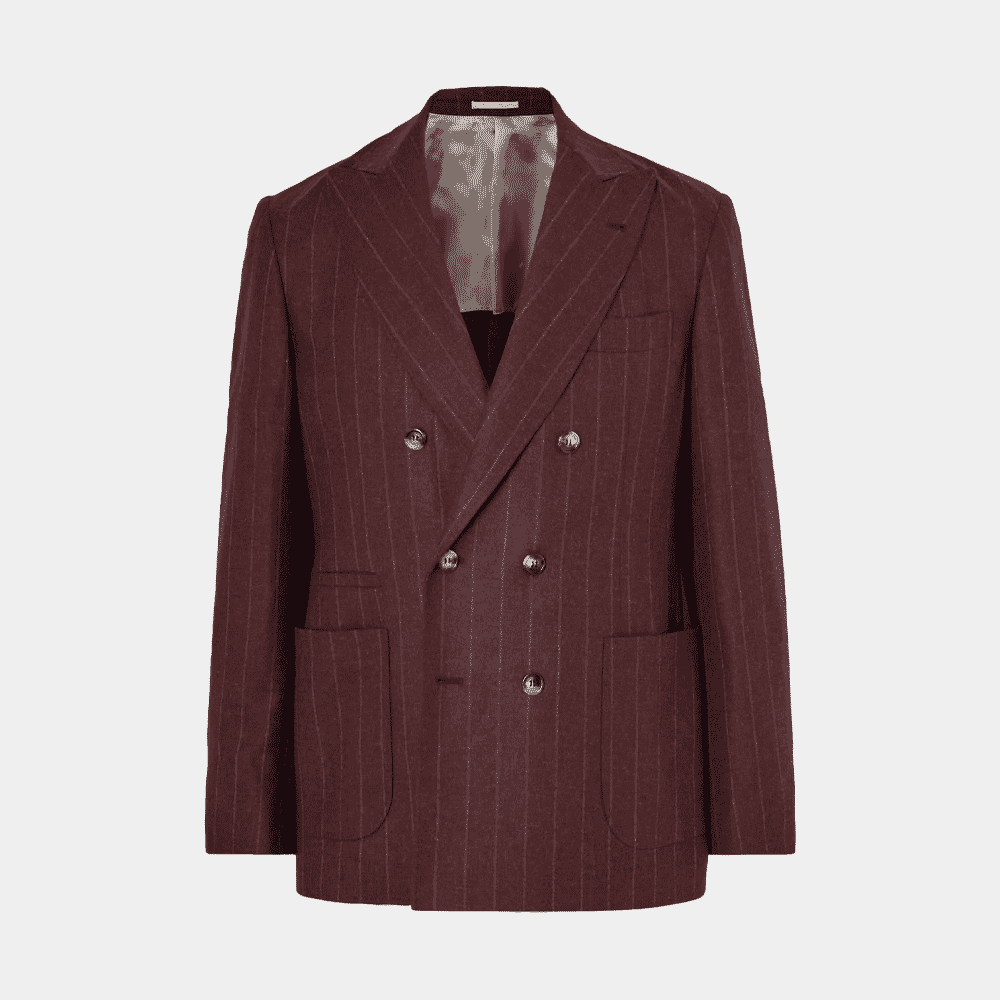 Brunello Cucinelli
Brunello Cucinelli's double-breasted pinstriped wool, mohair, and cashmere-blend suit epitomizes their commitment to quality. Crafted in Italy, it blends fine materials like wool, mohair, and cashmere for exceptional softness. The double-breasted design with peak lapels and pinstripe pattern exudes timeless sophistication. A testament to the brand's exacting standards and a winter suit of impeccable quality.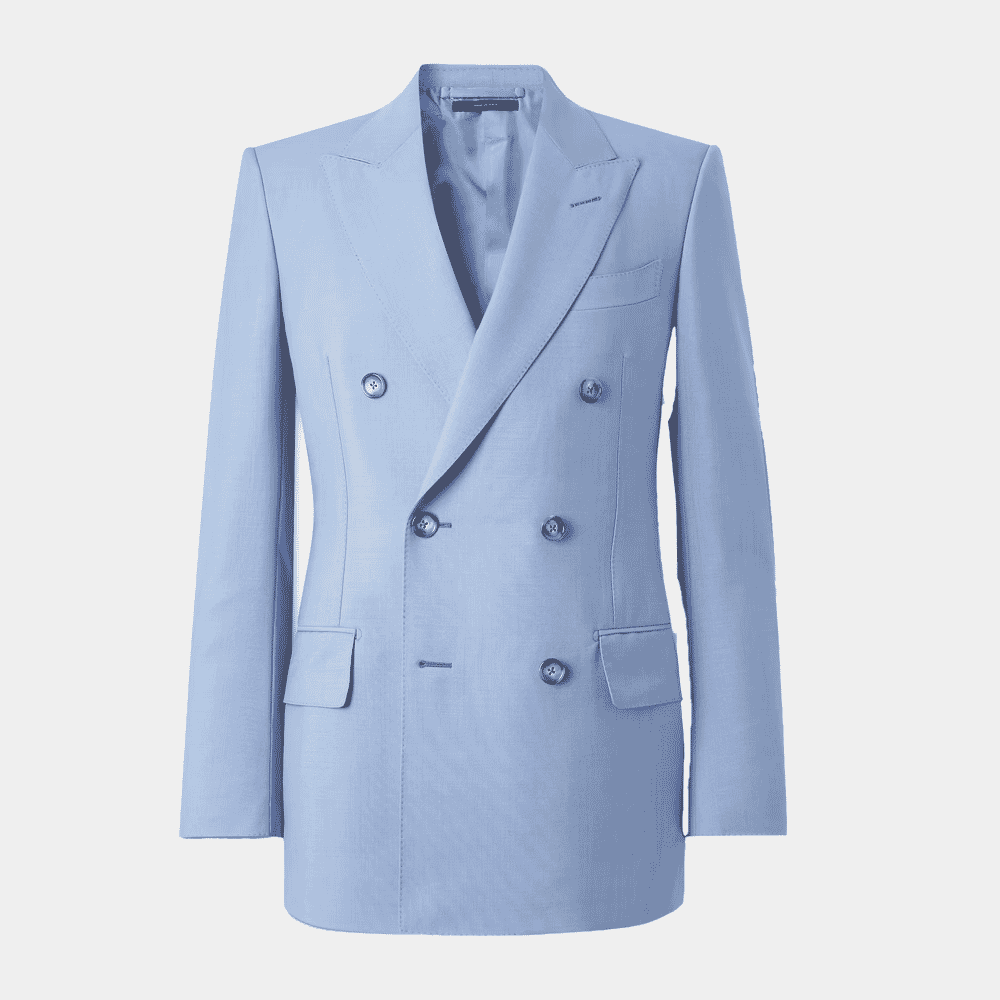 Tom Ford
The Tom Ford 'Atticus' double-breasted suit jacket embodies timeless sophistication. With wide peak lapels and meticulous Italian tailoring, it's a classic choice. Crafted from a blend of mohair and wool, it offers both elegance and structure. Mother-of-pearl buttons add a touch of luxury. Pair with matching trousers or gray for a polished winter suit ensemble.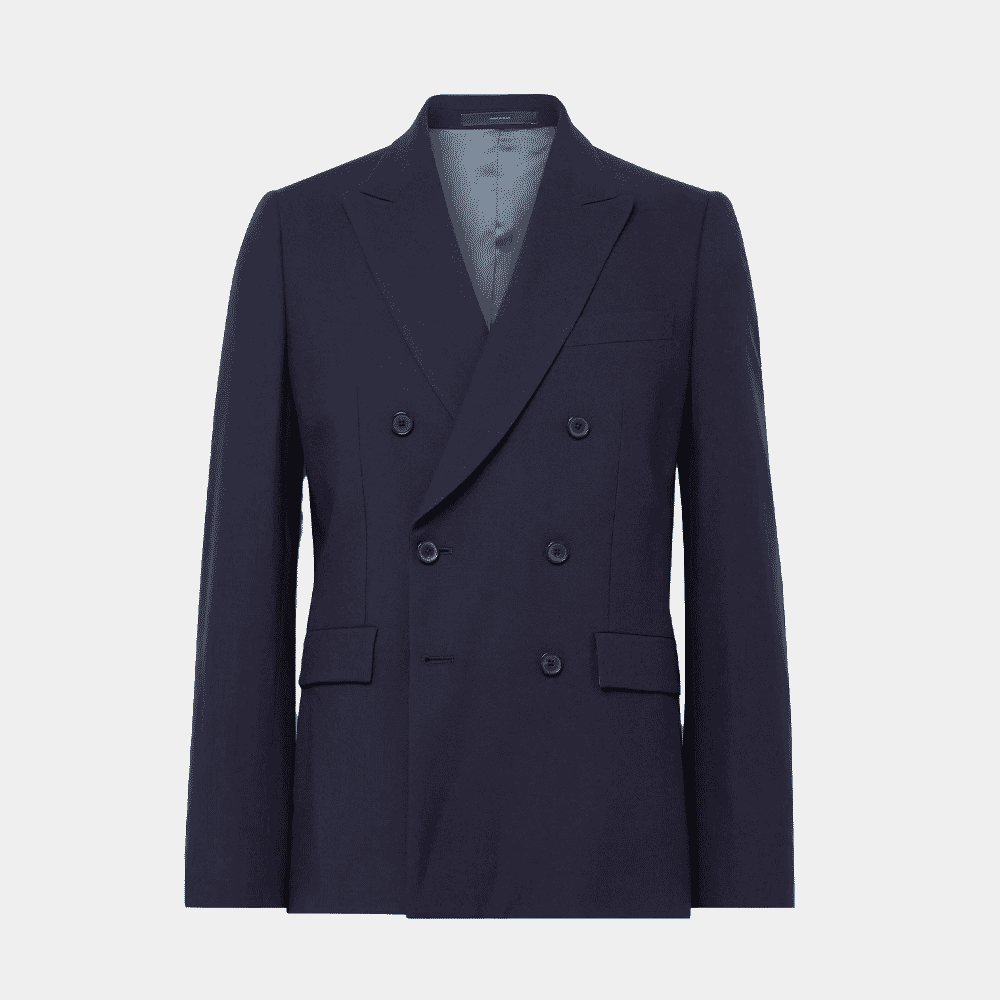 Paul Smith
Paul Smith's Italian-crafted wool suit is the epitome of winter sophistication. Lined with vibrant sky-blue satin, it embodies the brand's iconic use of color. The sharp peak lapels and padded shoulders offer a structured elegance, making it the perfect choice for a stylish and warm winter ensemble for men.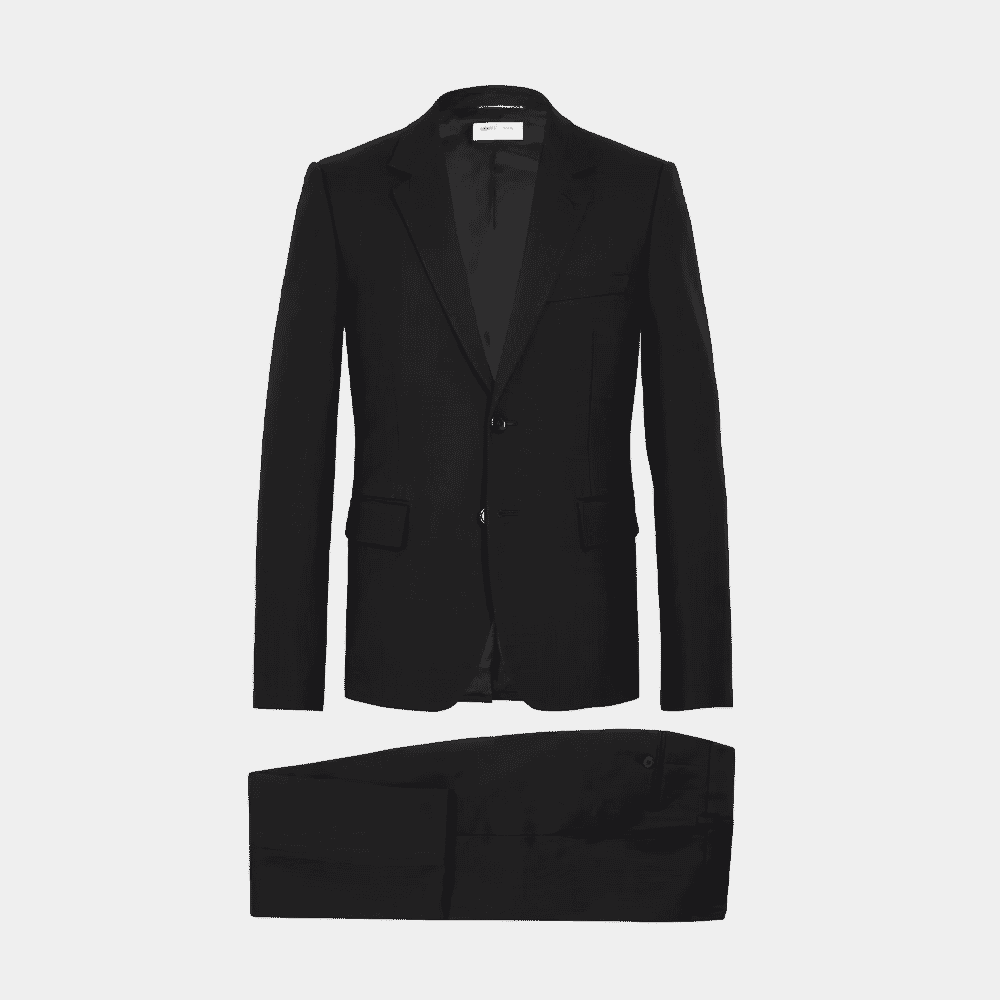 Saint Laurent
Saint Laurent's black virgin wool-gabardine suit is a timeless winter essential. Meticulously tailored in Italy, it boasts a sleek, slim fit and features sharp padded shoulders and slender notch lapels. The unfinished hems allow for customization, ensuring a personalized and impeccably stylish winter look for men.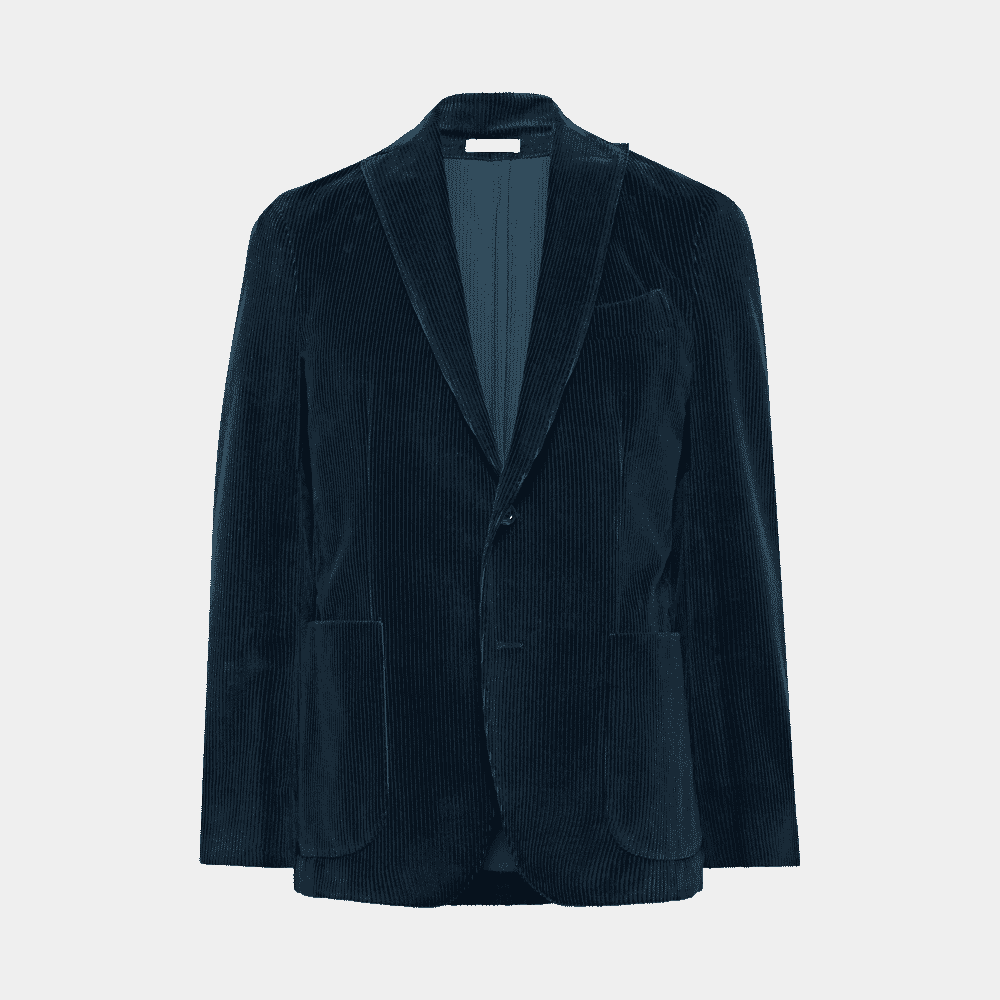 Boglioli
Boglioli's unstructured cotton-corduroy suit is a superb winter choice, exemplifying Italian craftsmanship. Expertly tailored at their workshop, the jacket showcases wide-wale corduroy and stacked buttoned cuffs. Partial lining in the sleeves allows for effortless layering. This suit epitomizes comfort and style, making it a perfect winter ensemble.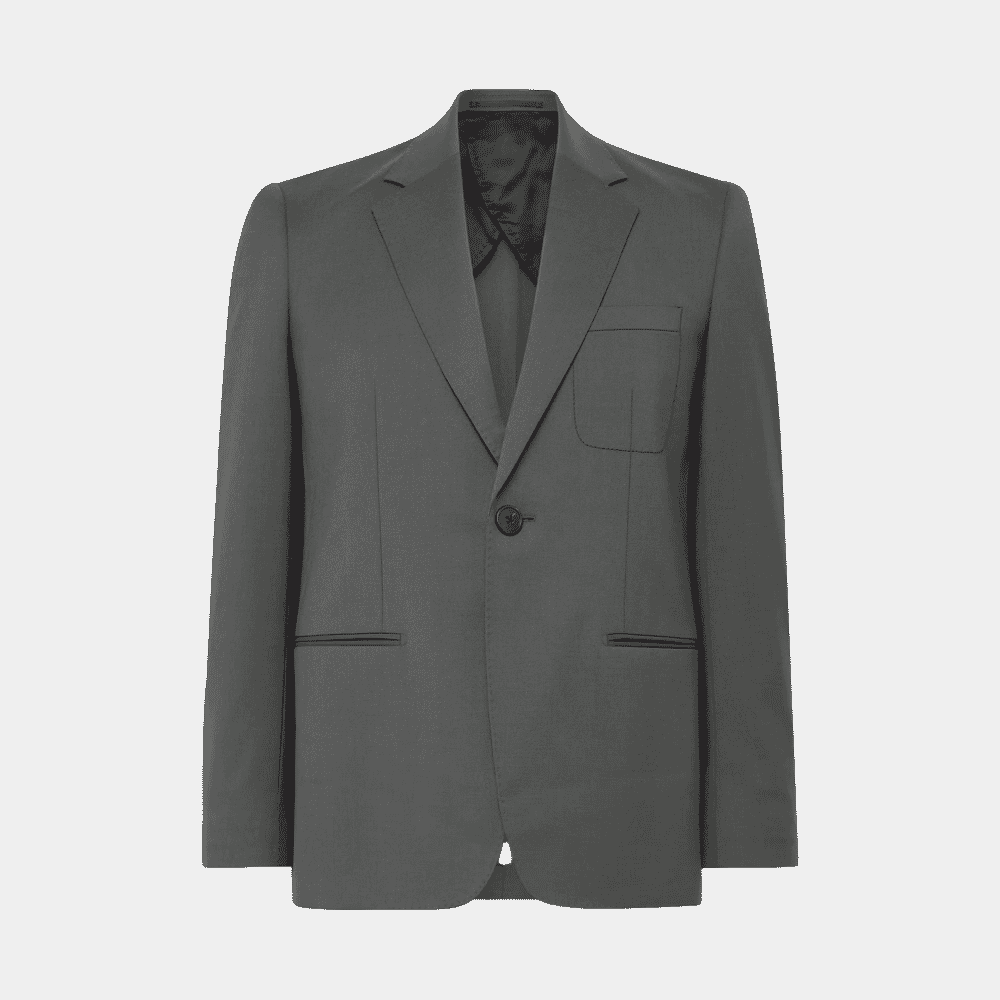 Theory
Theory's blazer, a collaboration with Dutch designer Lucas Ossendrijver, embodies luxury and practicality. Crafted from virgin wool-blend twill, it boasts a relaxed silhouette, notched lapels, and padded shoulders for a structured look. The butterfly lining ensures comfort, making it a versatile and stylish addition to any wardrobe.
Why not gain inspiration from 20 ways to style a business casual jacket for winter?
---
---