Winter business casual outfits take the forefront as the frosty embrace of winter arrives. In the chilly months, the art of blending style and comfort becomes paramount for men navigating the corporate landscape. As icy winds and frosty temperatures settle in, the need to exude professionalism while cocooned in cozy layers becomes ever more crucial. In this fashion exploration, we unveil the secrets to crafting impeccable winter business casual outfits that not only keep you snug but also ensure you step into every meeting and workplace event with confidence. Join us as we unravel the tapestry of men's winter business casual attire, where warmth meets the boardroom, and style reigns supreme.
Table of Contents
Winter business casual outfits, explained
In the realm of winter business casual attire, striking the balance between professional and comfortable dressing is essential. "Business casual" offers a relaxed dress code, allowing personal style expression while maintaining a polished look. Winter business casual adapts by incorporating cozy layers. Flexibility extends to workplace norms; some permit jeans and sweaters, while others follow a stricter code with dress slacks, button-downs, and blazers. Understanding workplace expectations ensures your winter ensemble aligns with professional standards, keeping you warm and stylish.
Layering essentials for winter business casual outfits
Styling winter business casual outfits for men is an art centered on a core principle: layering. In essence, layering involves wearing multiple garments on top of each other to create a versatile ensemble. This approach thrives in the winter season as it ensures a balance between style and comfort in changing temperatures. By combining various layers, you effortlessly adapt your outfit to accommodate the brisk outdoor air and the snug indoor settings, all while projecting professionalism. Now, we enlist the essential pieces for effective layering, helping you stay warm and stylish.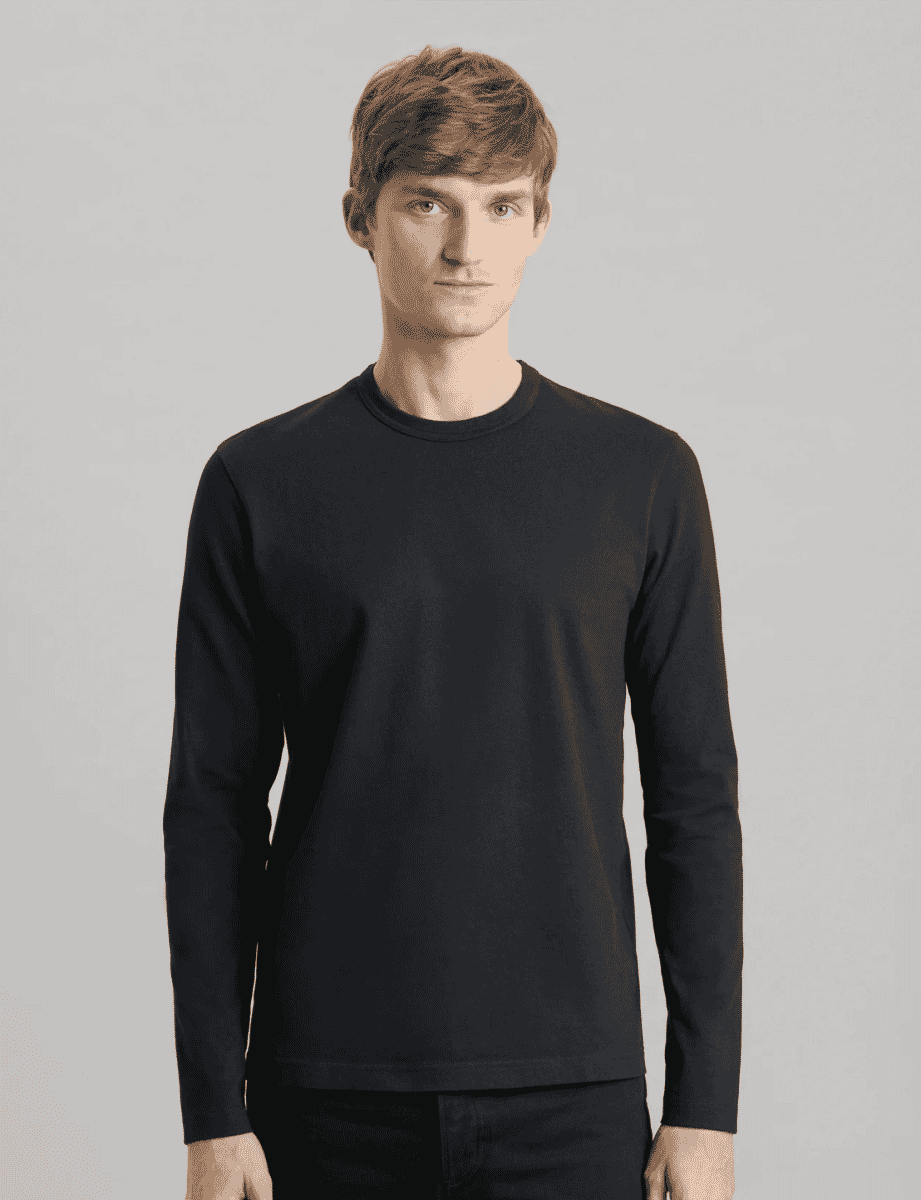 Base layer
A base layer is crucial for winter business casual outfits, providing thermal insulation and moisture-wicking properties. ASKET's Long Sleeve T-Shirt, crafted from heavyweight organic cotton, serves as an ideal choice. Its straight fit offers a comfortable yet sharp drape, making it versatile for standalone wear or as the foundation for layering, ensuring warmth and style.
---
---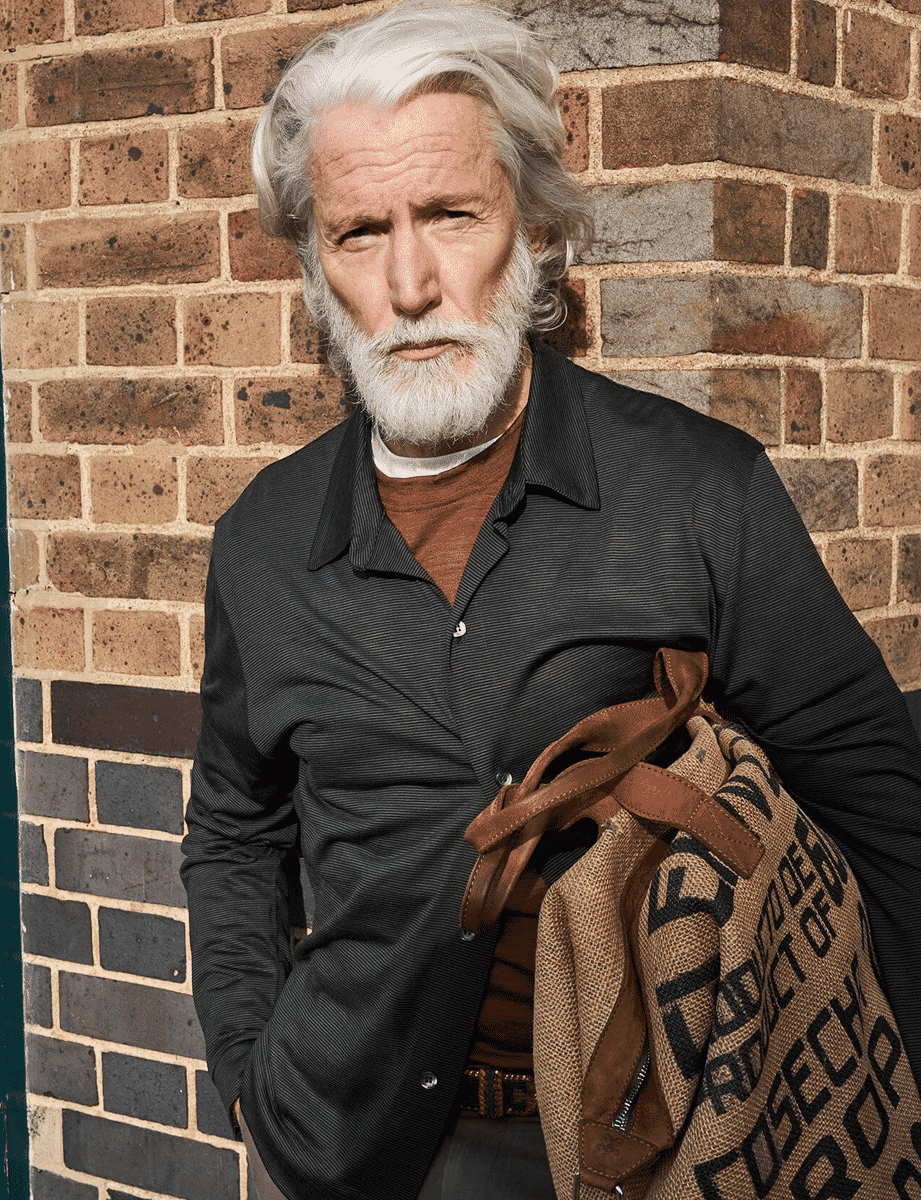 Overshirt
Exceptionally tailored and perfectly traceable, the ZQ Merino Olive Stripe Overshirt from Neem London is the epitome of smart casual. It's smart when you need to be, relaxed when you want to be and always comfortable (it's made from ultra-fine ZQ merino, after all). The best part? It boasts moisture management and odour repellent properties, keeping the need for washing at a minimum.
---
---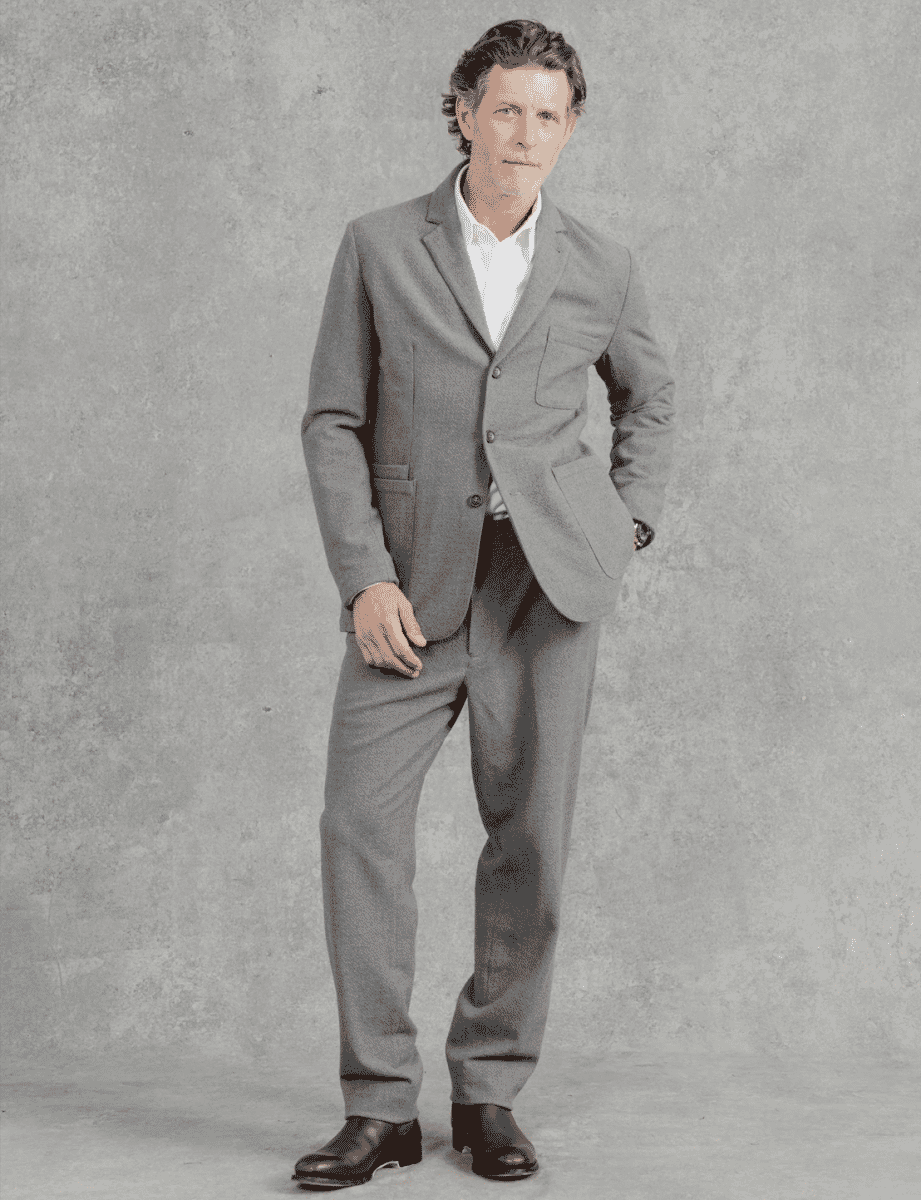 Blazer
A blazer is a cornerstone of winter business casual outfits, adding a touch of sophistication and warmth. Private White V.C.'s unlined, unstructured notch lapel blazer, handcrafted in Manchester from luxurious wool & cotton seersucker, epitomizes this. Its craftsmanship and fabric ensure comfort while maintaining a polished look, making it an excellent choice for a winter ensemble.
---
---
Sweater
A sweater is a winter essential for business casual outfits and Neutrale's unisex, regular-fit sweatshirt, made from 100% Certified Organic Cotton, is an excellent choice. Garment dyed and crafted in Spain, it combines sustainability and quality. Its relaxed cut ensures comfort, but you can opt for a size down for a regular fit. To maintain its lower environmental footprint, it's best to wash on cold and hang dry, avoiding sun drying. Perfect for a winter wardrobe.
---
---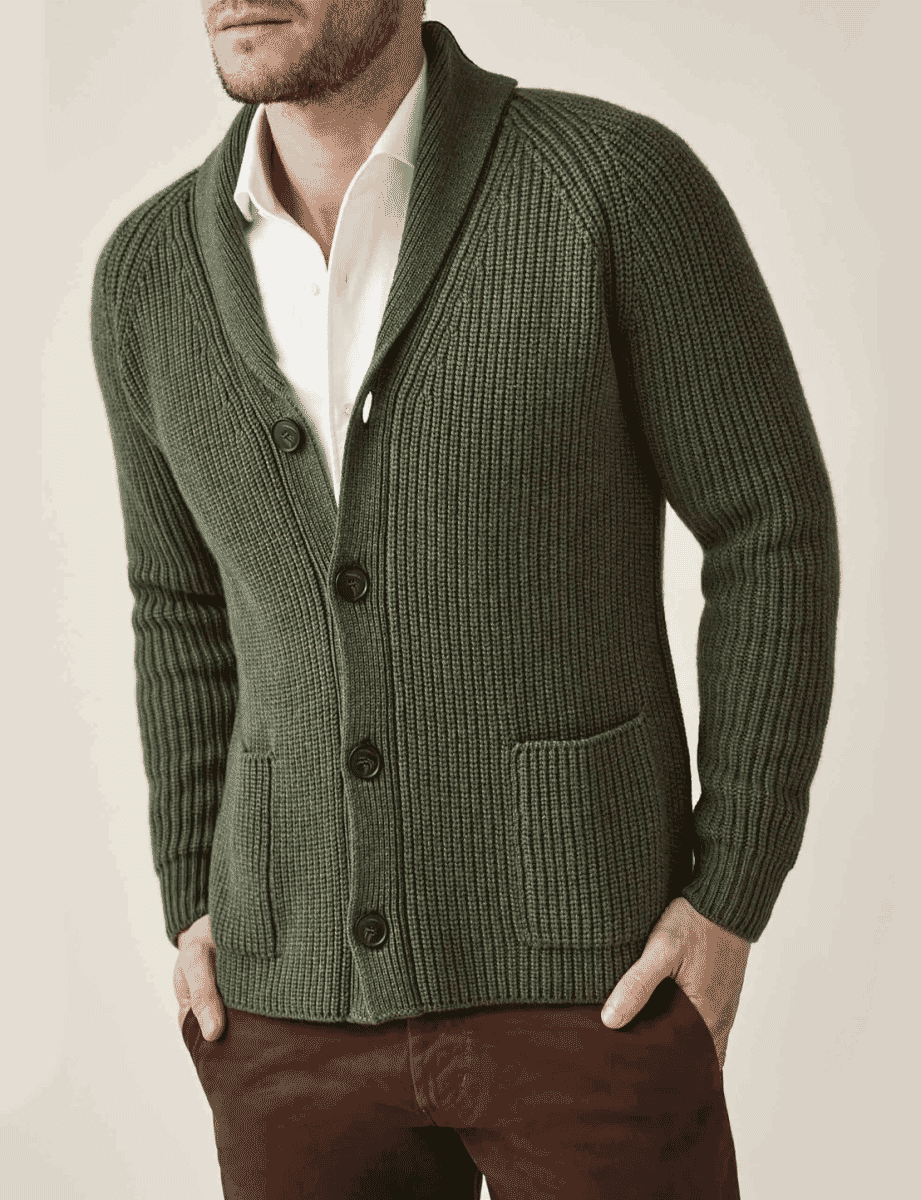 Cardigan
Luca Faloni's shawl collar cardigan, knitted in Bergamo, Italy, from 100% four-ply cashmere, is a blend of warmth and style. With ribbed handling, classic horn buttons, and double-fronted pockets, it's versatile and luxurious. Designed for comfortable layering, it's your go-to outerwear from autumn to spring, offering timeless elegance.
---
---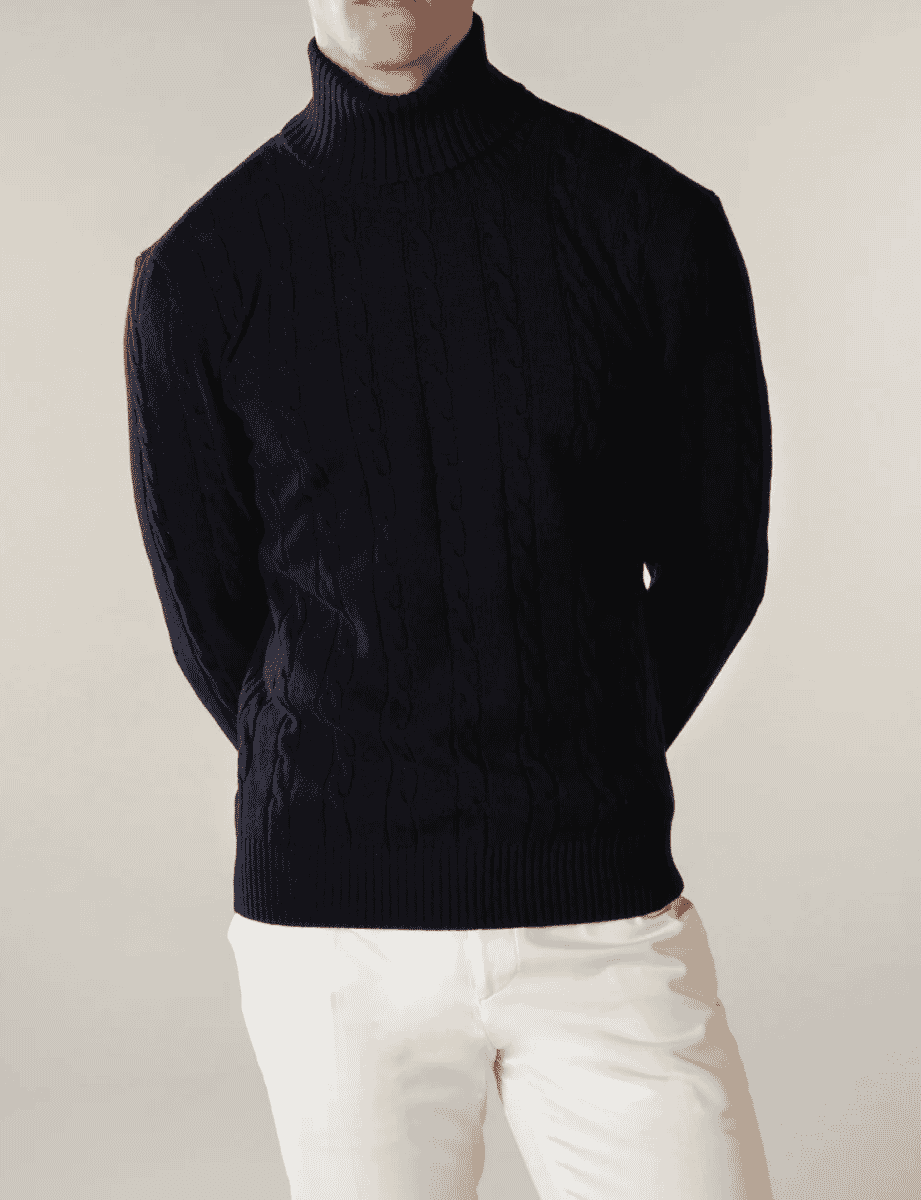 Rollneck
A rollneck sweater is a layering essential for winter business casual outfits due to its versatile and insulating qualities. Aurelien's iteration, knitted in Italy from Cashmere and Extrafine Merino wool, showcases its luxurious softness and a stylish cable motif. It provides warmth and a refined appearance, making it a must-have piece for the colder months.
---
---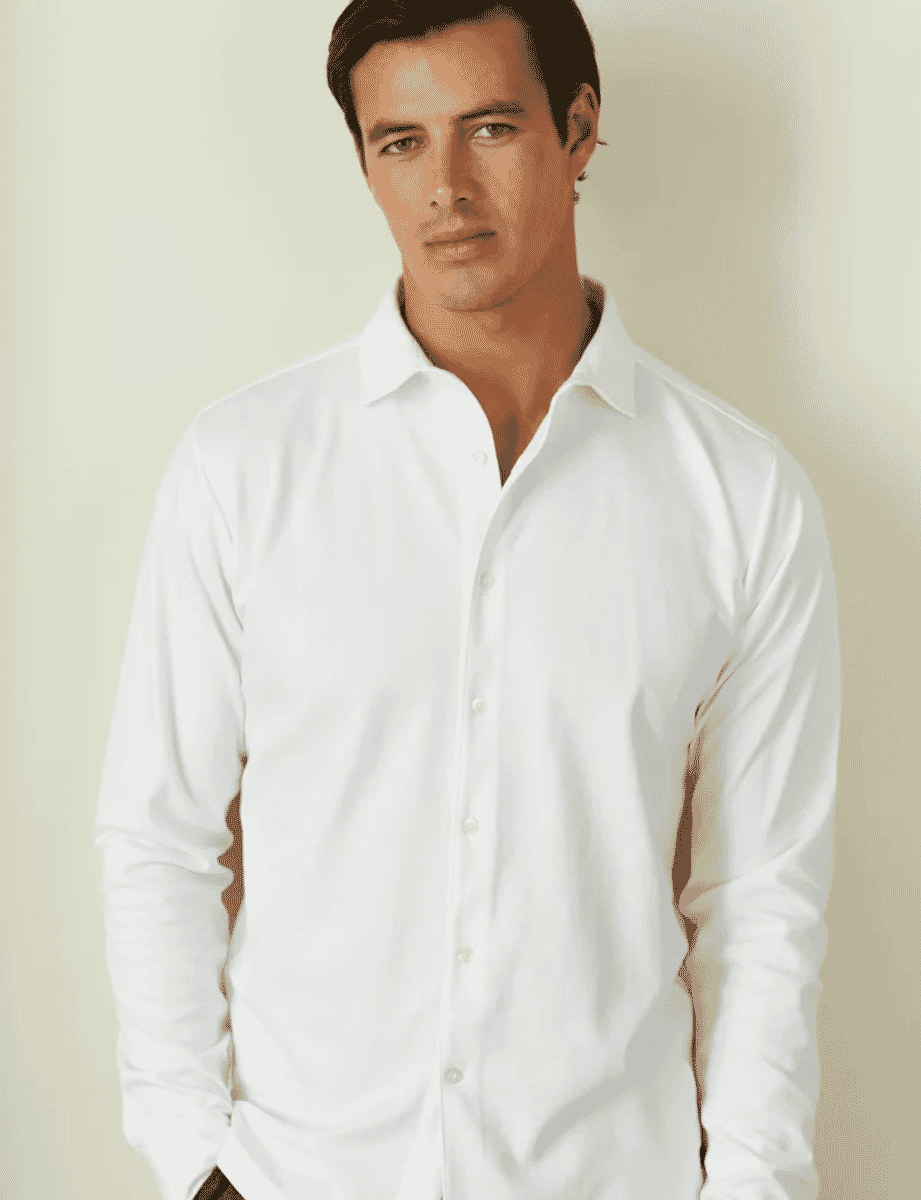 Wardrobe essentials for winter business casual outfits
Dress shirt
A dress shirt is a winter business casual essential for its blend of style and comfort. Take WAHTS' Tech Piqué Shirt, for instance, crafted from a super soft touch piqué fabric with moisture-wicking properties and natural stretch. It not only offers remarkable comfort but also elevates your smart-casual look with signature Mother of Pearl Buttons, making it indispensable for the season.
---
---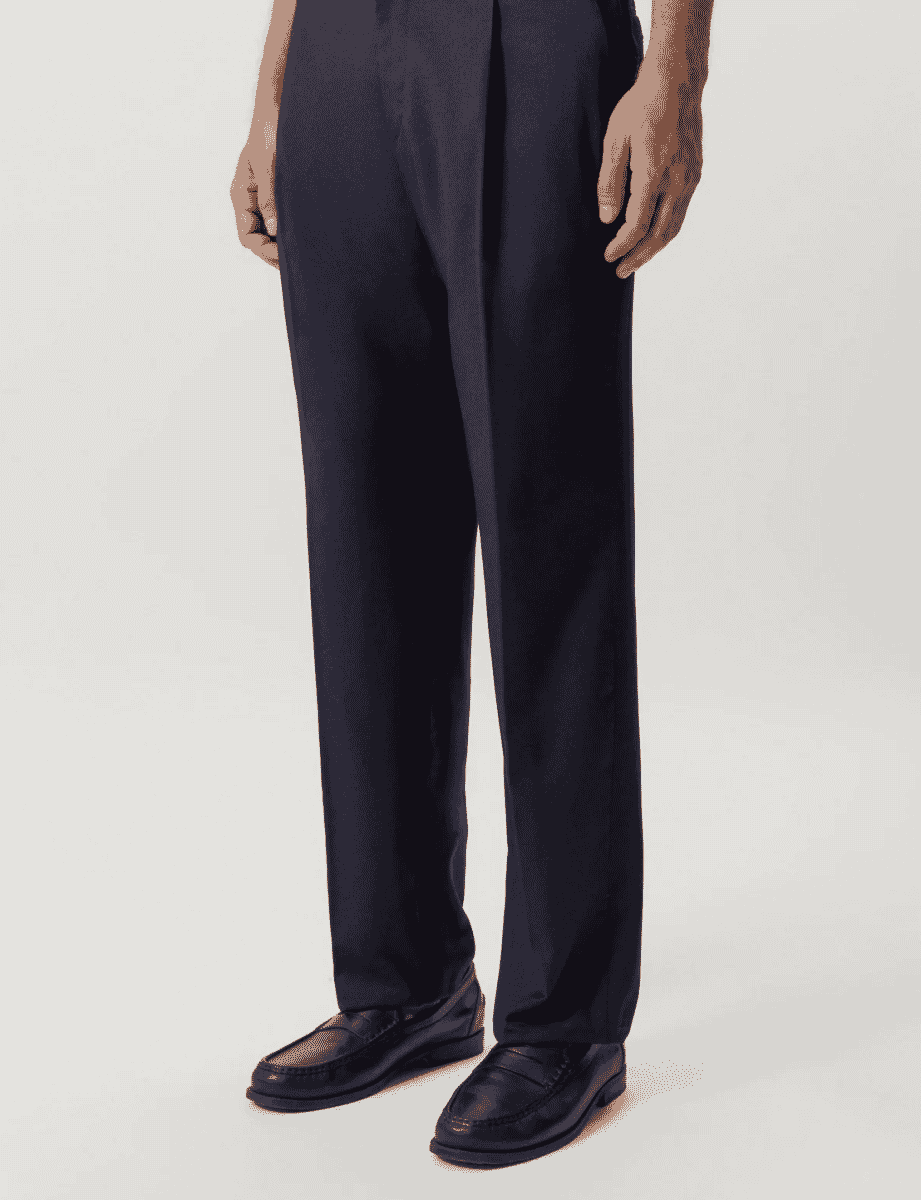 Wool trousers
Wool trousers are a winter business casual staple, prized for their warmth and timeless style. Consider Artknit Studios' Wool Tailored Pants, designed with lightweight and flowy wool fabric for comfort. The straight leg cut exudes sophistication, while the elastic waist ensures a comfortable fit. With classic side pockets and back buttoned welt pockets, these trousers combine practicality with elegance, making them a go-to choice for the season.
---
---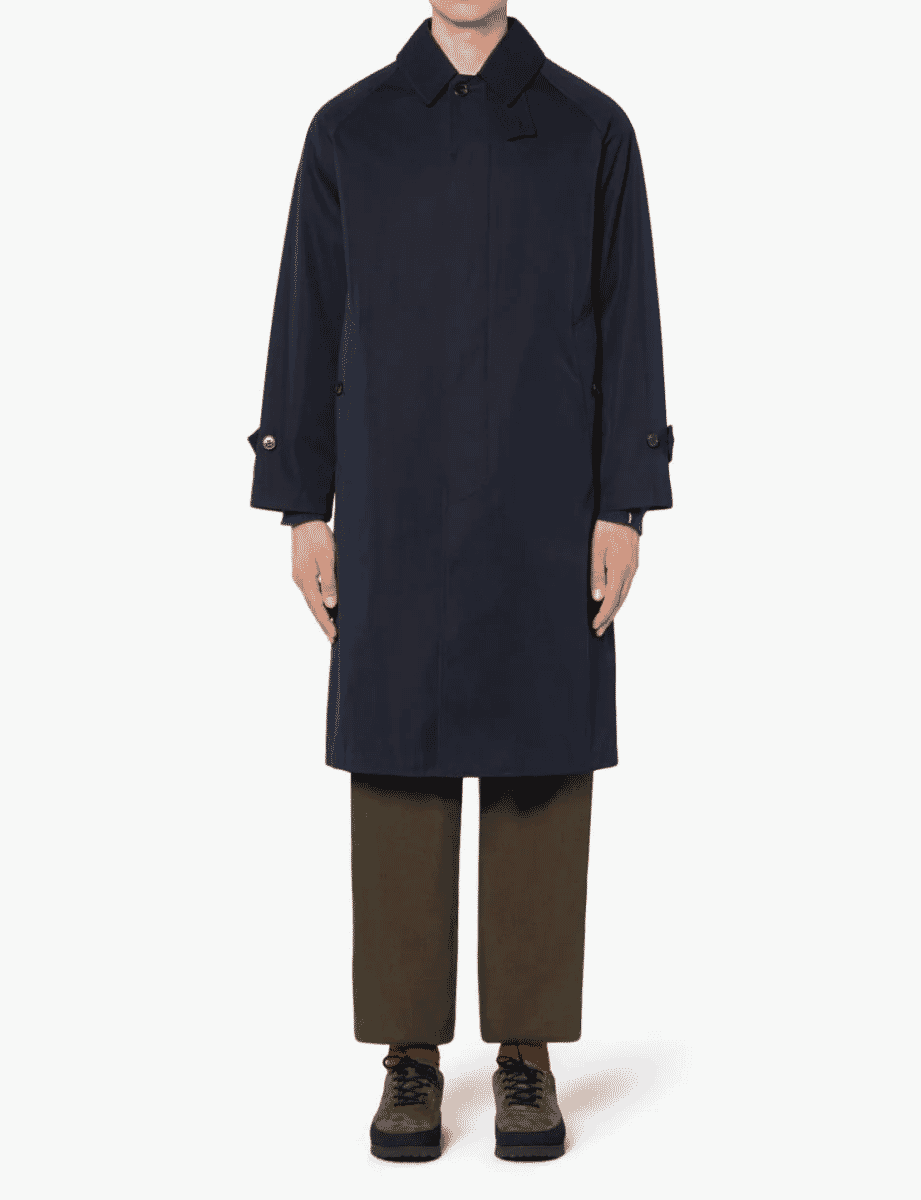 Overcoat
An overcoat is a quintessential winter business casual piece, offering style and protection from the elements. Mackintosh's Selwyn coat, expertly crafted from water-repellent cotton gabardine in navy, stands as a prime example. Its refined silhouette and concealed button fastening provide a polished appearance, while underarm eyelets offer breathability, making it versatile for any season. This overcoat exemplifies timeless elegance and functionality, making it an indispensable addition to your winter wardrobe.
---
---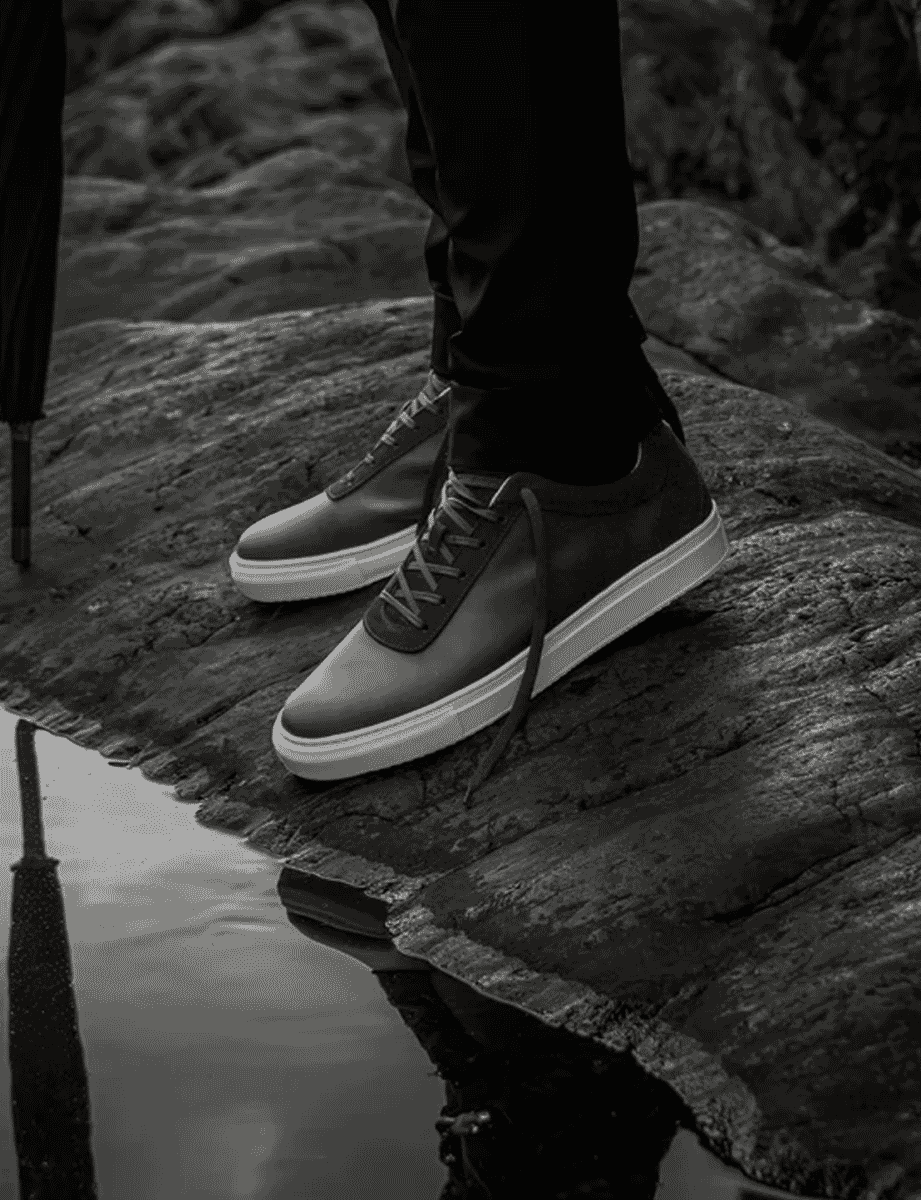 Classic sneakers
Classic sneakers are essential for winter business casual outfits due to their versatility, comfort, and ability to bridge the gap between formal and casual wear. North-89, known for its high-quality craftsmanship, exemplifies this with sneakers that combine sleek design with premium materials. These sneakers offer all-day comfort and can be dressed up or down, making them a key element in achieving a polished yet relaxed look during the winter season.
---
---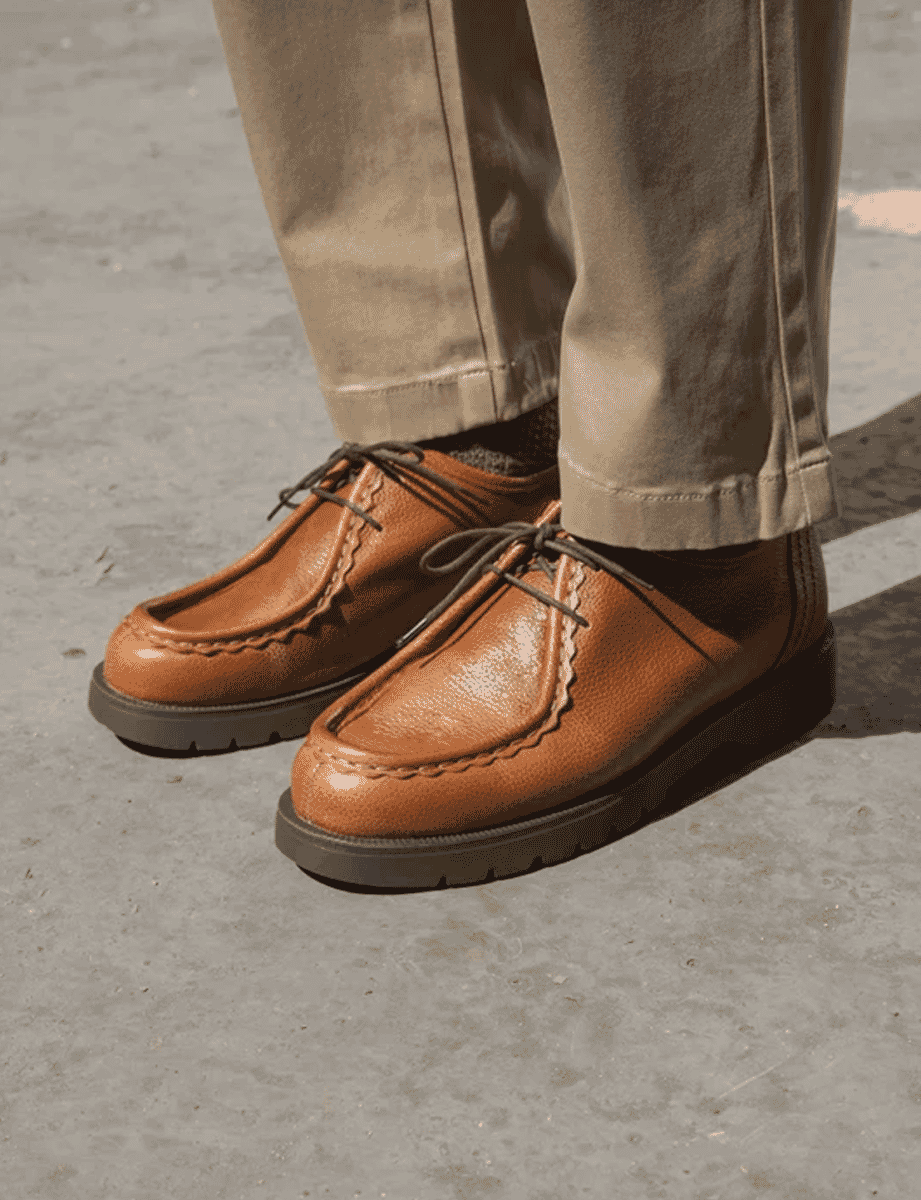 Chelsea boots
Chelsea boots, exemplified by Kleman's Baulani Black Leather Chelsea Boots, offer a sophisticated alternative to sneakers for winter business casual outfits. They provide a blend of style and comfort, making them suitable for formal and relaxed settings. The sleek design and premium leather elevate your look, enhancing both professionalism and elegance during the colder months.
---
---
Accessory essentials for winter business casual outfits
Accessories play a pivotal role in enhancing the appeal of winter business casual outfits. They not only add a dash of style but also serve functional purposes in keeping you warm and comfortable during the colder months. In the following section, we'll delve into the best accessories to complete your winter business casual ensemble.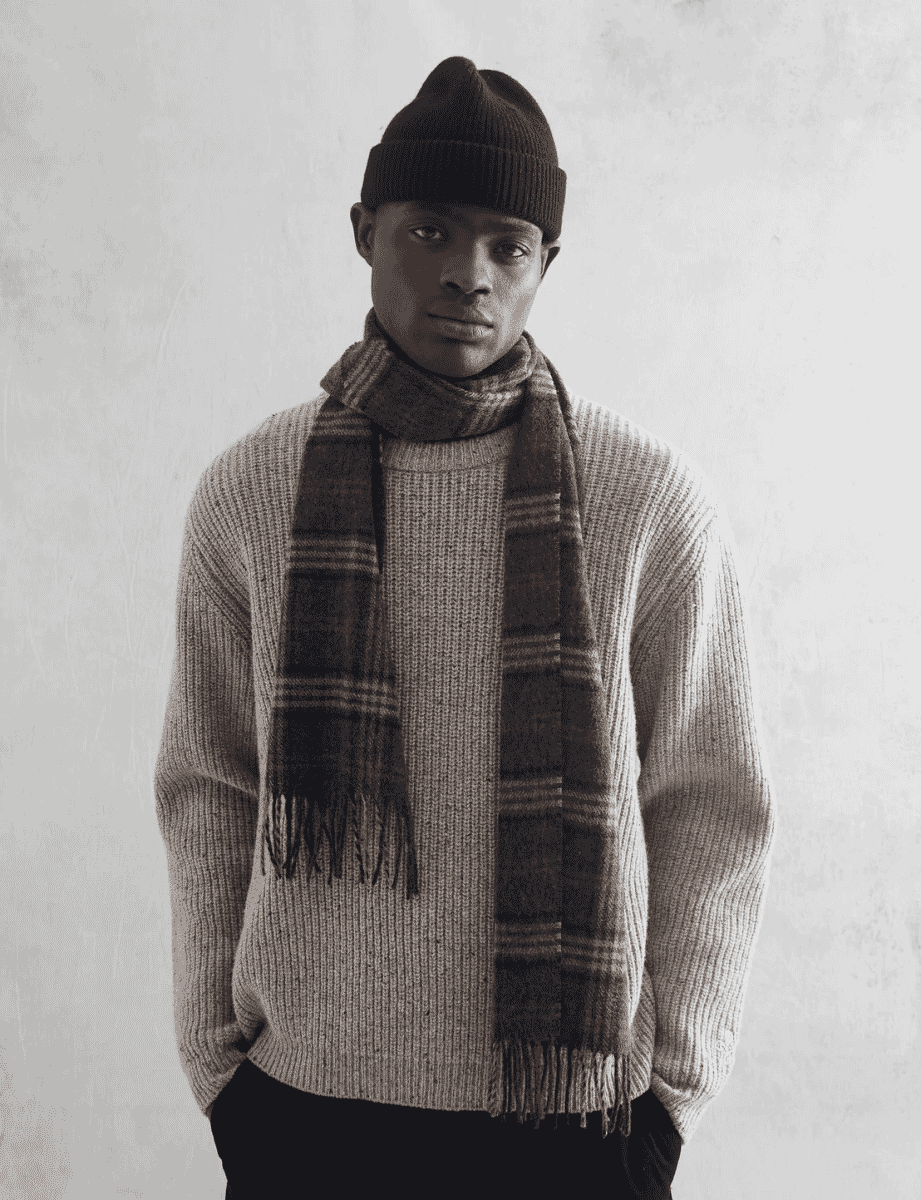 Scarf
A scarf, exemplified by Wax London's Eden Scarf, is an indispensable accessory essential for winter business casual outfits. Crafted from 100% merino wool at Britain's last vertical mill, Abraham Moon & Sons, it offers both style and warmth. The meticulous weaving and premium material make it a statement piece, elevating your winter look while providing essential insulation against the cold.
---
---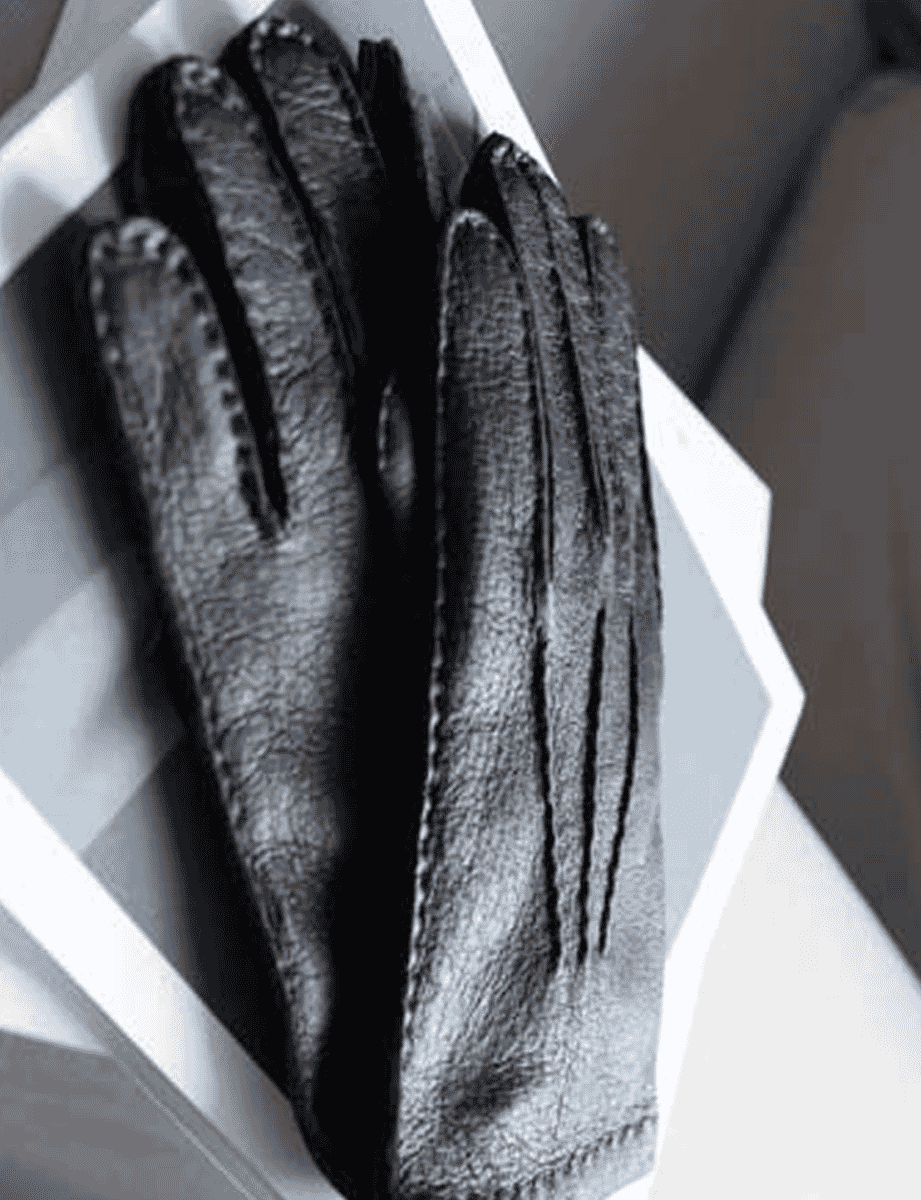 Gloves
Gloves, such as Dalgado's handcrafted pieces, are essential for winter business casual attire. Crafted in Naples, Italy, by skilled artisans, these gloves showcase unmatched quality and comfort. The adjustable clasp ensures a snug fit, and deerskin's elegance combines with practicality. Inside, Mongolian cashmere lining guarantees warmth on the coldest days, making them a must-have addition to your winter wardrobe.
---
---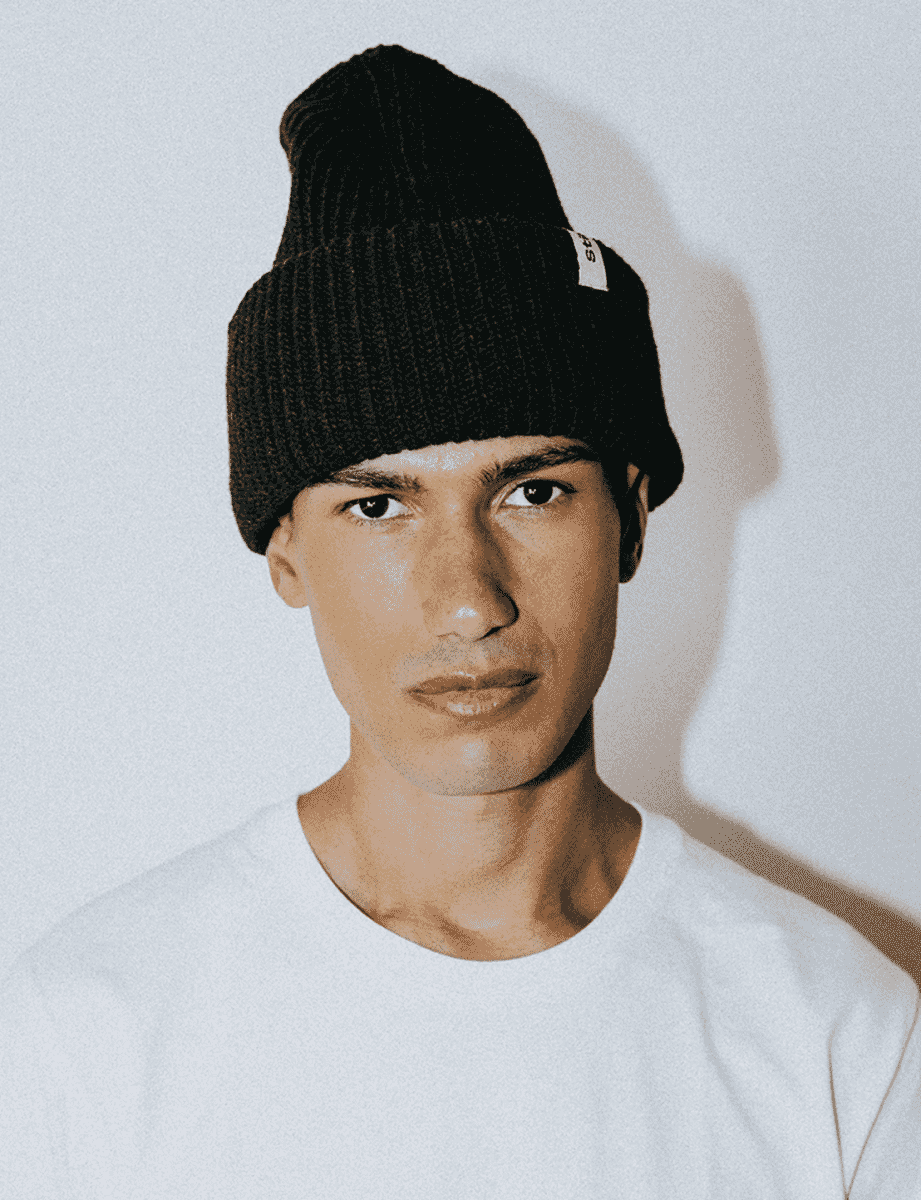 Beanie
A beanie, like Stiksen's Beanie 01 ReWool Black, is an essential accessory for winter business casual outfits. This chunky fit premium beanie is not only stylish but also eco-friendly, made entirely from 100% recycled yarn certified by Global Recycled Standard (GRS) in Italy. It combines warmth with sustainability, making it an indispensable addition to your winter look.
---
---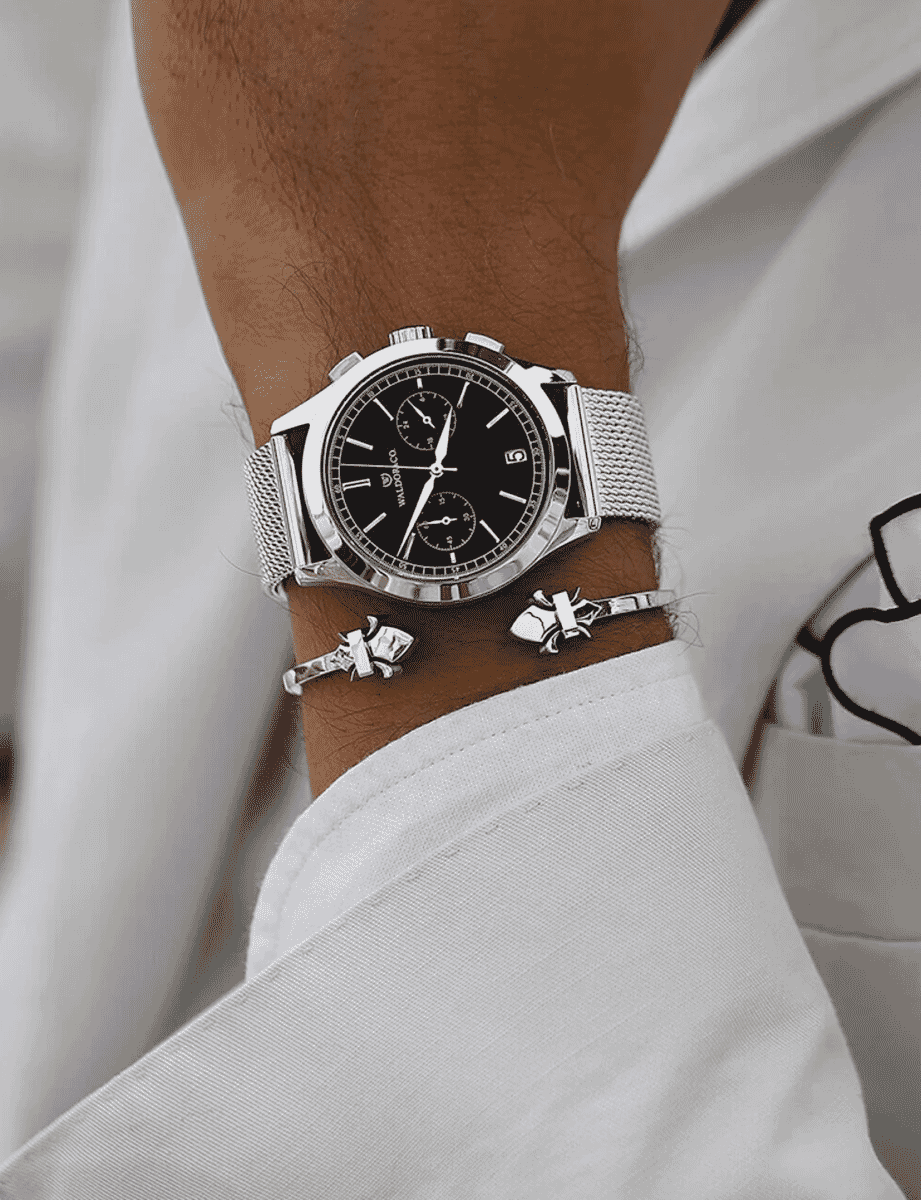 Watch
A Waldor & Co. watch enhances a winter business casual outfit with Scandinavian minimalism and timeless design. This elegant accessory complements professional ensembles, adding refinement and punctuality to your look while braving the cold weather. It's a small detail that makes a significant impact in the world of business attire.
---
---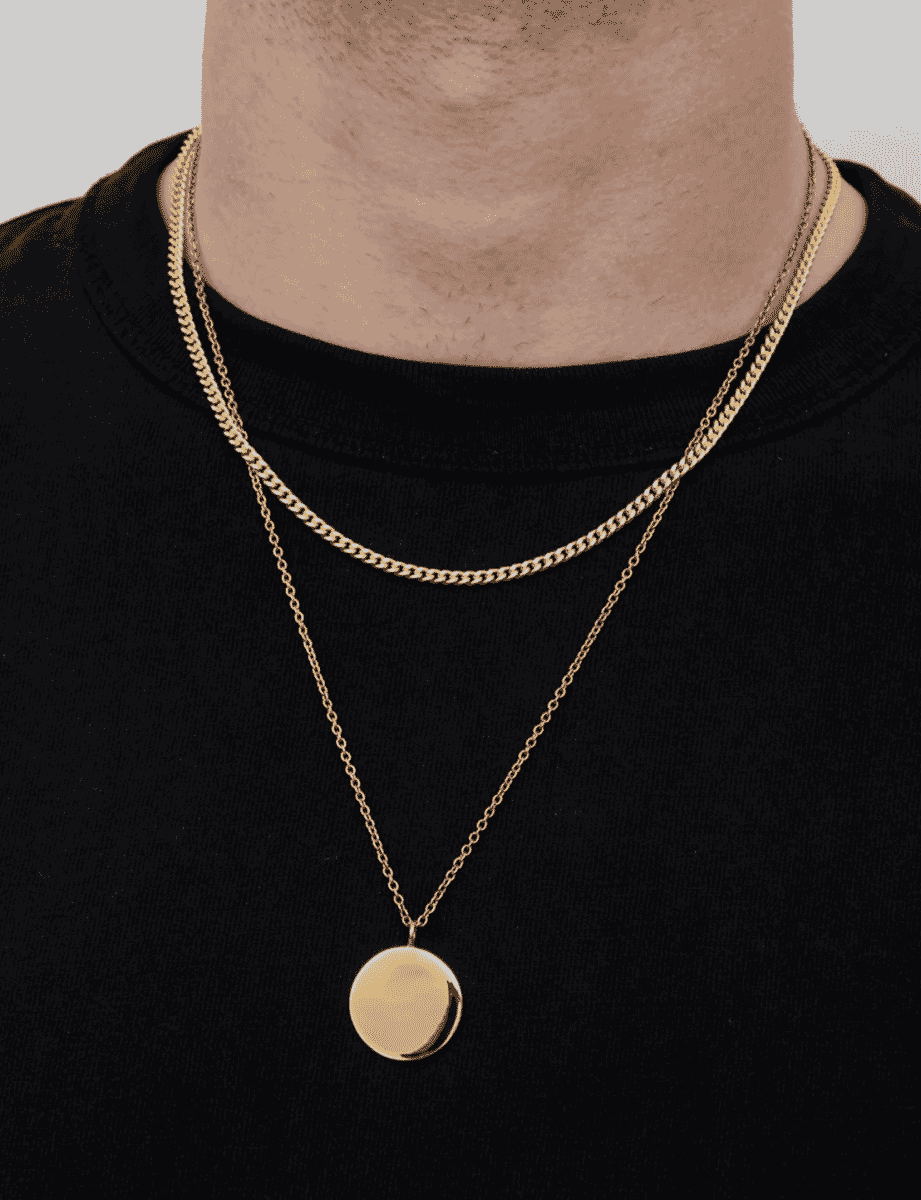 Necklace
Silver and gold necklaces serve as stylish accessories to elevate men's business casual outfits. Brands like Cuff Copenhagen offer a range of elegant options. These necklaces add a touch of sophistication and personal flair, enhancing the overall look while maintaining professionalism. They're subtle yet impactful accents that complete the ensemble.
---
---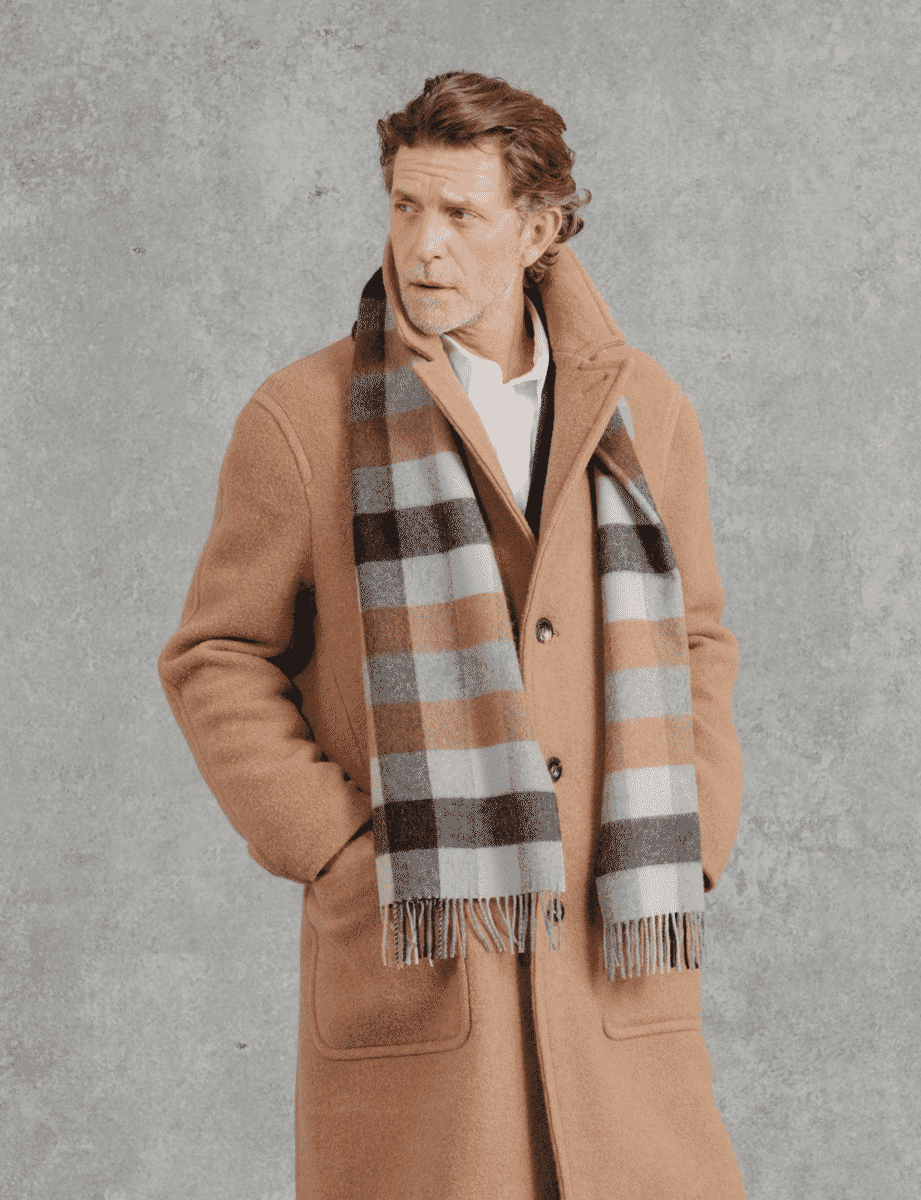 Best winter business casual outfits for men on the clock
Office meeting
Make a commanding statement at a formal office meeting with a tailored charcoal wool suit. Pair it with a light blue dress shirt to exude professionalism and confidence. Elevate the ensemble with a rich burgundy silk tie for a pop of color that adds sophistication. Complete the look with classic black leather dress shoes for a polished finish. To keep warm and stylish during your commute, don a classic black overcoat that not only complements your attire but also shields you from the winter chill.
Casual Friday
Embrace the relaxed atmosphere of Casual Friday while maintaining your style quotient. Opt for a navy blazer that effortlessly straddles the line between casual and smart. Complement it with dark jeans and a luxuriously soft gray cashmere sweater for comfort and elegance. Choose brown suede chukka boots that offer both a relaxed vibe and a touch of sophistication. As the winter breeze picks up, layer your look with a light scarf and leather gloves that provide warmth while adding refinement to your ensemble.
Networking events
Exude confidence and professionalism at a networking event with a meticulously curated outfit. A tailored gray suit forms the foundation of your attire, creating an impression of competence and style. Pair it with a crisp white dress shirt that exudes a sense of authority. Elevate your look further with a navy tie that adds a dash of color and character. Don't forget to stay warm and fashionable by draping a camel-colored overcoat over your shoulders. Finish the ensemble with black leather oxford shoes that exhibit both sophistication and a timeless appeal. Carry your essentials in a stylish leather briefcase that complements your outfit while offering functionality.
Winter conference
Prepare to make a lasting impression at a winter conference with an outfit that balances professionalism and comfort. Start with a charcoal tweed sport coat that exudes warmth and authority. Pair it with a dark turtleneck sweater for a cozy and stylish look. Complement the ensemble with gray flannel trousers that blend comfort with sophistication. Ensure your feet stay comfortable during long conference hours with brown leather Chelsea boots that offer both style and practicality. As you navigate between sessions, wrap a wool scarf around your neck and slip on insulated leather gloves to fend off the cold, making your conference experience both productive and comfortable.
Snowy commute
Embrace the challenges of a snowy commute with a well-thought-out outfit that combines style and practicality. Opt for a navy quilted jacket that provides warmth and shields you from the elements. Underneath, wear a cozy gray turtleneck and black jeans that keep you comfortable and stylish. Ensure your feet remain warm and dry with waterproof winter boots that offer both traction and insulation. As you step out, top off the look with a cozy beanie and insulated leather gloves, ensuring you're well-prepared to tackle the cold and snow while maintaining your casual yet put-together appearance.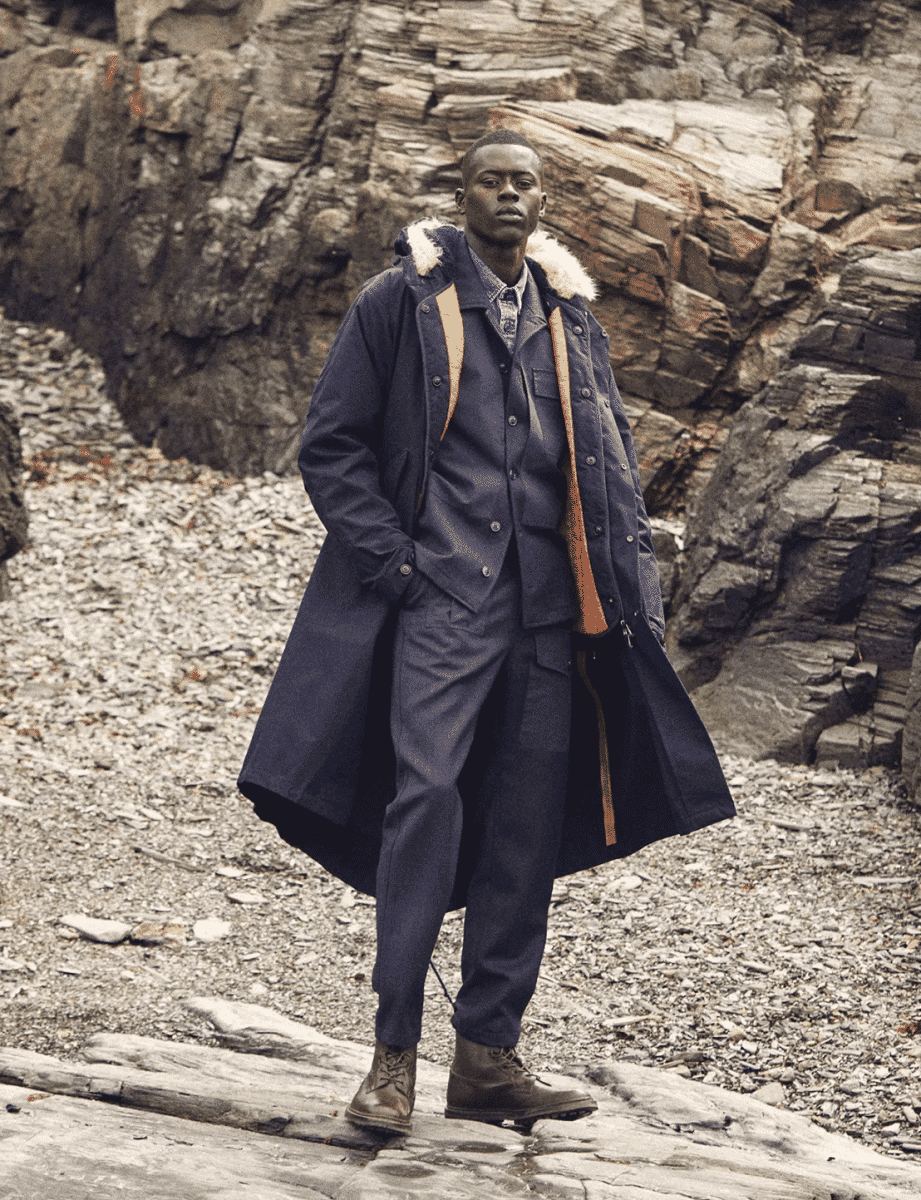 10 tips to perfect winter business casual outfits
Curating a business casual wardrobe for men is a fine art that requires a balance of style, practicality, and budgeting. Whether you're building a new collection or refreshing your existing one, these ten tips will guide you in creating versatile, stylish, and budget-conscious outfits that exude professionalism and flair. From defining your personal style to making smart investments, this guide has you covered in curating the perfect business casual wardrobe.
Define Your Style: Determine your personal style within the business casual spectrum, whether it's classic, modern, or relaxed.
Invest in Staples: Allocate a portion of your budget for key pieces like a quality blazer, dress shirts, and trousers that can be mixed and matched.
Versatile Colors: Choose neutral colors (black, gray, navy, khaki) for your core wardrobe to maximize outfit combinations.
Budget Wisely: Set a budget for your clothing purchases and prioritize quality over quantity.
Essential Footwear: Invest in versatile footwear such as leather shoes or boots suitable for various outfits.
Accessorize Smartly: Enhance outfits with affordable accessories like ties, pocket squares, belts, and watches to add flair.
Layer Strategically: Use layering to adapt to varying temperatures; invest in cardigans, sweaters, and scarves.
Fit Matters: Ensure your clothing fits well and consider tailoring to achieve a polished look on a budget.
Mix Textures: Combine different fabric textures (e.g., wool, cotton, denim) for visual interest.
Maintain Wardrobe: Regularly assess and maintain your wardrobe by rotating clothing and making necessary repairs.
By following these tips, you can curate a stylish and budget-friendly business casual wardrobe that suits your preferences and professional needs.
Hungry for more? Discover winter outfits for any occasion, style and budget.
---
---